he is beautiful. but did it say he was a friesen? he could be a knabstupper crossed with a gypsy horse, ive seen one of those and it looked similiar to this, but i could be wrong
I don't think that's appaloosa... From what I've seen, those marks are far too clean to be appaloosa, but there is a breed ofhorse I work with called a Knabstrupper.. and the patterns on that horse are sharp and just like theirs.
I think it's a knabstrupper x Fresian mix.
Quote:
I don't think that's appaloosa... From what I've seen, those marks are far too clean to be appaloosa
Who said they are too 'clean' to be appaloosa? I've seen some very very strike leopard appaloosas who are just as ... clean and sharp with markings as all the other breeds posted here.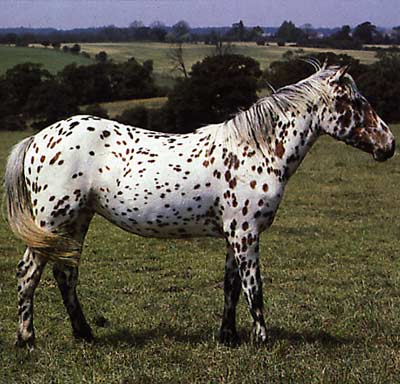 Yes, but despite him being a mix, he's not got the build of an app, but more of a knabstrupper.

Knabstruppers are a draft breed and appaloosas are a light breed, bearing no draft resemblances within them whatsoever, so their builds are of course lighter and a touch shorter. They do, however, share the same genetics for appaloosas were bred into the knabstrupper lineage by three stallions, but there are still physical differences seen when you set them side by side. Draft and light.

I work with horse rescue and we have both appaloosa and knabstruppers as well as many other breeds. I simply stated my opinion. You're free to state yours, but in my own opinion Knabstruppers appear to bear cleaner muscle tone and mark where as the appaloosa is a sturdy yet light horse with a more salt or peppered series of marks where Knabstruppers just look like they got rained on by paint rather perfectly. There's less blurring in their marks as there is with appaloosas. All in all, however, they're both beautiful breeds.

note; Oh.. Another thing... Knabstruppers are well known for bearing beautiful flowing manes and tails, too.
Knabstruppers aren't drafts, they have a warmblood-type build typical of many european breeds and like any light horse were intended for riding and harness. Their patterns also vary as much as North American appies do, solids do occur just like the appies - the bold leopard spot pattern evident in the stallion Apollon you posted is just more desireable.

Another thing to consider is the amount of variety in appaloosa build. Registered appies can carry quarter horse, TB, or arabian blood, and appies are frequently crossed with other breeds, including drafts. You would hardly be able to tell the difference between a knabstrupper and an appy/warmblood cross. As for the flowing manes and tails, I don't know the status of that in knabs but there are many appies who have no problems in that department - I wouldn't decide on that trait alone. Since true Knabstruppers are extremely uncommon in North America I would be more inclined to believe this is indeed an appy cross.
Thank you for finding the word I was looking for. I knew it was between light and heavy, but couldn't find the word "Warmblood"when I was writing. lol As for what you said, yes, you're quite right. They do come in solid colours as well, but as for being uncommon... I've seen plenty of them.. Perhaps it's just the area in which I live, but there are knabstruppers about america,they're just not mentioned much.
This stallion is 3/4 Friesian and 1/4 Appy. His name is Domino aka Mystic Warrior. I've exhibited in a Friesian expo and this horse was part of the expo as well.
His info has been reposted many, many times in this thread.
His breeder does have a number of Knabstrupper x Friesian crosses... a few really gorgeous examples have been posted as well a few pages back
He is, as Jamzimm said - Mystic Warrior, aka Domino. Sired by a Friesian and out of a Friesian-Appaloosa crossed mare.
mystic warrior? thats what the horse looks like =DDD