Weanling
Join Date: Apr 2010
Location: Somewhere on Vancouver Island
Posts: 601
• Horses: 0
Well I don't have TB/Clyde but have a Quarter Horse/Clyde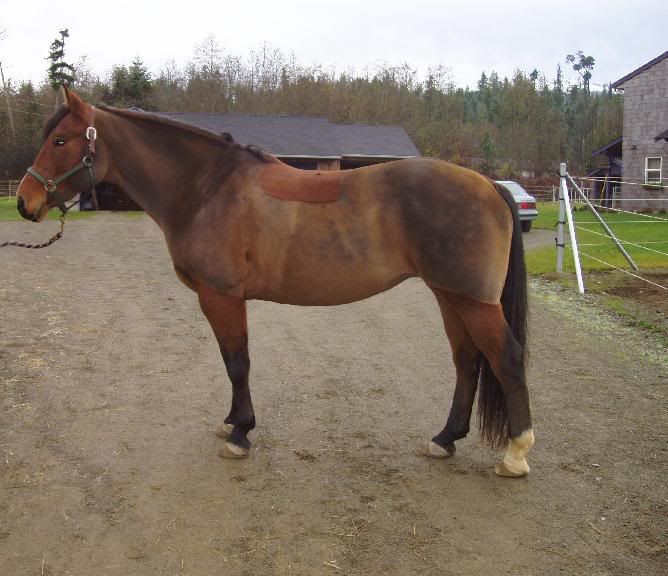 Super Nova
Yearling
Join Date: Oct 2011
Location: Blowy Hills of the Pacific NW
Posts: 1,318
• Horses:
1
Quote:
Here is my new baby. He's turned three on June 20th, and this was his second show. His dam is a full clydesdale and his sire was a full tb.
His show name is Victory Shall Be Mine, but his barn name is Stewie.
He's definately taken after his sire's body shape, but looking at the big white blaze there is no doubt he's also part clyde.
OMG I'm in love with him...When you're done with him give me a call!
i found my TB/Clyd very calm easy going, loving, he was thin when we got him and when he filled out he looked very nice when he was normal weight. This is Cowboy my moms old horse that coliced last march. he was close to 16.3hh and just pretty.
stuff 215.jpg
stuff 209.jpg
My best friends horse is 1/3 clyde 1/3 tb and 1/3 warmblood :) Does that count? He does the 1.10m and 1.35m and a fantastic jumper but would never last in the hunters...
---
The well-known saying "chestnut mare, beware!" is not completely without foundation. Some go further and add "chestnut Thoroughbred mare, beware!"
heres one ;D

not a horse that i know, just remembered seeing him on youtube a while back & your thread reminded me of him :P


Love that attitude; my gelding is the same way. :p
---
It's something you need almost like air or water. ♥

We have a 8 month old colt TB/clydes cross is is almost as big as our mustang.
Charlie on left.
His Mom Whiskey Mama
His daddy Cash
I have a TB/Clyde and she is the best horse I have ever ridden! She is a 5ft+ jumper and handles dressage beautifully, the Clyde gave her some awesome markings to, I say go for this kind of cross!
Thanks, I'm thinking graduation present for myself.
---
It's something you need almost like air or water. ♥

. . . no idea why I said thanks. LOL.
---
It's something you need almost like air or water. ♥