Let's see your mules!
---
I met the nicest mule a couple of weeks ago, and have been obessing over them ever since.
He is a TB/Percheron x mammoth jack cross and moved like a warmblood with giant ears, it was pretty amazing. If he were for sale I would snatch him up in a minutes.
So who here owns a mule? And what do you do with it?
---
RH Queen O Anywhere "Sydney"
2009 Sugarbush draft
We've had mules all my life, though we didn't normally use them for riding. We used to do all of our farming with teams of mules
. Let me see if I can find a few pictures.
My brother driving Tiny and Buster
My grandpa planting with mules.
Dad and I on the wagon.
Winter transportation, this is how we used to haul hay to our cows in the winter.
Me driving Dan and Dolly when I was about 4 or 5
Me on Pete after his mate died of west nile, Dad and I broke him to ride.
Plowing.
Me driving Dan and Dolly again.
smrobs they are all amazing!! tiny, buster and pete are my favorites, I would love a mule!!
I don't have any now, sold my girl Canya a few months ago. We trail rode her mostly,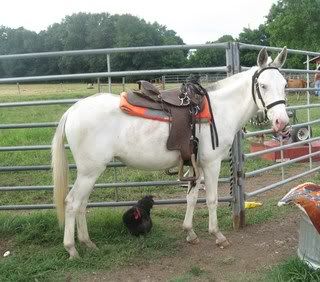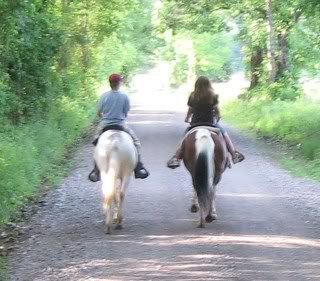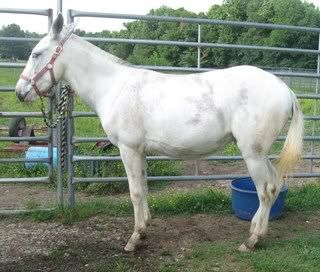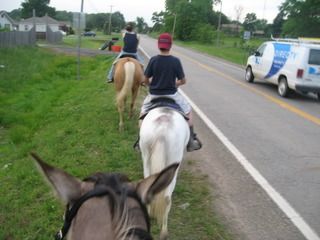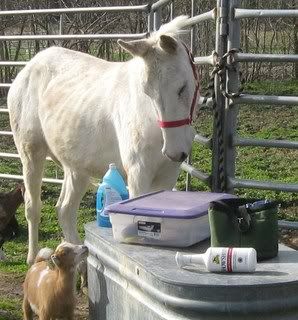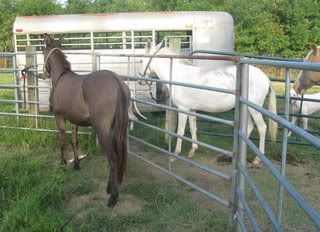 I also had Canya's half brother, Joker (in the last pic), but traded him for Canya's training. And had a pony mule named Radar, but he was just pasture art, I gave him to the little brother of a girl I knew, who needed something to ride (and keep thier horse company).
---
Last edited by haviris; 09-10-2010 at

12:15 AM

.
smorbs - ooo, that's cool. They look like they were mostly Belgian crosses?

haviris - aww, she's cute too!
---
RH Queen O Anywhere "Sydney"
2009 Sugarbush draft
Yep, most of ours were belgian mules, we did have some percheron mules in there occasionally, but Dan and Dolly were QH mules.
I wish I had a picture of Kate and Midge. They were blood red percheron mules and they were the biggest set we ever had. They both sticked at 18hh+ and together with nothing more than halters, they weighed more than 4000 lbs. We had hell finding harness for them LOL.
Oh wow, I can imagine! The one that I saw and am totally in love with was 17.2, his owner taught him to bow so she could easily get on and off on trail rides, it was pretty neat.

I have another question, what exactly is a mule saddle? If I got a mule would I have to get a mule saddle?
---
RH Queen O Anywhere "Sydney"
2009 Sugarbush draft
When I was riding Pete, I just used my regular roping saddle but if it was going to be a long term setup, you probably should look to get a mule saddle. The bars are a bit different, I am not sure how, but I think it's because a mule's back is a bit straighter or flatter than a horse.
I'll always remember mules because the first time I ever drove was a team of them =) And the only types I've ever seen are the Belgian mules. To me, every other type just looks weird ;). My friend hates them with a passion because they're ugly apparently, but I've always thought it'd be interesting to have one, and see the difference between them and a horse (psychologically I mean).
---
There was one at Ebenezer Park in Jasper, TX this past weekend. He/she was LOUD and kept braying like crazy. I encountered one on the trails a few months back and she was a doll. I'd like to ride one!! My boy is not the most sure footed of fellows and I hear they don't put a wrong step!
Similar Threads
Thread
Thread Starter
Forum
Replies
Last Post
Mules

armydogs

Horse Breeds

42

07-01-2010

11:20 AM

Mules!

Brighteyes

Horse Breeds

12

07-27-2009

06:19 AM

BtB on Mules

Sara

Horse Breeds

9

08-27-2008

02:46 AM

Mules

geewillikers

Horse Breeds

10

08-10-2008

04:57 PM

Mules...anyone?

mxgasa

Horse Breeds

7

04-09-2007

09:06 AM