Dark chestnut. I have a gelding who is a very similar colour; a nice rich red body with a very dark mane & tail. Even has similar smutt marks on the rump.
The term liver chestnut is generally applied to chestnuts who are darker all over. Although really, there is no known genetic difference between the different shades of chestnut. They all carry the ee genotype. He's definitely not a bay as he doesn't have the black points, and even the lightest shade 'wild bay' has minimal black points up to the pasterns. Bays carry the Agouti gene which can only be expressed on a black phenotype (Ee or EE) and is masked when present in the chestnut (ee) phenotype.
My chestnut boy for comparison
It baffles me how people are saying bay...definitely NOT.

I have to agree with him being a dark chestnut. He's not liver, clearly not a bay...his mane and tail are DARK, but not black. And forgive me for possibly sounding stupid - but is brown a recognized color?!
---
Never ride faster than your guardian angel can fly
Dark chestnut. He has no black points anywhere so definitely not a bay. Chestnuts can have darker manes and tails, just a darker shade of chestnut hairs in the tail and mane.

I wouldn't call him liver chestnut tho.....I'd say a dark chestnut.
I'm shocked that people are saying bay...
Anyway, that is one unusual color. I definitely wouldn't call him a "regular" chestnut because his mane and tail would have to be the same reddish color his body is. I've seen liver chestnuts with coats that are lighter than their manes and tails, but I've never seen one with a coat that red. Liver chestnuts are just kind of missing the red that the other shades of chestnuts have so much of.
I honestly have no idea what I would call him.
I found a couple pictures of horses that look similar. They're listed under "liver chestnut."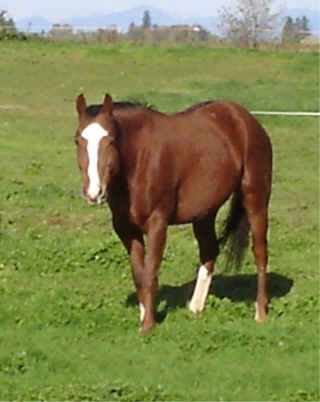 I did a little bit of homework and I think your horse's color would be refered to as a wild bay. Click on this link:
http://www.ultimatehorsesite.com/colors/bay.html
It states: "black on the legs is restricted and is only visible around the coronet and on the fetlocks." Your horse's Mane and tail are definitly black and if you look closly at his knees and hocks you can see a little bit of black on them. Do me a favor and take alook at those areas and see if there are any black hairs mixed in with or underneath the brown hairs. That might be a clue. Whatever his color though, he is definitly a hansme boy!
No, he is NOT a wild bay. He is a dark chestnut. Go to
www.equine-color.info
and ask them if you want answers. He still would need semi black points to be a wild bay, and wild bay technically isn't a color. The people on that forum are the experts. I am utterly BAFFLED that some of you think he is bay. No black points = no Agouti gene = not bay. :)
I appreciate all the different answers here, yet I am around this horse every day and I am quite certain that he has no black points. His mane and tail are a very dark chestnutish color, and I believe that is visible in the pictures. They are definitely not black. Thank you for all the different replies everyone!
---
"The trouble with the world is that the stupid are certain and the intelligent are full of doubt"
-Bertrand Russel
Nice looking horse...... from what I have read in my equine color genetics books, he seems to be a dark chestnut to me.
Definitely a chestnut. However, different breeds call the same color different things. I have an AQHA gelding almost the same color as your horse. When I bought him, he was stalled every day and his mane and tail looked almost black (they were actually dark, dark brown) and his body and legs are medium chestnut color. He has been mistaken for bay, brown, etc. In the first picture, you can see his dark tail but obviously no black points on his legs. In the second picture, he is darker overall from his winter coat but you can see his mane is a dark brown. Click on the pictures to enlarge.
Champ's winter color.
My friend owns a horse that would fit the definition of a "wild bay". Notice the leg markings.