Quote:
Bays don't necessarily HAVE to have black legs, but they DO have have a jet black mane and tail - and there is abolutely no way this horses mane and tail is black, it is a very dark brown, making this horse dark chestnut (I wouldn't say liver chestnut as his body is still lighter)

Some bay's miss out on the black points wround knees/hocks, or they are just so faded you wouldn't clearly be able to see unless you were looking closely. Some have black legs, some have brown legs the same as their body, and some have white socks. As long as they are a shade of brown with black mane and tail they are bay.
Uh, no. The agouti gene causes black points. They can't just "miss out" on them. The only time a bay horse would have no black points is if they were SEVERELY sunfaded (and even that is highly unlikely because the legs are the very last to fade, so even if they were extremely faded they should at least have black below the fetlocks). With no black at all on the legs, the horse is not bay.
He could be a regular chestnut with sooty (I think? or Smoky? I can't remember...) characteristics... Denny's a sabino chestnut most likely with a sooty gene... his tail is darker than his body: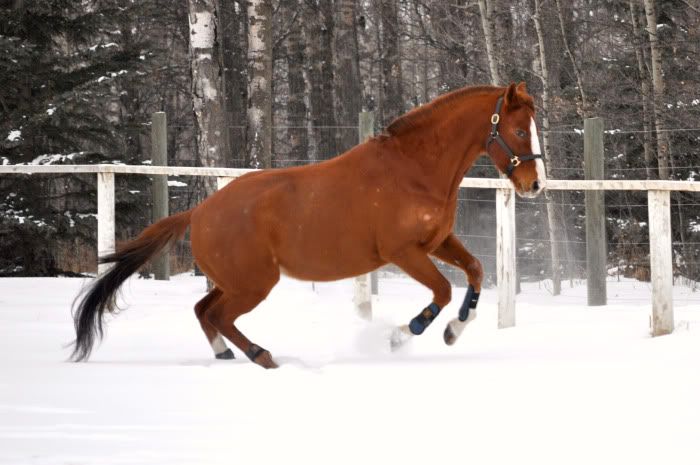 ---
The lovely images above provided by CVLC Photography cvlphotography.com
you know what they say- a good horse can be any colour!
Liver.

He is a regular chesnut, with dark mane and tail, that qualifies as a liver chesnut.

They are generally light with dark manes and tails, or fark with light manes and tails.

Definately NOT a bay. Bays ALWAYS have black points, even if they are only a little on the knees. My horse has those. And their manes are always black, or do dark brown, amateur eyes would call it black.
My best guess would be a liver chestnut or brown but definitely NOT bay.....ALL bays have black points. Your horse has a very dark brown mane and tail. I don't know too much about the color genes so I couldn't say if he has some other gene that's possibly causing the darker mane and tail. I love his coloring though. I don't say that about too many chestnuts or browns
---
*Khlassi:1985 Arab Gelding*
*Emma:1998 Appendix QH Mare*
~*~Kara~*~
Björsells Briar
(love this horse!),
Carnaval Drum
, and
Apollo's Fire
are examples of very different liver chestnuts.
I'm not sure what exactly to call your horse. In the first picture he looks most definitely liver, but the second makes him appear as a bay... Without colour points.
Looking at the other other pictures of him on your barn, I'd go with liver chestnut. His mane seems like a very dark brown, rather than black. Yet, I'm still skepitcal.
Is he clipped? Does his coat tend to change colour in the summer and winter?
I'm not sure if a DNA test might help?
Pretty boy, though. He looks so sweet! ~