Made in Italy!
---
Good morning,
first of all sorry for my bad English, but I'm Italian....
I'm new in this nice forum...
I want to speak about the italian breeds: murgese, maremmano, avelignese (more well-know like Haflinger), sanfratellano, Italian Heavy Draft Horse (in Italian "tiro pesante rapido"), tolfetano, bardigiano, Anglo-Arabo Sardo,...
In short, all breeds unknown!
Maremmano:
Murgese:
For every curiosity, feel free to ask!
No, unfortunately I haven't got a horse.
But I rode haflingers, some "maremmani", many "sella italiani", an "anglo arabo Sardo" and I saw also murgesi, sanfratellani, Tiro Pesante Rapido,....
Italian horses
---
I'm in Italy as well (although I'm Danish). To the collection of Italian horses there is also the "Cavallo del Catria" (-> Horse from Mount Catria).
Italy has many nice horse breeds, I personally like the Murgese a lot, it comes in a very nice black color.
Cavallo del Catria: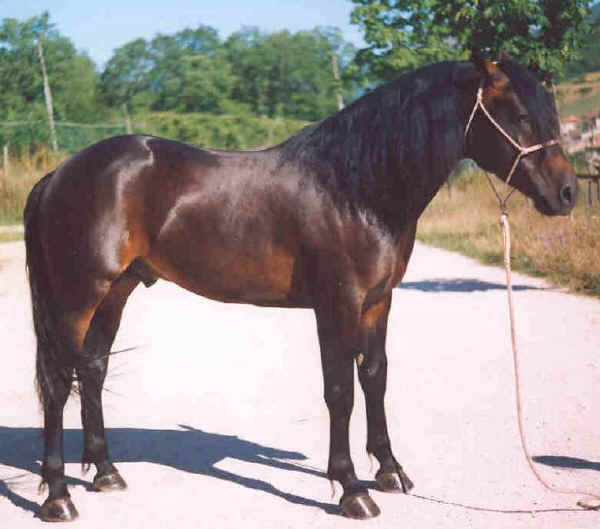 ---
Show me your horse, and I will tell you who you are.
Are you in Italy now? Wow!
Where?
I love Murgese, too!
There are other breeds in Italy, like "Cavallo del Pentro", "Cavallo del Ventasso", "Cavallo Calabrese", "Persano", "Pony di Esperia", "Pony di Monterufoli", "Pony della Giara"; but these are very rare!
That is a comprehensive list about Italian horse:
Atlante razze cavalli
(Click on "razze italiane")
Yes, I also found a list on
Istruzione Agraria on line
. Well, some are very rare but then there is the Haflinger which is world known.
I live in Le Marche in a not very horse friendly area (too steep hills), what about you?
---
Show me your horse, and I will tell you who you are.
Similar Threads
Thread
Thread Starter
Forum
Replies
Last Post
Hi from Italy

Jimmyhaflinger

Meet the Community

9

04-28-2010

04:31 PM

Italy...

alexischristina

Horse Tack and Equipment

0

04-13-2010

09:59 PM

Hello from Italy

Lenuccia

Meet the Community

6

10-07-2009

05:08 PM

OC Team Italy did it again

Jehanzeb

Technology

0

12-03-2008

04:55 PM

Hello! from Italy

Marty

Meet the Community

6

05-16-2008

08:11 AM