is this mare a Arabian or something else?
---
i got this new horse on Saturday 10-22-2011 i was told she is Arabian but she is not built like any Arabian i have ever seen, i was thinking more of a QH look, what do you guys think? she is 10 years old, has brown flea bit color on her face, 15 1/2 hh i can see some flea bit color under her winter
coat also.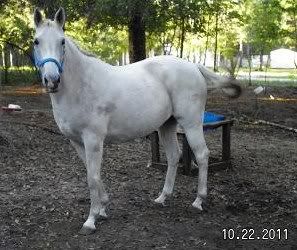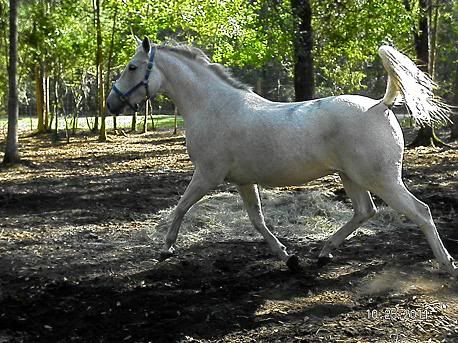 She looks more Crabbet, heavier, stocky and maybe old Polish in there (plainer face). But that tail carriage and the more flat croup and those movement shots all scream ARABIAN to me. She isn't sloped enough in the croup to be a QH, but she could turn out to be a mix. She looks like the older bred Arabians that aren't so popular today but are absolute DIAMONDS to ride. The way her neck is set on and the higher head set is all Arabian too. If she's a mix, the Arabian portion won out the strongest. I'm going to guess she's pure but with a lot of old blood up fairly close.
---
thank you so much, i have not rode her yet trying to give her time to settle in. but was told she is great to ride. when i went to get her she still had her 3 year old colt with her so she was pretty worked up the first couple days but i think i will see how she is this weekend. this is what her colt looked like.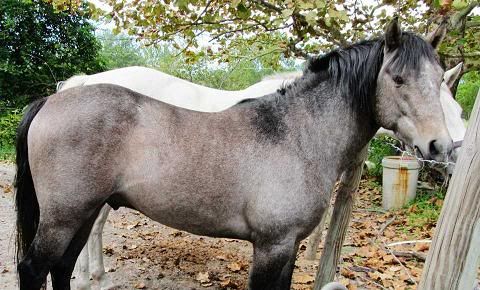 Yep, they look to be nice sturdy riding type horses. Once you and she 'click' you probably won't have a better horse. I used to laugh that my first Arabian Lady B was the WORST horse I've ever ridden out on trail but she was also the most fun. She spooked at everything, but never bolted or did anything stupid just did the big "OH MY GOD" elevator drop spook and froze in place, HATED crossing water. I think she hated messing up her pedicure, she was kind of a priss. She and my 2nd Arabian mare are the ones who taught me that Arabians are joke players and have a sense of humor. After the 2 of them, I can't go back, LOL!

Do you know her registered name? or have a number?
---
I see the crabbet there- she might be quarab even.. real thick body.. or maybe a bit ..erm..fat? :)
LOL, I noticed she looked a bit well padded but figure that with being ridden she'll drop some of that QH pudgy look she's got right now.
---
Haha yeah Dream.. but... look theres not even a SLIGHT dish-- other than that shes identical to a Crabbet gelding i know ;/ :P
I've seen some PB Arabs that are real old blood that look almost Roman nosed, so wasn't too concerned about that.
Here's a link to an historical description of Arabian Type just for fun:
http://www.pyramidsociety.org/user_f...0Standards.pdf
It describes what the Bedouins looked for in their horses.
---
She's got a bit of a jibbah if you look at the profile pic and when her head is up and being carried normally, her mitbah is fairly fine and the shape of the neck is totally Arabian. The more I look at her, the less I think she's a cross.
---
Haha , well i think im sticking to Quarab :) Sorry thats ust me - :) you could be right though :)
Similar Threads
Thread
Thread Starter
Forum
Replies
Last Post
arabian mare

BarrelracingArabian

Horse Riding Critique

5

05-02-2010

09:37 PM

New Arabian Mare

dressagebelle

Horse Talk

2

10-09-2009

07:40 AM

18 Y/O Arabian Mare

wstevenl

Horses for Sale

1

09-30-2009

10:30 AM

Arabian Mare

girl_on_black_pony

Horse Riding Critique

10

03-31-2009

05:31 PM

Arabian mare

jemmamalone

Horse Health

7

02-08-2009

09:50 PM