aha! So I'm not crazy ;P If she were a saddlebred or TWH, she has the potential to gait, right? I'm confused about her trot-canter thing though. From what I understand, Saddlebreds will do the running walk and the rack, right? I suppose what she's doing is closest to a rack...but that isn't a natural gait, is it?
This is what she looks closest to.
https://www.youtube.com/watch?v=olIeRjKl-eU
It's interesting to say the least.
Tianimals- that actually crossed my mind when I saw the porportions of her head xD the rest of her body doesn't look too standardbred-ish to me though, and as far as I know SBs are very uncommon around here, since we have no SB tracks. And I love these reins! haha.
Bubba- nasty looking aren't they? The situation wasn't terrible, I suppose- but she definately came to us from a less than ideal home. Her paddock was extremely uneven and hard, and she hadn't been trimmed in atleast four months. Thankfully they were just surface cracks and chip, which we're treating right now, and her heel was lower than it should of been. These pictures are from her third day with us, and since we were having a corrective barefoot trimmer (we normally do our own hooves, but her's appeared to be fairly significantly cracked so we called someone out. They weren't as bad as they looked, but still bad enough.) she hadn't been done yet. She was a bit underweight as well.
As for her age, no. I'm not sure. I mean, her previouse owner thought she was a QH.
We haven't had a vet out for her yet, but the BO did check her teeth and said that she was in the 5-7 range. Is there something pointing towards her being older?
What I want to know is, if she is a gaited breed, why on earth was she trained as a header?
If there's anything she's got going for her, it's her mane and tail though ;P I'm rather jealouse of it.
---
Everyone in your life is meant to
be in your journey, but not all of
them are meant to stay till the end.
i would go with saddlebred she carries her head alittle different than the twh that i have been around... but def gorgeous... i like her
any horse can do just about anything. some horses are just better at certain things than others. considering the previous owner thought she was a QH then i could see why she was trained as a header.
i had a TWH that i did everything with. in one show we jumped did a pleasure class the we did pole bending. we placed 2nd in jumping of 10 ppl. and placed 2nd in pole bending out of 10 ppl also. we also trail rode in our free time.
gaited horses are very versatile. they can do anything. i see many TWHs doing everything from barrels to jumping. so im sure a saddlebred can do the same things.
---
TurnNBurn625
From my experience with Saddlebreds, TWHs and Quarter Horses, I honestly think your horse is a Quarter Horse. Back when I got my registered QH mare and started riding her after she had plenty of time to get adjusted to her new environment she would ocassionaly do a prancing/jig step when she was full of herself and would have taken for the "other side of the Sun" if I had let her. My response to her antics like I mentioned was a full-bellied laughing session on my part. Laughing at a horse's antics is usually a very good thing to do. What laughing does is causes our entire bodies to be completely and totally relaxed from the top of our heads to the end of our toes.
It may be that she is half QH... To me she doesn't look pure Saddlebred, and she doesn't look pure TWH either (do you have any full body shots?). Her neck set isn't quite right for a Saddlebred, and not quite for a TWH either(though I think it more likely that she have TWH, 5 gaited Saddlebreds are harder to find, and don't always "pass on" their gait)
This is my gaited Saddlebred mare (14 years old) in her running walk (amble or slow gait... Whatever you feel like calling it LOL)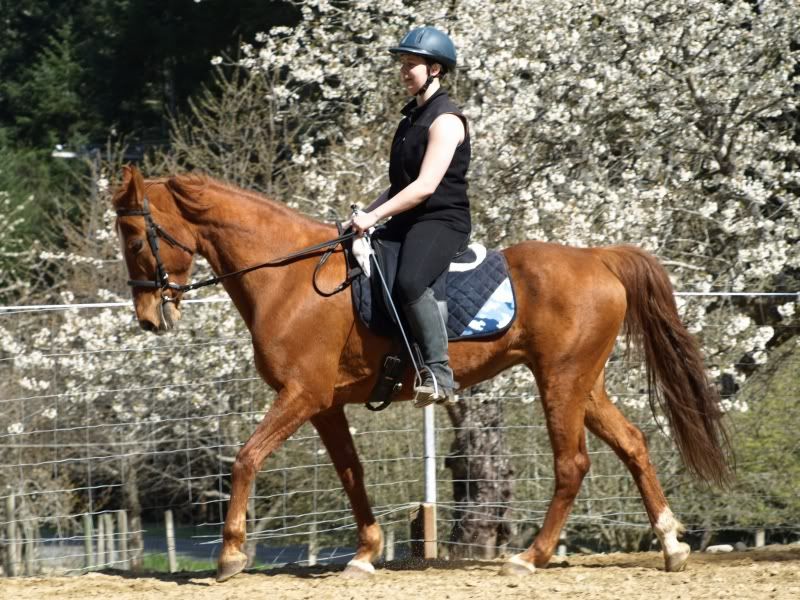 It could be that she's a half-breed. She didn't really look like a full anything when we got her, and she absolutely does not look like any of the Quarter Horses that I work with. We have all shapes and sizes of QHs on our farm, and while they're anything from 13.2hh to 16.3hh, they're all built like tanks. She's very narrow all the way around; with high withers, a thin neck (mostly just undermuscled, which we're dealing with) and a huge head.
These are the only two full bodied shots I have. One from the back, and one from the side. You have to excuse the rider's hand position in the first picure.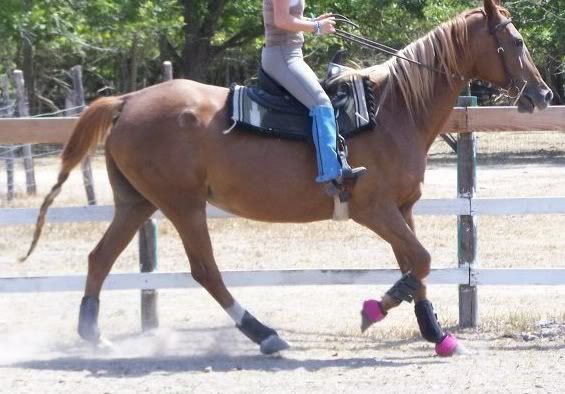 here are a few others. This is just about all I have of her.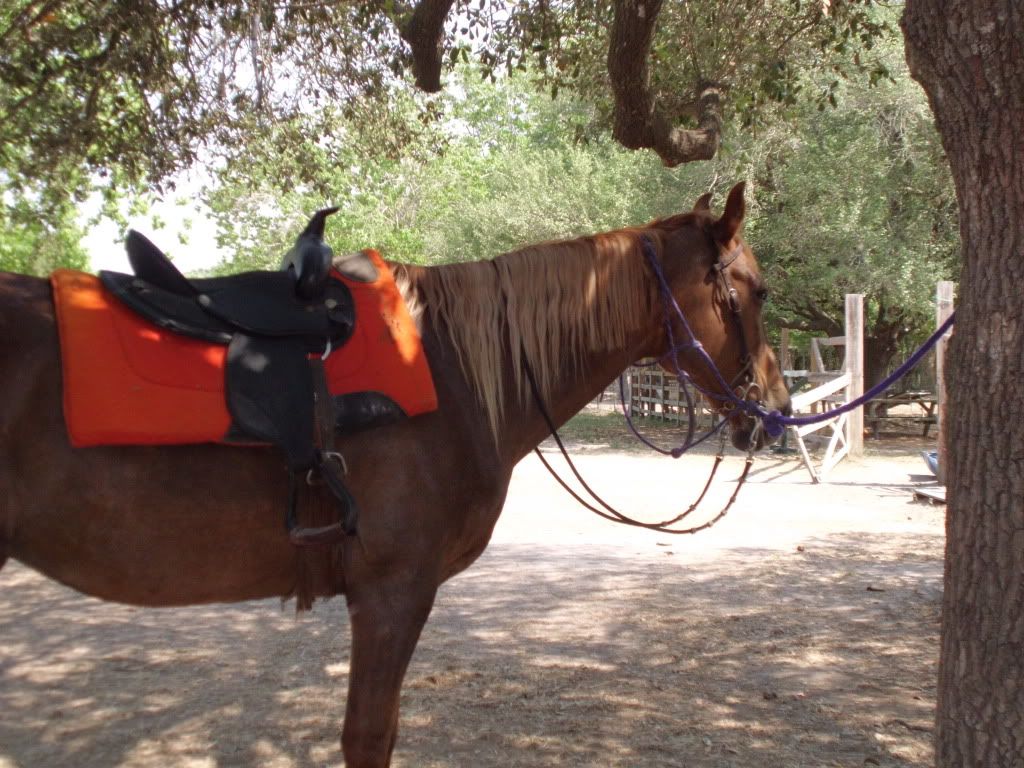 this is a video that I have of her from when I was worried about her legs and how she was constantly flexing and shifting. It shows her full body for a few seconds around the middle.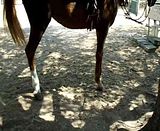 I suppose she could just be some sort of reject Quarter Horse with horrible breeding, but she definately doesnt look like any QH I've ever seen.
---
Everyone in your life is meant to
be in your journey, but not all of
them are meant to stay till the end.
Double post. I was too late to edit.

I'm SUCH an idiot. In that first picture, she's actually doing her 'weird' gait! If you look closely, she appears to be trotting, but she has both her hind and her fore right legs out at the same time, while if she was trotting she would be on a diagnol.

Isn't that pacing?
---
Everyone in your life is meant to
be in your journey, but not all of
them are meant to stay till the end.
From the picture, she looks like she's racking.

Slow motion racking:

but without a video it's hard to tell.
---
"And somewhere in the northwoods darkness a creature walks upright. And the best advice you may ever get is: Don't go out at night..."
---
Last edited by tempest; 10-20-2011 at

06:00 PM

.
That would explain a lot.

I'll try to get a video of her pacing or racking or whatever the heck she's doing. Since there isn't any specific thing that gets her to do it, it'll be fairly hard, I'd think.

I can always tell when she's doing it though. It's hard to sit! xD
---
Everyone in your life is meant to
be in your journey, but not all of
them are meant to stay till the end.
To encourage the gait (simply for the sake of capturing it on film) you can try sitting like that rider is :) that position with the body and hands is usually what gets our mare going. (I found rocking a bit from side to side could do it too)

From the full body shot I'm really not convinced she's Saddlebred... They generally have very tell tale necks, shoulders and hindquarters... She has the hindquarter that could pass... But her neck and shoulder doesn't seem quite right (there are always exceptions though!)