Oh wow, if it weren't for the color difference between Tori and Jack I would think I was looking at my boys face! Well, I guess I know which side that came from! Gorgeous girl!
I don't come on this forum much, but Morgans are always a topic of interest. We currently have three.
Dazzle, the full sister to champion stallion Ancan True Colors. 14.1 palomino mare.
We also have Concensus, a Whitmorr Law and Order son.
And then Alice, who is by Futuritys Ellusion (x Futurity Royal Love [x UVM Promise]) and out of a mare by Tara's Hallmark. Alice's maternal half brother is a successful reining horse with several world titles. Sadly she didn't have that luck and we recently rescued her.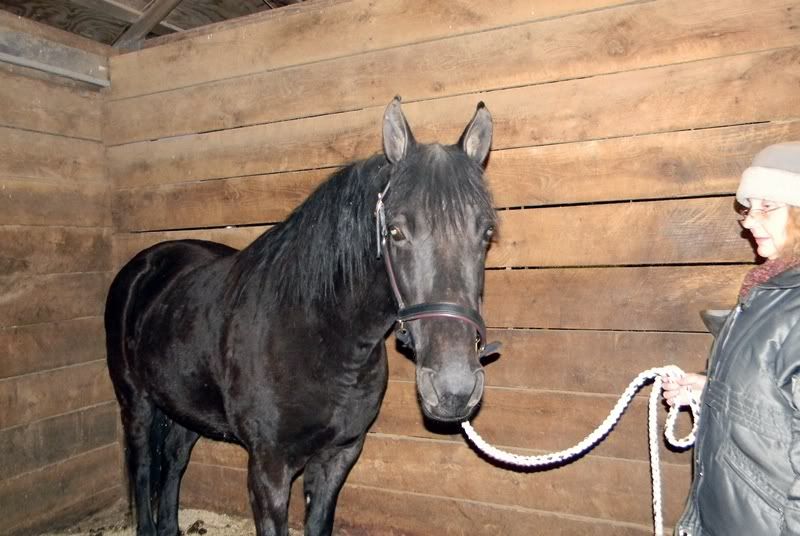 Aww. She is so cute. Love the green (gosh, I just forgot what it was called. Halter?).
---
The Will to Dream... The Courage to Believe... The Wings to FLY


This is Carl, purebred Morgan gelding....absolutely gorgeous guy!! He isnt mine, but a horse I used to care for, sadly he passed away this past year to EPM....but my gosh was he a beauty!!!!
Pics really dont do him ANY justice! :(
This is my baby boy :) i've had him since he was 9. He'll be 18 in june . :)
You any of you Morgan people know anything about the gaited Morgan. I had a mare that was gaited, she passed away last May due to a foaling complication. I was just wondering if anyone knows the gaits.
CMarie, while I do not personally know what gaits the gaited Morgan performs other than 'singlefooting', perhaps the Morgan Single-footing Horse Organization could help you out:
Morgan Single-footing Horse Association
GaitedMorgans.com says this:
Quote:
Gaited Morgans are often called "singlefooters", but may do a variety of intermediate gaits between the walk and canter. These gaits can include:

Stepping Pace - an uneven 1-2 3-4-beat
Running Walk - an even 1-2-3-4-beat
Foxtrot - the only diagonal gait (opposite front/rear legs move together) and is an uneven 1-2 3-4 beat
Finally there is what some call the "singlefoot"/saddle gait - one hoof at a time hits the ground and this is at an even interval 1-2-3-4-beat gait. This gait is smooth and fast. This is the gait Jellico Farms Gaited Morgans is trying to achieve with our breeding program. The even four-beat gait has been compared to riding in a Cadillac versus an old worn out farm pickup. It is this plus some.
Gaited Morgans - Gaits
---
:::
Alice
, 10yo Morgan mare :::
Trained
Join Date: Sep 2011
Location: Hour and a Half from Town!
Posts: 6,324
• Horses:
2
Absolutely lovely guys! I have known a few Morgans and loved them all!
Here is Rick. We believe him to be Morgan/? cross. What do you Morgan guys think?
What really tipped me off was his head, build, neck, hind quarters, and his super nice mane and tail. So not QH like. A total mystery saved from heading to the meat barn. Love this guy, doll of a personality, calm, safe, intelligent, nice mover, only about 14.2/14.3 around 900lbs. I positively know he isn't a Quarab, I've had several and he doesn't carry a single trait of an Arabian.
---
You can get a lot further with a ladder than you can with crutches!!
What do you mean what do I mean?
---
Last edited by FlyGap; 02-12-2012 at

11:55 AM

.
Quote:
Originally Posted by
aneternalflame
View Post
Thank you for the info.
Mine is only a morgan mix....but I love him any way.