My gelding is a little bulldog Morgan, and thank you for putting them up.. I think I figured out why they weren't working.. :P
He's built very stockily, he's barely 14.2h with shoes, and probably weighs around 1050lbs. My filly is nearing 15h barefoot (about 14.3 and a half, I'm hoping she reaches at least 15h when she's full grown, since I'm 5'6 and would like something 15h or taller) but she is so petite, she only weighed 800lbs when I first got her... We put a lot of meat on her, but I'm willing to bank she's still around/under 900lbs.
Smokey is just a lot of muscle, even at 25!
This is another of my favorite pictures of him: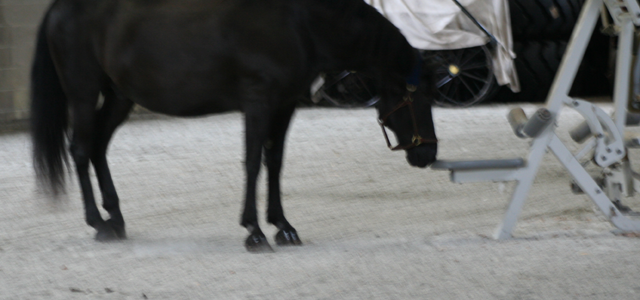 Here's one of Scarlet, similar to the one WSArabians posted of Smokey for me, and you can tell the difference in their type. I wouldn't consider her breeding to be the "new trend" at least not on her bottom half, a little bit on her top half.. and she's also very petite, the new wave Morgans are often towering (16 hands is becoming more and more common).... I'm rambling. :)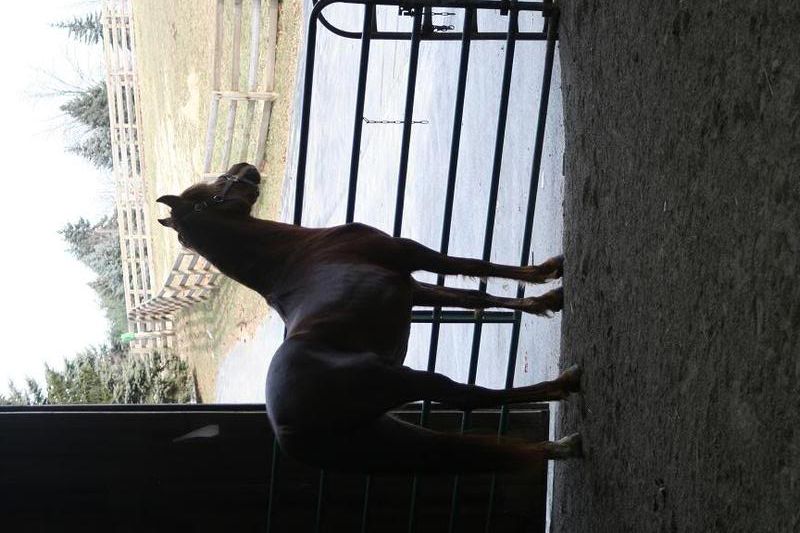 This is Smokey at New England with me (I was 12 or 13).. He's a former Western Pleasure WC (in ladies and JE) and does he look good in silver or is it just me :)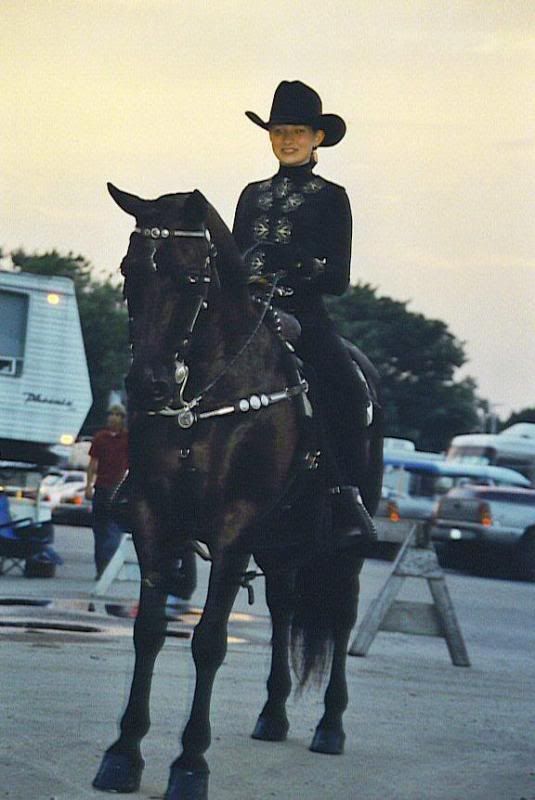 and this is my absolute favorite shot of him, it actually one a photo contest on a forum I used to frequent, and there were a lot of entries (I want to say at least 30, but probably close to 50)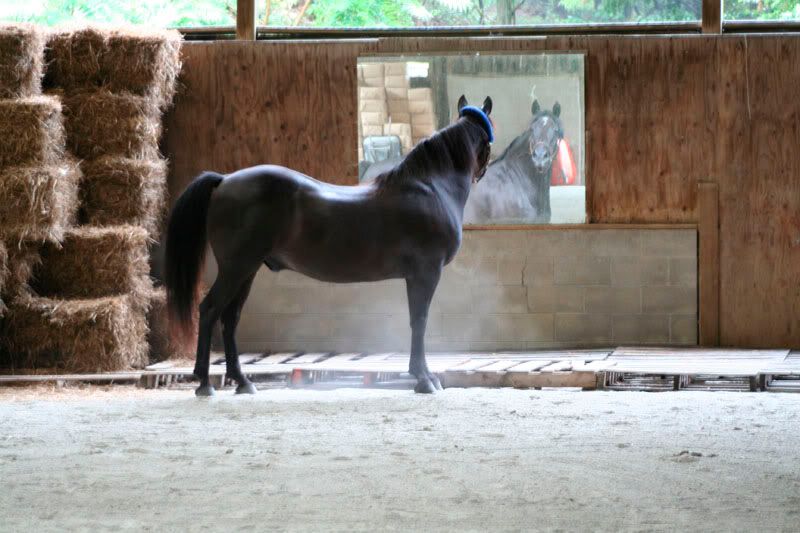 Anyways, I love Morgans of all types. I've always wanted a big park horse of the new type, but as you can see my boy is very classically built (I think in the mirror pic, he resembles Justin Morgan a lot!)
http://accordingtoindy.com/JustinMorganMatt.jpg
(i dont want to hot link, but look!) He's not as upheaded, but he's definitely got the thick legs, hindquarters and chest.. Smokey's got a bit of a sway back, I'm sure age and all those years carrying 50lb show saddles play a factor.
WSArabians, your little Morabs are cuuute! Especially the colt, I'll be interested to see how they grow up! Your mares are also very cute, especially the one who managed to get snow all over her face. :)
I agree, he does look like Justin Morgan - Or Figure, more accurately. ;)
Such a beautiful boy. :)

And thanks!
Both of those two are for sale. Rev I might keep around and train, then maybe show or re-post for sale.
He`s going to be a big boy too. He`s just under 15hands right now, and he`ll be two in July!
Quote:
He looks like it! I'm sure he's even more gorgeous in person! My little morgan mare used to be like that. didn't matter if someone was watching or not,she would just run and trot with her tail flagging in the air like she was the queen of the world.lol
LOL
Funny you should mention that! He`s the most un-photogenic horse that I have aside from his sire!
Drives me crazy.
Really? That's hard to believe. Maybe just because he won't hold still!! lol :) Amazingly enough the most photogenic horse that I ever owned is the one that I have now...my Appaloosa. She actually doesn't act like, or is biult like a typical appy. Which i LOVE! haha. I am actually not a big fan of Appy's at ALL. not to be mean, but I like full mane and tails and "normal" looking eyes, the mottling is i think just...weird looking to me. but then againh, ot each their own. Mines amazingly enough has a full mane and tail, and arches her neck like a western pleasure morgan more than anything. And if she know you have a camera she will actually hold a "pose" until you take the picture. haha! it's hilarious, you can see her looking a the camera too!
She does have a very pretty head. :)
I'm not a fan of appy's either, mostly because of the same reasons as you. lol
I'm not sure what it is about Rev that makes him so I can't get a good photo of him. Well, I got some good shots but not ones that show him as he is. Which is a shame because I'd love to really show him off.
Some horses just put up their ugly faces when you try to photograph them haha. My gelding loves the camera too, almost too much.. He's always setting up for a photogenic moment.. :P

I was never a fan of appaloosas either.. Most of the ones I've seen were built poorly, and the few that I've ridden were stubborn and lazy.. and refused to come into a frame well all except one. The first horse I rode was a blanket appaloosa and he was the cutest pony and just as adventerous as me. :P But like all breeds there are good ones and bad ones... The bad ones usually make the reputation though. :P Not to mention, a lot of appaloosa's I see with a lot of white always looked dirty to me.. I prefer solid colored and dark horses, at least when they get dirty you can't tell from far away. :P I'm a little meticulous about grooming, if I had a horse with a lot of white, I'd never get on.. I'd just groom the day away! haha

Your mare does have a cute face though, and I admit I see the morgan in her. Whether its actually there or just spiritual. :)
THank you guys :) lol. She's my little wanna be morgan. haha. :P Since all I ever had was morgans, when i saw this one i was like...wait...she's not ugly??!! As mean as it was. lol. I have a pic of us riding where you can see how she arches her neck. she doesn't have a long girafe neck either, and she's really not built like the typical app or QH (which I am thankful for) lol. don't get em wrong, i've seen my share of "good looking" qh's but i've seen fewer "ugly" morgasn than I have "pretty qhs" if you get my drift. But then again, it's just my opinion. I'm sure the app people think mine is funny looking because she doesn't have mottled skin, etc haha.
drop_your_reins, amazingly enough with all that white on her...she stays pretty darn clean! She's on stall rest right now becasue of her injusry, but even when she was outside she stayed pretty clean. I am also a grooming crazy so I madfe sure that she had a good coat, etc so usually the dirt just fell off. But I agree, i love my solid colored horses...half the time i just think their clean and it makes me feel better. :P
sorry for rambling. lol but thought i'd share this real quick: you can see how she holds her head...makes me happy to not have a "typical" appaloosa. haha. I'll take her to a morgan show and jsut enter her in a costume class!! :P
Excuse the too small saddle, it wasn't mine so i was a bit off balance. lol
Costume class! LOL!
She does move really nice! And such a pretty tail as well. ;)
amazing for an appy huh?lol

I think I own the only app with a full mane and tail...most people think its fake. :) I know people used to look at me funny when i talked about my morgans tail dragging on the ground 3 feet. lol i alwqays go the "doesn';t he step on it?" questions.
LOL my gelding always gets his tail up for the winter, but I let it down and cut it for him in the summer since he doesn't show. I've been growing my fillies for a year, and it touches the ground plus about an inch.. So when I let it down and ride her it doesn't look too long or drag. It'll be a couple years before it gets to dragging three feet though!