I had the pleasure of riding a monster Morgan a few years back. He was like 16hh and the thickest, sturdiest horse I've ever seen, lol. His name was Dandy and I absolutely loved him. I really miss him, I rode him in a dressage test and wasn't "graded" very well, but it was one of the best rides we ever had, and then I never got to ride him again. Depressing, right?
---
"Great spirits have always encountered violent opposition from mediocre minds."

I have to post.. this is Mariah at TWH and Morgan mix. Mother was half morgan half walker and father was full walker - so she's about a quarter morgan but she got lots of the traits.. her personality is unlike any horse I've been around, she's very curious, likes to check EVERYTHING out. Doesn't spook easy, very sturdy and ready to when riding. She got the size of the morgan about 14hands and the mane and tail as well I believe!
DSC04441.jpg
DSC04447.jpg
---
In riding a horse, we borrow freedom.
~ Helen Thompson
YAY! A Morgan thread :) I grew up riding and showing Morgans and Saddlebreds! I worked with a well known trainer for quite a few years before health issues caused me to stop training/learning :/
Here are a few of my babies :) As you can see, there's a ton of different kinds! lol...not one of them looked alike but they all had the kindest and sweetest dispositions...
Stacey: *My first horse that I bought, and abuse case that I rescued* CRAZY talented old girl! She is about 15 in this pic...and has no weights on...just keg shoes all the way around :)
Hank: Bought him out of a field...he was a SS eq world champion that had been forgotten about...we turned him hunter and he just won the World Championship Sr. Hunt Seat Equitation Grand Championship THIS YEAR with his current owner...Hank is 17 yrs old :)
Gizmo: Got him in partial trade for Hank...didn't keep him long. he is now a Dressage horse.
Sparky :) My love...the last Morgan I owned before my health went to poo and I had to sell him...4yrs old and 16.1 hands...gorgeous horse. Great SS horse...but he liked hunter better so thats we ended up doing with him and he still wins...he is now at home with his owners being a lesson horse for their daughters:
Ok I'm done I promise! LOL
I had a morgan x QH mare (at least we think) and I loved her. She held her tail up like a Morgan, never had to be shod(morgans are known for their hard feet), a long tail, and a gentle temperment..... of course she was 5-6 so she was quite full of energy and a mare so very sassy! lol.... she was 13.2 though, and I sold her for somthing bigger.
My eventing horse in high school was a morgan crossed with something big, he was about 16.3, gorgeous liver chestnut with tons of beautiful, blonde forelock, mane and tail. Some people said he was the most beautiful horse they'd ever seen. I think they said he was a descendant of a stallion named Troubadour or something like that. Don't have any pictures on my computer of him but we sure had some great times. Had to sell him to go to college, lucky younger girl got him but I figure he's passed on now :(
---
Dana
Riverside, CA
I have a beautiful Morgan/Racking gelding :) Got him on 12-6-09 and I have to admit at first I didn't think it would last but after more time he is perfect for me :)
I owned another one a few years back and she was broke to work when I got her. I started training her to be rode and she was going great but I was young and dumb and sold her for something with more speed :( I miss her...
Here is my current Morgan/Racking gelding Winter Wonderland.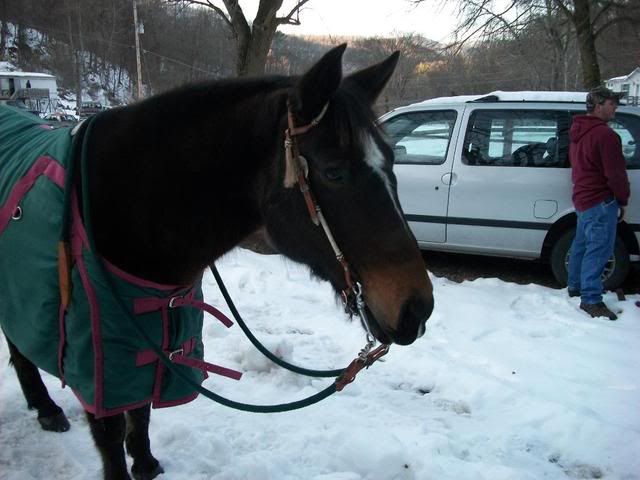 ---
Blue Eyed BLY~ 2/3/03
Calico Sonny Stockman x She's On Cloud Nine
Green Broke
Join Date: Aug 2009
Location: Vancouver, British Columbia
Posts: 2,808
• Horses:
2
I love morgans. This friday I will get the chance to ride one.=)
---
Live to ride. Ride to live.
The stepping trot can either be taught or is natural. Most of the time it's taught though. Yes they can be gaited, I've worked with a gaited one. And I'm not going to post pictures because I ride at a barn that is noted for its Morgans, so.....
I love the breed, especially the older style, I guess I'm old fashioned like that. Most of the older styles in all breeds I like better than the newer styles.
---
"And somewhere in the northwoods darkness a creature walks upright. And the best advice you may ever get is: Don't go out at night..."
Now I know what the OP meant, I was looking and was like "NO MORGAN THREADS?!" I almost made one myself until I found this.
Morgans are one of my favorite breeds, they are so amazing and versatile.
Here's our Morgan girl, Dream!
---
passion is when you put more energy into something than is required to do it. it is more than just enthusiasm or excitement, passion is ambition that is materialized into action to put as much heart, mind, body and soul into something as is possible. // <3 starlite - dream - lady - georgia