View Poll Results

: If You Have A Wild Horse (Or One That was once Wild) Did You Train/Brake It Yourself??

Yes
12
60.00%
No
4
20.00%
I bought it tame but it was once wild
4
20.00%
Voters: 20. You may not vote on this poll
Mustangs Anyone????
---
Hey does anyone have a mustang? I do if you have a mustang that was once wild I want to hear your story and a pic. i will post mine here in a min. but i love hearing about wild horses that a lot of people would say no way i will ever get on or near that wild thing and then some brave and kind person does and sees that they are the best kind of horses you can have!!
---
~Corey+Deussa=One Amazing Team~
MUSTANGS
---
HEY there yes i have MUSTANGS 2.5 right now have had a lot of them nothing comes close to a mustang. for an honest horse although its takes more time to train them but once you have there trust you have a horse that will do anything you ask but you have to ask nicely . the only other horse breed that i would have if it was between them and all other breeds would be the saddlebred and that is do to a very regal saddlei just recently lost but was equal to my mustangs in the thinking first before reacting If i could only have 2 breeds it would be MUSTANG first then SADDLEBRED but i have all different tyupes from qt twh mustangs mustang crosses and just now a arab mare but nothing on earth equals a mustang to my belief and yes i train my own off the range
I have a mustang that I bought from a person in another state that bred the sire and dam (both were once wild). so i guess you can say he's the first generation domestic bred lol. I love him to death. by far mustangs are my fav. the only thing this horse knew how to do when i got him was somewhat trailer, halter, sometimes pick up feet. I have pretty much worked him from the ground up and I can just about do anything with this horse. All within time as he is still young (only 2), I will be saddle breaking him, ect. but as far as groundwork goes, he is excelling. I wouldnt trade him for the world ;)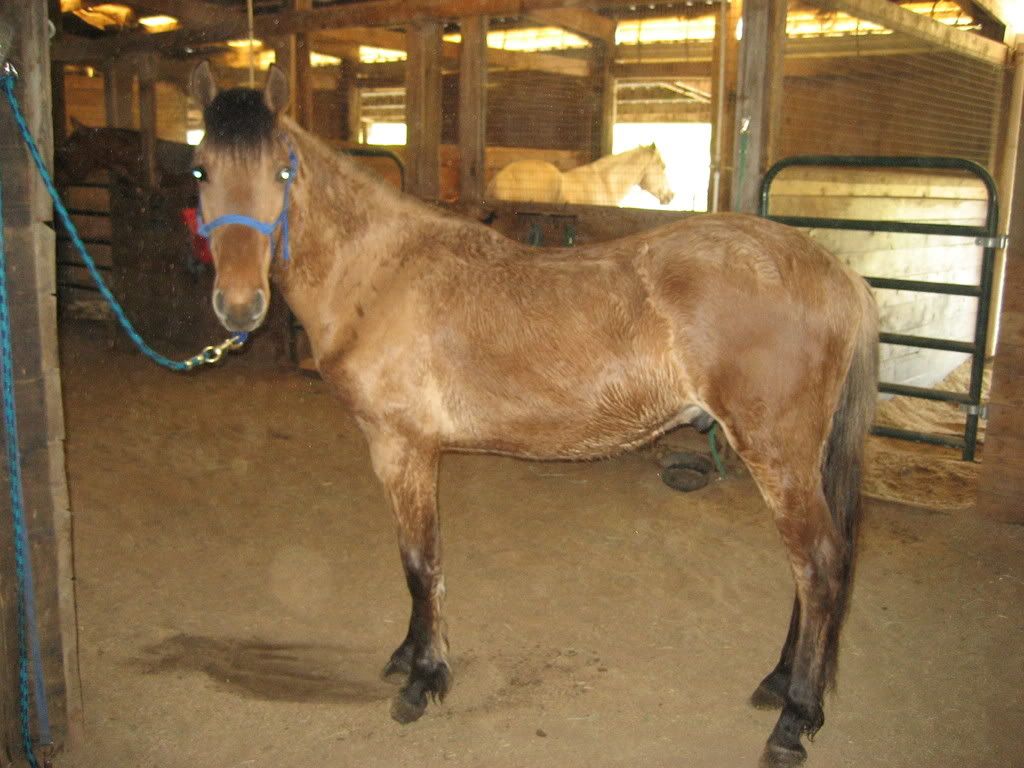 Foal
Join Date: Feb 2011
Location: California (school) and Canada (home)
Posts: 64
• Horses:
3
He's cute do you know what HMA his sire and dam were from?
I've never owned one, but these are some yearlings just off the range that one of my uncle's clients are desensitizing. They take in a few every year and get them ready for the prisoners to work with them.

EDIT: Wow, this is an old thread....2 years
There is one sulphur filly up for adoption right now that I really want:
there are a lot of cute ones but she is the typiest (though the pictures aren't great and are hard to go on)
Surprisingly, one looks to have some Arab blood...hmm
I hope all of them find great homes they are such wonderful horses, but I want that filly
If I could see them in person...but then I'd want to take them...
---
Last edited by wakiya; 02-17-2011 at

01:14 PM

.
I have a half mustang, his dam was caught in nevada. (i didn't click on the poll since he was not born in the wild)
here's my big boy
DSCF0027.jpg
I used to ride his mother and she was the best horse, would go anywhere and do anything. Perfect trail horse. she was 15.1 hh and my boy is 16.1hh, i wish i knew for certain what his sire was, i was told appaloosa.