Showing
Join Date: Jun 2011
Location: Cariboo, British Columbia
Posts: 11,940
• Horses:
3
Need some better pictures, I don't think his hind end is appearing clearly in that shot. From what I can see, he looks attractive.
I'm not very good with conformation but I'm trying to learn - all that I can see is that he has a very weak hind. I don't know what else to say because there isn't much in the pictures (and I'm not very good at this) but he has an excellent face!
Though none of us can give a critique that is fair to your horse from those photos, I can make this comment about the flat croup. Arabs do have a kind of different way for their tail bones to exit the spine; higher. If you wish to judge the croup, look not at the tail but at the angle of the pelvis itself.

Take some good photos and let's try again, ok?
Thanks everyone. I'll put better photos up at some point today.
Posted via Mobile Device
It was miserable here today so this was the best picture I could get...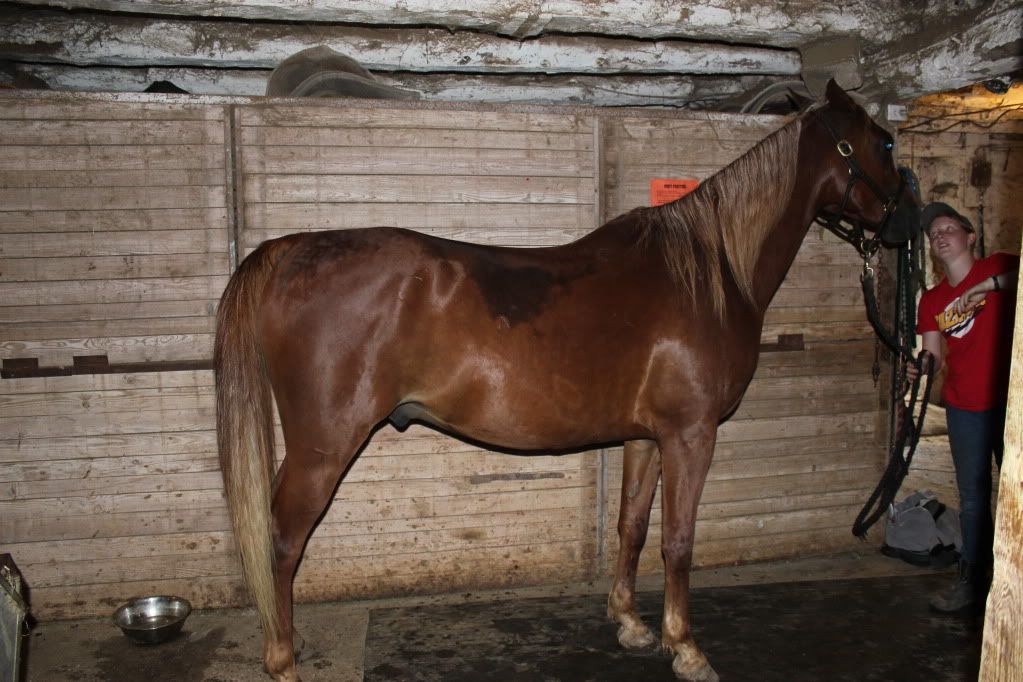 ---
To Finish Is To Win
Proud owner of El Yusaifr & Sun Frost Dude
Certainly not horrible ;)

I see that she is a little long in the back, a little upright in the shoulder, and her neck is overmuscled on the bottom (very common and fixable with proper riding).

Her legs look straight, with good bone and nice feet. Her flat croup is just the angle at which the tailbone and end of the spine is set, and has nothing to do with hind end funchtion. She actually seems to have quite normal pelvic slope. She also looks shiny and well-cared for. How is she when ridden? One of the best indicators of conformation is how the horse is able to perform under saddle.

I wouldn't worry what other people say. People who don't know or like arabs won't like her conformation just because it isn't like the horses that they are used to. I think she looks fine, and I really like her typical arab feet :)
I agree with the under-muscled neck and long back. Other than that, she looks like an arab to me!
Posted via Mobile Device
He goes fairly well under saddle, he's still young so we're working on it. He often goes around with his head REALLY high in the air, could that cause the large muscles on his neck??? And thanks for the critique.
---
To Finish Is To Win
Proud owner of El Yusaifr & Sun Frost Dude
Carrying his head high without good headset will work the wrong set of neck muscles. He'll be fast more likely to end up ewe necked. Proper movement and headset will fix that, but it does take time.
Posted via Mobile Device
I usually ride him with a training martingale to help me keep his head in a proper postion. Without it he'll throw his head up, but I can eventually work it back down.
---
To Finish Is To Win
Proud owner of El Yusaifr & Sun Frost Dude