Thanks guys! I got some new pictures and we also got a Paso Fino tonight!
Fjords are not popular here either. Although she is a cross I don't care. She defiently has some fjord in her. I can't name her chloe,sophie,zoe(sounds like zoey,my hamsters name)...I need something simple,cute,and girly...I like the name Lily.
Oh and I found out she is actually 2 years old. I will start her with simple things. I will work on ground manners..she needs to learn not to get into your space. She needs some muscle to her and a bit of weight but that will come in time.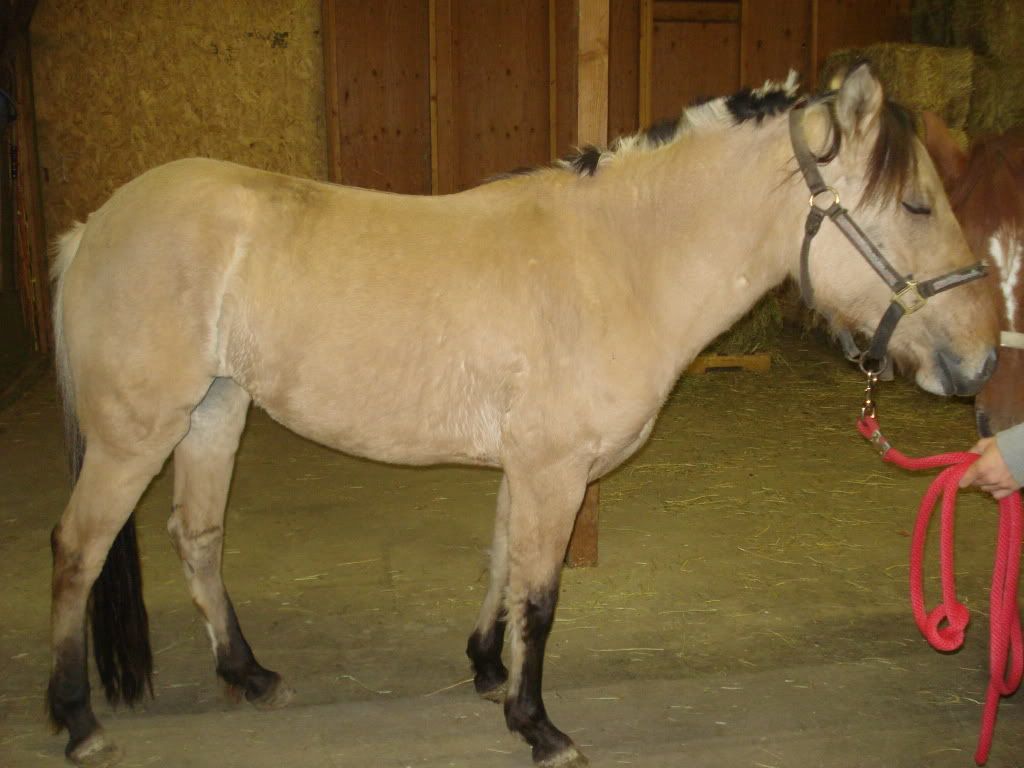 and here is the 3 year old paso fino
Yearling
Join Date: Aug 2010
Location: Gold Coast, Queensland, Australia
Posts: 926
• Horses:
3
She looks deffinatley a WILLOW to me!

I love the paso fino!! and i usualy am not the breeds biggest supporter :P But those eyes are do die for! She looks like butter wouldnt melt in her mouth.. Congrats on the new editions! There a bit cute!
---
The Perfect Day-
Going to bed with a Dream
and waking up with a Purpose!
She is so cute! I have never seen a fjord in real life lol. There are practically none around here. I agree with a cute little daint girl name. She looks innocent and quiet. lol.

Callie
Carly
Harley
Claire

(sorry for all the 'c' names lol)
---
Lettin' the cat outta the bag is a whole lot easier than puttin' it back. -- Unkown

Hey! Your hubby looks lik egeeze, get the pic over with!

Did the filly settle down last night? Eric really likes Ludo. He is in my front yard mowing the lawn. (Ludo, not Eric, lol) Will take him to meet the herd later today.
Hey there!
Yes, the filly did settle down...thank goodness! We are about to head out there to go see how they are doing. We absolutely love them!
I'm really bad with names but they are both cuties!
I am liking the name Callie..the thing is that was one of our childhood dogs that got ran over :( O.O

I liked Elanore and calling her ellie for short.

Any plant names you guys can think of?
Dragon lilly. At least I think thats a plant. lol.

I do like the name Avlon someone suggested.

Caroline.
Kammie.
Ressa.
Ryder.
Flora.
Sequin.
---
When In Doubt Let Your Horse Do The Thinkin
Quote:
Originally Posted by spookychick13
What Lone said.
Congrats on your new additions!

Love your Fjord cross. She sure got her head from the Fjord ;) (that is not said in a bad way, I love Fjords and have one).
What if you gave her a Norwegian name, since she's a Fjord?
Similar Threads
Thread
Thread Starter
Forum
Replies
Last Post
Harrison Fjord

CheyAut

Horse Pictures

15

07-21-2010

02:17 AM

Fjord for sale

BarnDiva

Horses for Sale

1

05-14-2010

02:39 PM

Harrison Fjord

CheyAut

Horse Pictures

17

01-25-2010

02:18 AM

Wanted: Fjord.

White Foot

Horses for Sale

1

06-26-2009

08:53 PM

My Fjord

FjordFan

Horse Pictures

3

05-31-2009

12:30 PM