I am using these examples because this is what I'm familiar with.
When you're choosing a barrel racing prospect, who will you choose?
Tres Seis, a racing quarter horse?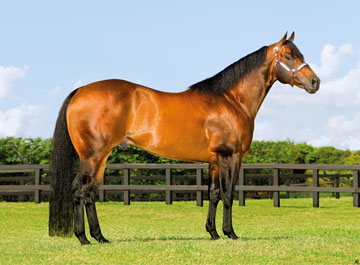 Or this warmblood, Negro? (I know nothing about him dressage ladies...So feel free to enlighten me if you want, I just googled and he came up)
Anyone with eyes can see the difference between these two horses. Tres Seis built to sprint, and absolutely throw his hind end in the ground and run around barrels; Negro is not. He's built for good, big, dynamic moves that will earn him dressage points. You tried to run barrels on this horse and you would
break
him. You would break Tres Seis too if you tried to jump him like a lot of warmbloods do.
Heart can only make up for so many faults...Some horses will try until they kill themselves. Just like some humans. You, as the owner, have to know the horse's limits better than they do and stop them before that happens.
---
Pssh.I didn't pick up the wrong lead
It's called a counter canter...
...A very advanced maneuver.
Quote:
People holding onto silly, unproven prejudices about a breed(or for that matter a gender, height, color) is unfortunate. Hating something is never good, and criticizing others for liking something different is not good either. No one should be bullied or put down for choosing to ride a horse of a different breed, height, color, bloodline or gender.
This!! It's prejudiced, not racist. And having preconceived notions about anything, horse breeds, dog breeds, people without the basis of fact or personal experience is wrong. It works either way, positive or negative. Obviously, negative can hurt a lot more.
The silly rumors and lies I hear about saddlebreds is absurd. None based on personal experience or fact. My husband still tells me he refuses to ride a saddlebred. I'm tempted to find him the craziest, bucking QH and send him on his way. I will laugh from my bomb proof Amish rescue. To bash something you know nothing about is crazy and makes me question how you feel about people who are different from you.
I firmly believe it is interconnected. If you are not accepting of other breeds, people's level of accomplishments, income levels in animals, you aren't respectful towards people either.
And yes a horse, dog, or whatever with generations and generations of proven ancestors should cost more than the byb critter with no thought to the match. Luckily there are great breeders out there who care more about the type of home their animals are going than their pocket book.
Idk. Lately I have had it with all the hate, bullying and bashing I see in the news. Idk if it is an American thing or a human thing to be so obsessed with labels and differences. You don't have to agree or be best buds, but you don't need to put others down or bad mouth either.
Sent from
Petguide.com Free App
This whole thread reminded me of this.


You got that right! Might be the "best horse" for one thing and not another. We all get the "best horses" for our ability, financial situation, heart, goals etc...
I don't ever mind someone saying "I love dressage so I will only ride Warmbloods" what I hate is when someone says "Saddlebreds suck because they can't do dressage" or something to that effect. Why can't we all like what we like without ripping on other peoples tastes?
I guess I really hear the crap because I tend to have the underdogs of the animal world. I have Saddlebred horses and Rottweiler dogs. Yikes! I guess that makes me an abuser (because all Saddlebreds are abused)and a thug (because only Thugs want to own those killer Rotties. . ha ha Those darn stereotypes. If only I knew about such things back in the day when I first fell in love with the breeds.
There are very few breeds out there that I have not seen a few examples of that I was in awe of. Not that I would want to buy them but... just WOW! Cool horses.
Haha...
I ride a gaited horse now but grew up on quarter horses and a mean old mule my grand daddy had. I agree fully. I don't think any breed is better then the next. I went to gaited horse for a little smoother ride after breaking my pelvis a while back. I still love a big ol' barrel chested quarter though. I guess in short, Ride on my friends...ride on.
Inga, I adore rotties, such beautiful gentle dogs. I'm a huge fan of big dogs, my partner and I have been tossing up on what to get - I won the battle and we've got our name down for a bullmastiff pup. But rotties, ridgebacks and shepherds were high up on the list.

Like you, there have not been many horse breeds that I haven't found beautiful when shown a classic example of the breed. Appies take a bit of convincing but I've seen some beautiful ones, I even owned an appy x back in the day!
Horses for courses, they've all got a use. I'm a dressage rider with warmbloods so therefore my horses are stabled 24/7, ridden permanently in rolkur while bandaged to the eyeballs and never get taken out of the arena..... Truth be told they live in a 10acre paddock with other horses, lots of trees, get taken to the beach in summer and trails whenever time and weather permit.
The joys if stereotyping :)
Posted via Mobile Device
Hehe, I have a great dance...Everyone tells me to make sure she gets enough exercise and that I must be crazy for tackling such a monster dog.

Only my family has raised danes/coonhounds for show for so long, and I'd say 95% of the dogs from our program prefer to sleep 22 hours a day and eat the other 2...lol!
---
Pssh.I didn't pick up the wrong lead
It's called a counter canter...
...A very advanced maneuver.
I totally agree with you. I absolutely love thoroughbreds and I probably will only ever own TBs, but its becasue they're good at what I do and we get along with eachother. I'm not going to judge that appaloosa that's out on cross country just becasue it's different...

On the other side of this.... I get a lot of crap from people becasue I have thoroughbreds. My trainer was so opposed to the idea of me getting one that she refused to help me look for a new horse. She breeds Irish sport horses, so during our lessons I often hear things like "Well MY horses don't have this problem because they're not thoroughbreds" or "She's running through your aids. I know she's a thoroughbred and that's all they're good at, but I can't be here all day."

I have to say.. It hurts when people judge your babies like that and I've noticed I've started developing some breed racism myself, just from always being so defensive for my horses. Unfortunately there will always be stereotypes so there will always be unfair judgement.
---
Sunny's Training Progress Blog
(RECENTLY UPDATED)
2 years ago during a months of 100 degree heat I helped round up a neighbors cattle on a 18 YO arabian mare. The other riders all laughed when i arrived with the little chestnut mare that they all thought was too dainty to last.
i got the last laugh hours later when their QHs were tired and my aged mare was still going strong.
My neighbor has always said he would never have an arabian on his place. Misty changed his mind.
Stereotypes are all based in reality. Yet most are proven to be silly and blanket statements are often proven to be false.
All breeds have their strengths all have their limitations.
Most horses are versatile not all will be champions in different disciplines but most can perform well in lower levels.
There are breeds I will never own because I either do not like their appearance, gaits, size, or temperament. Nothing is wrong with that.
I will not however degrade those breeds I dislike .
To each his own and we all should accept that. Shalom