View Poll Results

: which name do you like best?

Kings Rippling Starr
4
20.00%
Rips Shinning Starr
9
45.00%
Starrs Little Rip
7
35.00%
Voters: 20. You may not vote on this poll
need help picking a name for my new arrival
---
ok my fellow horse lovers i need help picking a name.
my first time naming a horse so i need some help.
would love any and all suggestions
mommas name is Kristina Starr
daddys name is Rips Blue Man
and Starr has King in her blood line.
also in Starrs blood line are Two Eyed Jack, HY Jule"s Dandy
and daddy has Doc Bar and Hollywood Gold
those are some of the name i have heard before.
tell me what you all think.
i am calling him Rip for short and it seems to be sticking, rolls off my tounge easily.
[img][/img]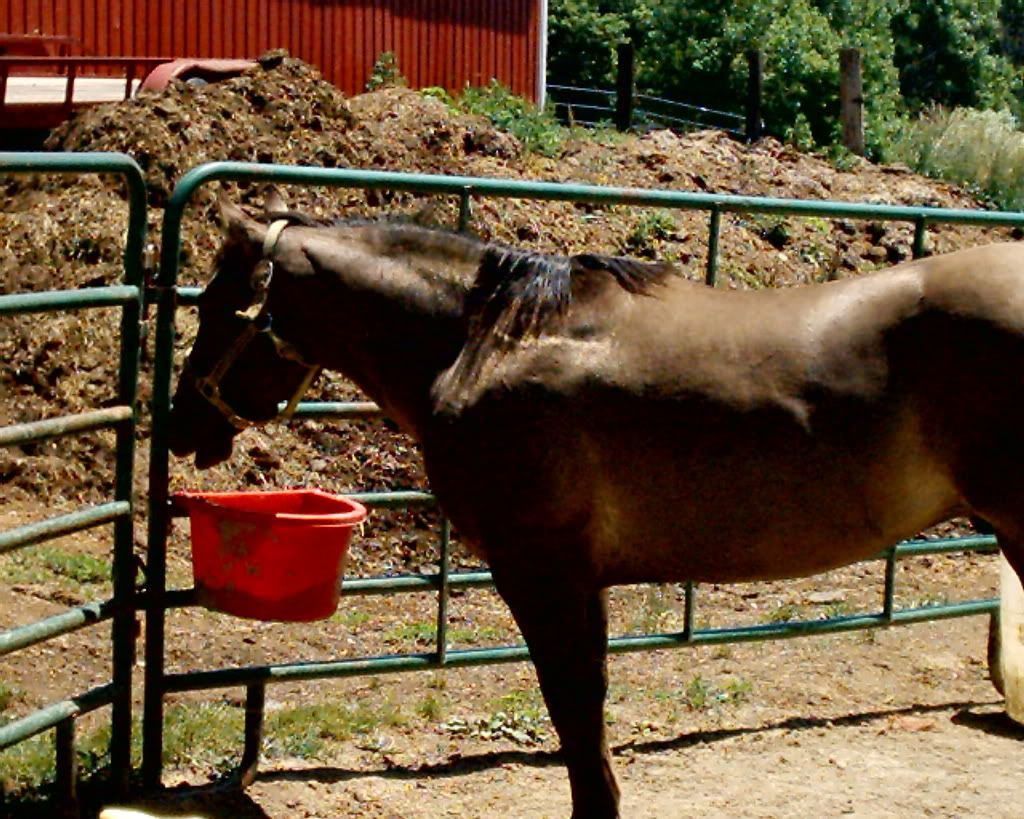 ---
My Horse=My Theripist
I reallt like your secind choice of names its a really pretty name :)
---
3 barrels , 2 hearts & 1 passion
I ride a Two Eyed Jack bred mare...lovely horses.

What about Hollywood Blue Star
i like the 3rd one :)

also, what about BlueStarr Genius? Two Star Rip (haha sounds like a bad hotel or restaurant...nevermind!), Rips Star Blue

he's such a cute little booger!
---
kickshaw
Justin (qh/tb)
Boo (asb)
If he had turned out grullo i was gonna put Blue in there some where but i really think he is gonna be a bay but he does have one white hoof, so im told they could shed out to be anything.
doesnt matter i love him he gives me kisses already
wish i had some one here with me to take a pic of that, id get it blown up lol
---
My Horse=My Theripist
Aw he's so cute.
Congrats!!
Hmm...I also like the 3rd one.
---
Ride more, worry less.
did u ever decide on a name?
---
R.I.P. KIANE(5-year-old AQH gelding)- I WILL NEVER FORGET YOU
omigosh he is precious
---
My first feeling is "ASK THE HORSE" what its name is.
Go and listen to Mama horse and baby horse for a while, quietly.
You will "know" after a while.
My second thought is "What do you want to call him?"
Rip/ Rips/ Starr/ etc....
My third thought is a variation on your second choice
Shining Starr Rips
because it has some action built into the name.. and he looks like he will be a lot of fun to grow up with.
SSR are not bad initials. and who knows it could turn into a name... pronounced "sir"
My closing thought is ... stop thinking... go listen to the horse.
Trained
Join Date: Sep 2007
Location: Hatton Vale, QLD, Australia
Posts: 5,227
• Horses:
7
im terrible at names so im not going to try. i just wanted to say he/she is gorgeous :)

also, it makes it easier to view pictures when they are resized so they are much smaller ;)
---
"I whisper but my horse doesnt listen...So I yell!!...He still doesnt listen"
i voted starrs little rip but what about Rips Blue Starr?