new here - some Appaloosa questions
---
Hi. I'm not only new here on the forum, but I'm a new first time horse owner! My wife Events and has been around horses forever, and she has three (one she competes on and two retired).
The retired horses live across the street from us, and a while back someone from my wife's barn sent over a horse to live there for a while (it's cheap) because he wasn't holding up to the stress of eventing training. Couldn't stay sound.
I kind of got attached to him over there across the street, and finally one day told my wife I kind of want that Appaloosa over there. The owner, a working student, was already shopping for another horse. We had this guy checked by a vet, nothing that would prevent him from occasional trail rides and standing there while I shovel treats into his face, so we agreed to assume his care and he is now officially my horse!
So, sorry for the long post but on to my questions...
He looks like an Appaloosa, his previous owner called him an Appaloosa, his Coggins test says: Color - dun/buckskin, Breed - appaloosa.
He's not registered or anything, but we did get a pedigree of a horse that we think is his sire (the names don't match but we can't figure out why else she would have given us this pedigree). Anyway, it's an AQHA pedigree.
So what do you think? Is he likely a cross between a quarter horse and an appaloosa? He has a dorsal stripe if that means anything.
Anyway, no matter, I love him even though I'm only on my third riding lesson. I've never ridden, so I'm taking lessons (on a schooling horse), then we'll put Buck into western training so we'll be on the same page, and I hope by spring I can go on trail rides with my wife! We live about an hour from Gettysburg, PA and I've always wanted to do the horseback tour of the battlefields there, what a neat way to experience that history. And on my very own horse, even better!!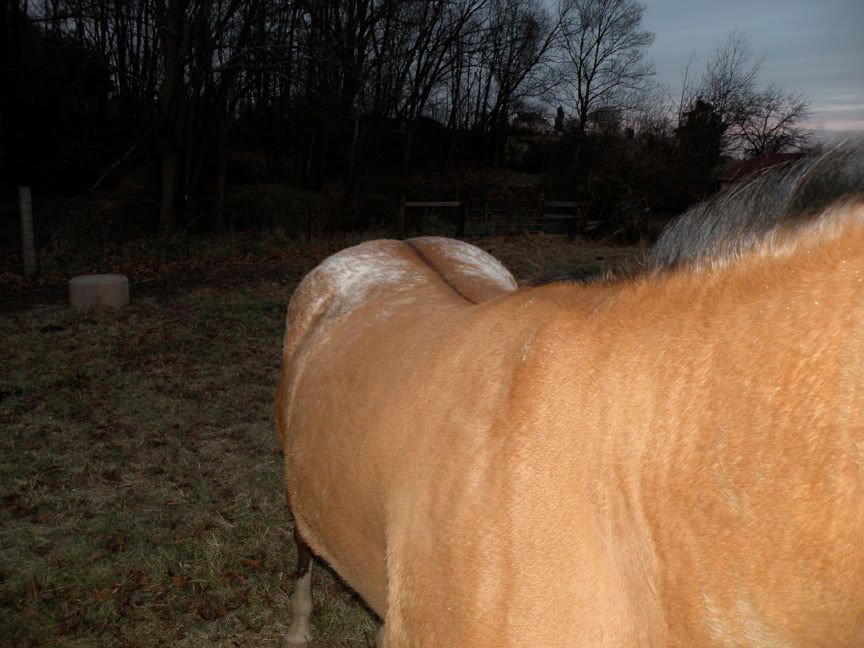 What a cutie, and congrats! Your wife is very lucky you've decided to join in on her hobby :) My husband wants nothing to do with riding, although he comes to shows with me and is my photographer ;) But he enjoys driving his minis with me, so that's good :)

Anyhow, many (most? all?) appaloosas have QH's in their pedigree. I believe TBs and QHs are the allowable breeds to be bred to an App and the foal be registerable. So yours could very well have a QH sire.
he has the speckles of an appy and most likely he does have QH in him.

hes adorable and I love appys! My old horse was an appy a little darker then yours!
---
Bailey's Mountain
6 year old tb
He does look like he has some quarter horse in him apps can be mustangs even appys are consitered a breed and a color.
its every possible he looks like an appy but alot of breeders have been breeding more qhs lines in to get performance and wean out the spots don t make a whole lot of sense to me but my appy lines go back to three bars and i see alot of appys with zippo, and doc bar lines pretty common anymore
---
The daughter who won't lift a finger in the house is the same child who cycles madly off in the pouring rain to spend all morning mucking out a stable. ~Samantha Armstrong

The ApHC allows QHs and TBs in their registry, meaning that one parent MUST be an Appaloosa, but the other parent may be an Appaloosa, QH, or TB. Your horse's color is dun, which is common in Appaloosas. We actually have several at our ranch. People started breeding Appaloosas with QHs and TBs to grow out their manes and tails and give them some more size. Your original Appaloosa was small and had no mane or tail. This is believed to be because the American Indians did not want their horses to get caught in the underbrush.

This was not to wean out the spots though. This is a highly prized characteristic of the Appaloosa breed and no one in their right mind would want a breeding stock Appaloosa.
He is a very pretty boy and looks to me to have more appy than QH in his build. From the pix, it looks like he has virtually no mane hair, a fairly large head, and big feet (all appy traits). He is still beautiful though and I would call him a Dunskin which is basically a line-backed buckskin. His pasterns are a little straight which may cause him to ride a little bit rough and he looks a tad downhill and maybe a little over at the knee but he should make you a great trail horse. I would love more pix.
Welcome to the horse forum! Congrats on the new addition
His colorig is quite cute
Quote:
He does look like he has some quarter horse in him apps can be mustangs even appys are consitered a breed and a color.
Since 1938 if I remember right. Read a little history about the Appaloosa. You too smrobs and rebelappy (not trying to be nasty here). Nice horse Buck.
---
Proud owners of Frosty Ike, Reserve World and National Champion Junior Cutting. Four YO Derby World Champion.
welcome and congrats! He is a cutey(I rarely see an ugly horse)I think most of them are gorgeous, and you've got a looker there.Good luck w/ the lessons.
Similar Threads
Thread
Thread Starter
Forum
Replies
Last Post
appaloosa

Tammy

Horse Breeds

6

03-31-2007

11:44 PM

appaloosa

junior123

Horse Breeds

4

03-26-2007

01:35 AM

appaloosa

Tuff_up

Horses for Sale

0

03-09-2007

06:58 PM