Not Trying to boast but..!!
---
Look at this new foal we just had!! We bred a registered Tobino mare named Ms. Darlin' to a registered Palomino QH roping horse named Double T's T-bone Steak, Look at the foal!!! She's a filly named T-Bones Darlin'!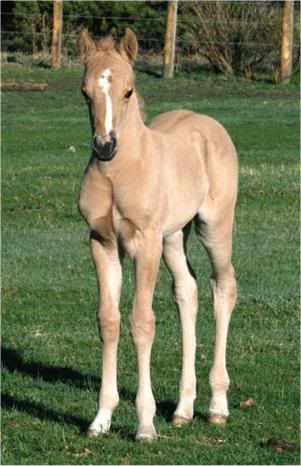 Hey, boast away! She is a darlin' beauty, what color do you think she will end up Palomino? Are you going to call her Darlin?
---

"Until one has loved an animal, part of one's soul remains unawakened..."
- Anatole France
She's adorable. Stunning.
Nice filly, she's going to be a looker.
So very cute. These little ones sure do melt my heart~! :)
---
Cocoa - 32 yr old QH, Cherokee - 8 yr old TWH & Toby - 16 yr old QH
R.I.P. Cocoa 4/13/78 - 2/9/11
awwww!!! She's gorgeous :)
You should be boasting- I mean look @ that filly!
She's so cute!!
Congrats!
omg! what a gorgeous little face! i waannnnnnnttt hehe :)
...
---
Thanks for the compliments guys!!! I think she may end up as a chocolate Palomino or buckskin but I love Palomino's so it would be awesome if she stayed gold! We're probably gonna call her Darlin' or Darling unless we find a nickname that suits her better!![/list]