One of Those "What Breed" Questions
---
When I bought my horse, Kainne, I was told he is a TB (but no papers and no tattoo) and he certainly looked and acted the part so I assumed it was correct..
But these days he is looking very sturdy (he was pretty underweight when I bought him and is now at the right weight for him) and I didn't really think much of it but my trainer lightly mentioned that maybe he's actually a cross (possibly x QH) and it got me thinking. It doesn't really matter to me either way because he's just an awesome guy, but I do like to be accurate and would just be interested to know anyway. So I thought I'd see what you all think here.
So what do you think, is he a cross or just a sturdy TB? Or impossible to tell?
(not exactly sure what kinds of pictures to put so just ask if interested in any additional ones)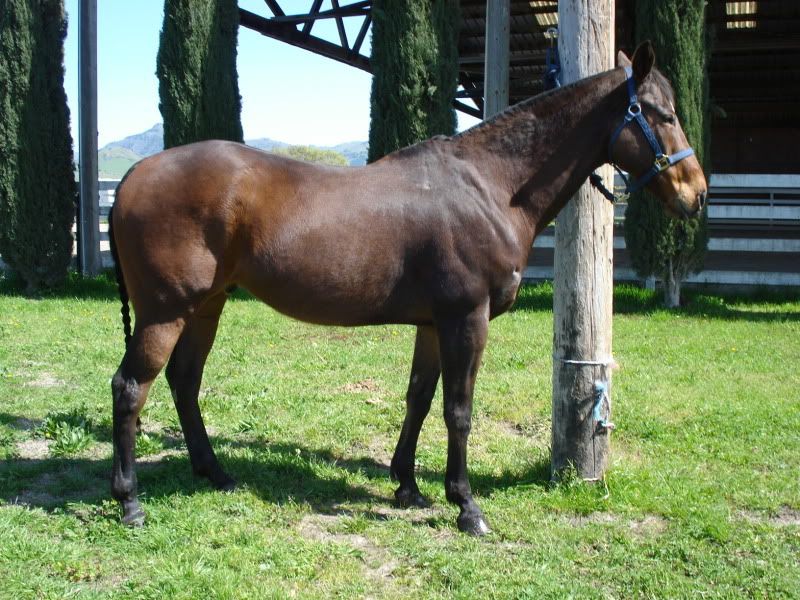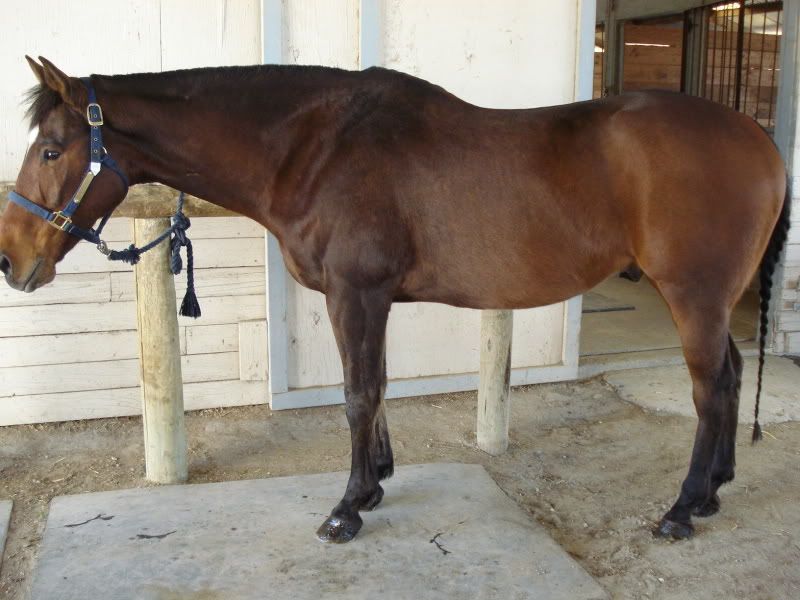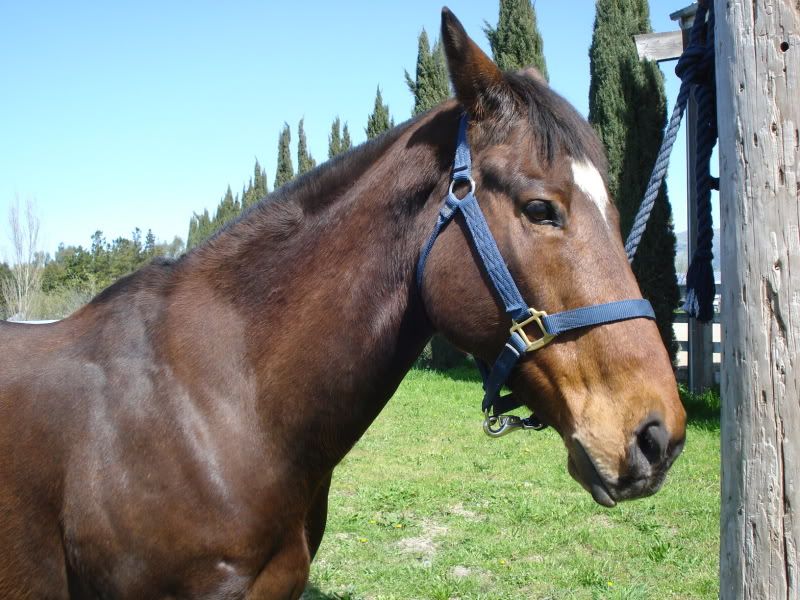 He definatley has thoroughbred blood in him, from my perspective. But I think theres something else there...how tall is he? But the breeds that are comming to me are either quarter horse or something very sturdy.
---
**Mocha - 4 year old Spotted Saddle Horse Mare**
He looks tb to me. It is possible he is very sturdy. If you want to see a well muscled tb got to 'my barn' and click on Chance. He is a pure tb that I leased last summer. His chest is prolly 2 feet wide, or close to it. His head is also huge since after his last growth spurt her now needs a draft halter(normal sized draft).
So he could be a chunky thoroughbred, or an appendix. His head looks tb, as well as his body, so I am going with he is a thoroughbred.
Posted via Mobile Device
I wouls say TB/QH cross, but he may be full TB. Cute guy though for sure...whatever he is!
---
I've spent most my life riding horses...the rest i've just wasted.
He's at least 16hh..definitely in the 16s, for sure. Ever since I brought him home I've been saying I was going to remember to stick him and I keep forgetting, hahaha

Yeah, he's definitely at least the half TB for sure..but it definitely wouldn't come as a surprise to me if he were crossed with something, too, now that I've thought about it. But I'm pretty bad at being able to tell this sort of thing..

Thanks for the input so far! =)
He could be pure tb. Look at Seabiscuit. He was like what 15.3? and built like a stock horse. So, it's possible XD
He looks like an Appendix to me..almost the exact same build as the one at the barn I ride at..Although, he's just a tad smaller than the TB, so he could also be a pure TB. Izzy (TB) is apparently 16.8hh on his papers (I'm assuming it was suppose to be 16.3hh though, since .8 doesn't work out lol) so 16 hands isn't too small for a TB. :3
Posted via Mobile Device
He definitely has TB in him but I'm thinking maybe also some standardbred, they tend to have bigger heads. He looks like he is a really sweet guy :)
---
Dana
Riverside, CA
Hogging a TB's mane?
---
a silent night,wen friends are few,I close my eyes nd tink of u.A silent night,a silent tear,a silent wish dat u wer here♥ Is maith liom cąca milis:) lol
Looks TB to me, but your right he is sturdy. My boy is half TB and his sire and grand sire are sturdy because they have been bred for sports rather than racing. He could be a cross, QH likely seeing that you are in the US although (bare in mind i know little about QH) he doesnt seem to have the QH look.
---
Keep your feet on the ground when your head's in the clouds.