Opinions on Ambers breed Please?!?
---
Hey all! So I have had Amber for a year and a 1/2 now, my old trainer found her for me, anything regarding her past is very clouded, I dont know a lot, if anything about her from before I got her. I was told she was green broke walk/trot/canter but the first time I got on her she was very nervous and didnt know anything, I wouldn't be surprised if I was only the 2nd or 3rd person to ever get on her back, and she also had severe bridling issues when I first got her.
Anyway I was told when I got her that she's a 1/2 percheron 1/2 thoroughbred. But I've gotten a lot of comments when im asked her breed that that doesnt really seem to fit her, I've even had comments that she looks like she might have a little fresian in her! So I really don't know, Im not great at guessing breeds, I know she has draft in her, thats obvious, but thats all i can really see.
I would like some opinions, do you think she looks like a 1/2 perch 1/2 thoroughbred? Or something else? Thanks!!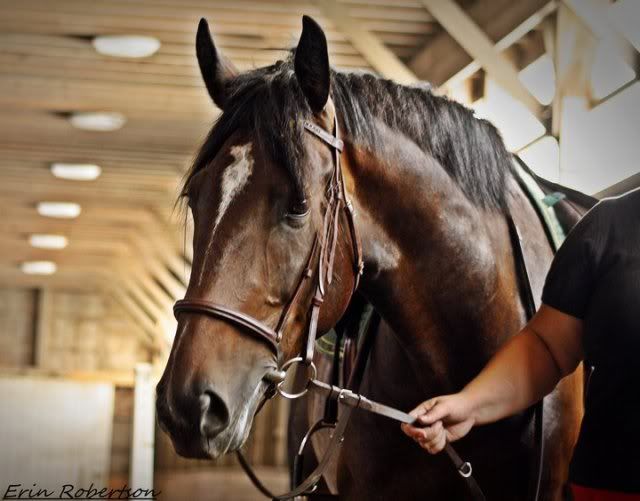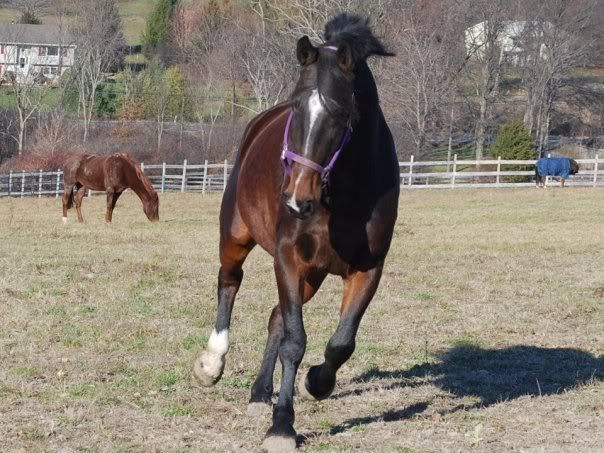 ---
♞ Horse Crazy. ☀ Animal Lover. ☺Jeremy Renner Obsessed. ✇ Photo Taker. ♫ Country Music Listener.
♥ Erotic Romance Reader. ✯ Witch.
No idea but what a striking looking horse!
---
Unless it weighs a ton... it's just a horse.
Draft horse motto.
Looks accurate to me, I definitely feel like I can see both of those breeds in her.
I feel like she has some standard bred in her...
I'm leaning toward what she was sold to you as. Her color strikes me as Clydesdale. But she could have easily gotten that from a Thoroughbred.
I can see her being a thor/perch cross.
---
MUSTANGS...AMERICAS REAL HORSE
RUGGED...EARTHY...AUTHENTIC...LEGENDARY
I WILL FOREVER BE A STUDENT OF THE HORSE.
yep, thbd/perch is what I see.
---
She totally looks thbd/perch. Really like 50/50 with a really nice make kup. What a grand looking dame! You two make a lovely pair, really! I hope this doesn't sound insulting , but from one rather large woman to another, I am glad you don't let your size stand in your way. Go get em.!
Tiny liny (who isn't tiny)
Thanks
I can't say Im happy with my body, Im working really hard right now on losing weight, But I dont let it stand in my way! I just find horses that can handle me, and this mare definitely can. I think anyone can ride as long as they're aware of their size and choose a horse accordingly, I would never get on a 14.3 hand arab, but ive ridden 15 hand quarter horses that were build like tanks, I ride warmbloods, but drafts and draft crosses are my favorites!! And they would be even if I wasnt a heavier person :-D
---
♞ Horse Crazy. ☀ Animal Lover. ☺Jeremy Renner Obsessed. ✇ Photo Taker. ♫ Country Music Listener.
♥ Erotic Romance Reader. ✯ Witch.
I agree with what you have been told of her being Thoroughbred/Percheron. We have one at my work currently and they look very similar body type wise. That is what I was going to guess just by looking at the pics then I read your post.
Id say there fairly acurate assumptions about her breed i do see something continiental in her head though
---
To give a horse your heart guarantees a love that will last forever undamageable