It also depends on what a person classifys as a halter horse,one or 2 halter horse names in the pedigree does not mean halter horse
.There is also what are considered non halter lines of horses that are more halter like in their looks than you'd expect. I would just judge the horse individually
. They certainly all can't be painted with the same brush.
My Superior halter mare has no typical halter pedigree,no Impressive lines & has great bone / feet size.
It all depends on the horse. QH in general are not endurance horses - that's not what they're bred for. They're supposed to be quick and willing. That said QH is a bit like saying 'american' there are a hell of lot of variations! Any given horse might be a great prospect for drill and do well - look at the horse. If he's nicely put together with healthy feet and good bone, he might be worth considering.
Posted via Mobile Device
Can you post the pedigree of the horse you are considering? We could give some better ideas based off of that as well...
Starlet Moment Quarter Horse
She's 12 years old this year.
Edit: Woops, I'm sorry! I listed the wrong horse in the beginning of this thread! That was a horse I looked a previously, not this one, which I meant to state. Oh well, lol.
---
Last edited by Kilokitty; 12-10-2012 at

12:43 PM

.
Umm... before looking any further. Check this horses HYPP status. That thing is a breeding nightmare. Impressive and Conclusive multiple times over. I highly doubt the horse is sound and id bet its HYPP... run. Run far and fast.
---
BB ~ 2014 Trakehner Bratty Mare ~ 1993 CSHA Em ~ 2007 Standardbred

Don't give up just because it is halter bred/Impressive. Our Paint mares Lady and Manet (her dam) are Impressive line, very stocky/big jawed halter horses that have great feet and go all day on the trail.
Posted via Mobile Device
Green Broke
Join Date: Oct 2009
Location: Outside of Oklahoma City
Posts: 2,653
• Horses:
6
I'm confused as to why you would even consider a halter bred horse for drill. Sure, they look all nice and bulky....but that's it.
Posted via Mobile Device
I used to ride an Impressive bred mare and she was fantastic. We did a lot of trail riding and a few small shows (Western Pleasure).
Lacie:
Impressive Lee Maid Quarter Horse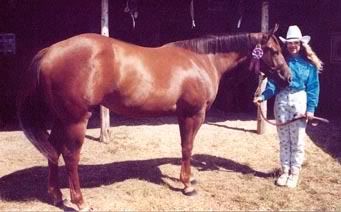 Posted via Mobile Device
Ah I didn't actually look, I probably should have lol. I just saw so much Impressive blood instantly I cringed. I am far from an expert in QH breeding. Without pictures it is hard to say. But I know I would walk away, especially looking for a horse to do endurance/drill with.
But again I am not an expert on QH breeding beyond knowing names for different diciplins. So I will leave the experts to this now
*backs out of thread*
---
BB ~ 2014 Trakehner Bratty Mare ~ 1993 CSHA Em ~ 2007 Standardbred