To be totally honest iv never even heard of SSH before yesterday. And i always thought walkers were a tad stockier. I dont really know much about them. :/
Posted via Mobile Device
This mare is an unknown parentage Spotted Saddle Mare, stockier built than most Spotted Saddle Horse, might not have been full. She is bred in this photo, I believe for the gelding below.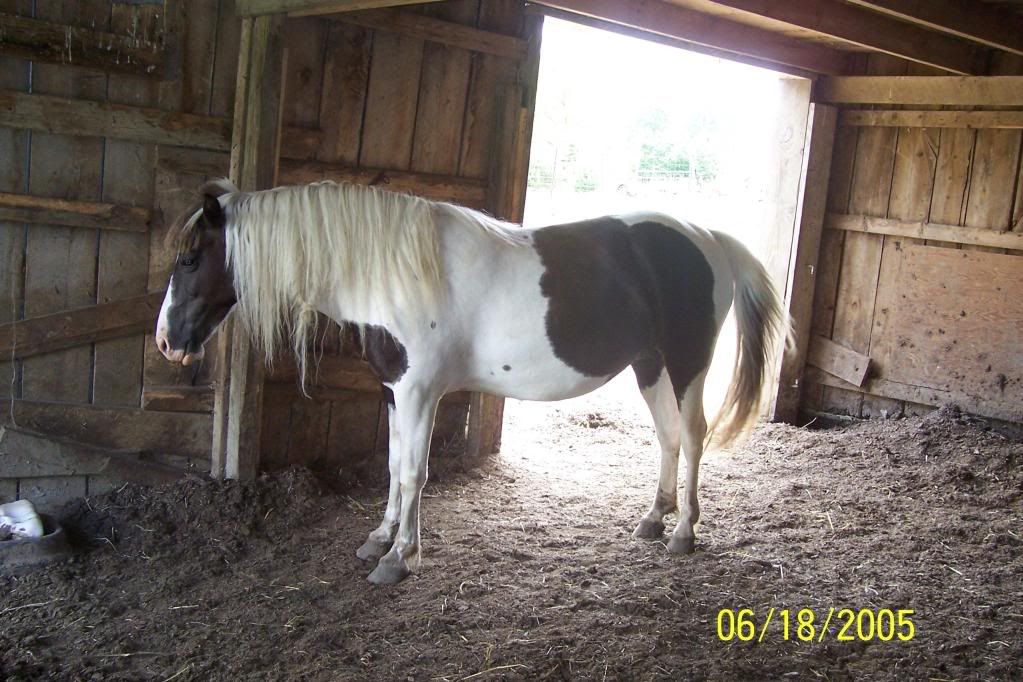 This is one of her foals, which the stallion was a double registered Tennessee Walker and Spotted Saddle Horse. He also is a little stockier built which he gets from his mom.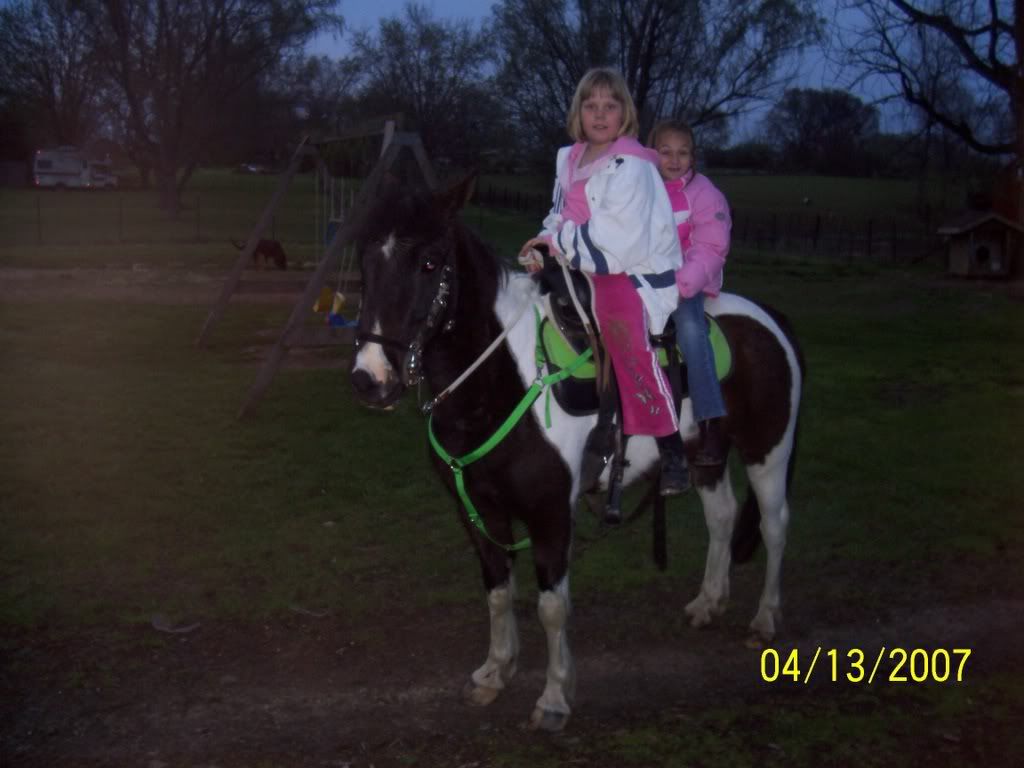 We believe this is a Spotted Saddle Horse/Saddlebred Mix, but was told she was full Spotted Saddle Horse.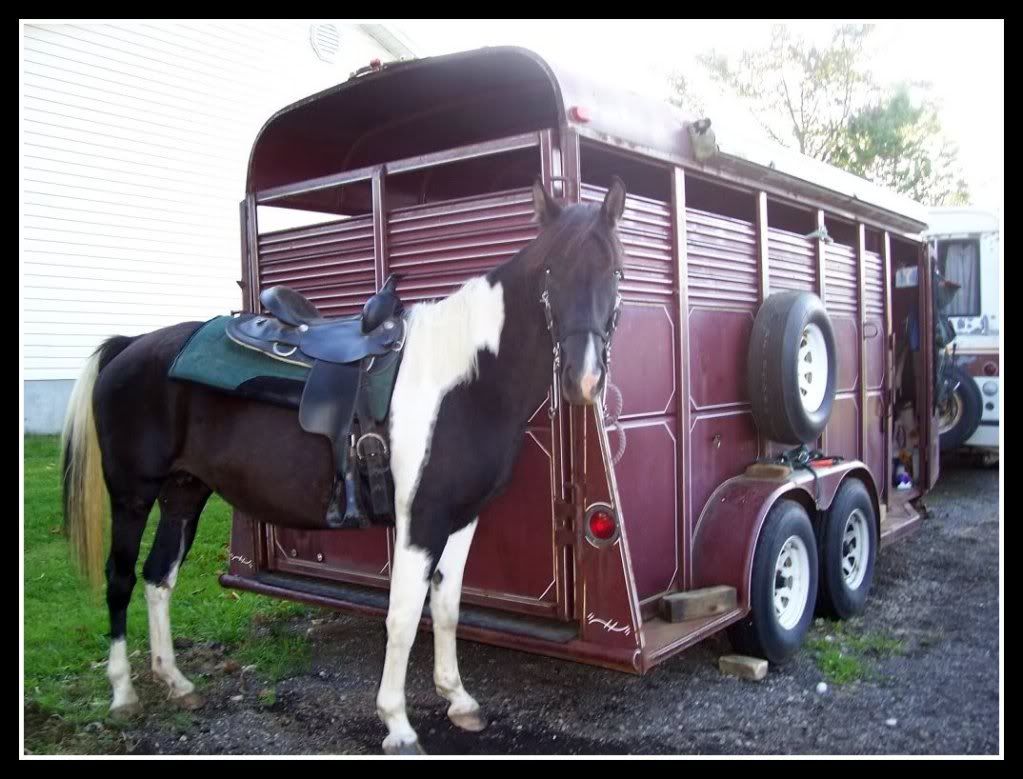 All of these horses, and what I believe they worked on breeding your horse for, if we are correct on the breed is bred for train. They have been bred for a nice walk, smooth gaits, handle lots of miles, gentle attitudes. Most gait, but not all gait. The last horse picture didn't gait until being broke for two years and riding with other gaited horses.
---
Extreme Trail Rider and Barrel Racer.
King - 11 year old Tennessee Walker Gelding
Sassie- 7 Year old Appaloosa Mare
Mine looks most like the last Picture. I know I'll never know for sure what she is but it is nice to at least have an idea. She is the sweetest, calmest filly iv had the pleasure to work with. Not to meantion super smooth and comfortable. Also iv been talking to my husband and he thinks she may be gaited some. We have only recently started her under saddle. He thinks it may develop More with training.... sooo maybe i was wrong before about her not being gaited
Posted via Mobile Device
She is built alot like my spotted saddle who has a larger head. My mare is gaited like no tommorrow though. But she is naturally gaited some have to be taught but she definitely resembles a spotted. Especially the way her shoulder, back and hips tie in.
If she is gaited and could take time to come out in her. Then again I know a flood blood registered Tennessee Walker out of show lines, that won't gait any. The best way to pull a gait our is to ride with other gaited horses. Normally we use at least four other horses, and get one in front, one on each side and on in the back and all start gaiting. You got to make sure you have an exit, if she does anything crazy. Now, that doesn't always work. If she does have a gait, mostly likely a flat walk she is most likely Spotted Saddle Horse or mixed. I love the breed and personally think they are calm horses for trails, but I wanted to barrel race so I no longer have as many gaited horses, we have one show bred Tennessee Walker.
---
Extreme Trail Rider and Barrel Racer.
King - 11 year old Tennessee Walker Gelding
Sassie- 7 Year old Appaloosa Mare
I pretty much do trail riding, some arena work, and moving cattle, nothing competative so her smooth movement is perfect for me. It really wouldnt make much difference to me if she ever really gaits or not. I really enjoy her and find her very pretty and comfortable the way she is. But hey a gait would be cool too.
Thanks for all your help i really appreciate it :)
Posted via Mobile Device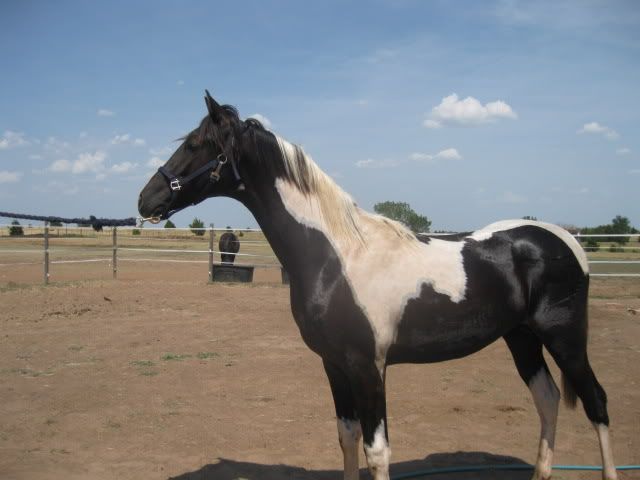 This boy is 7/8 Saddlebred and 1/8 Arabian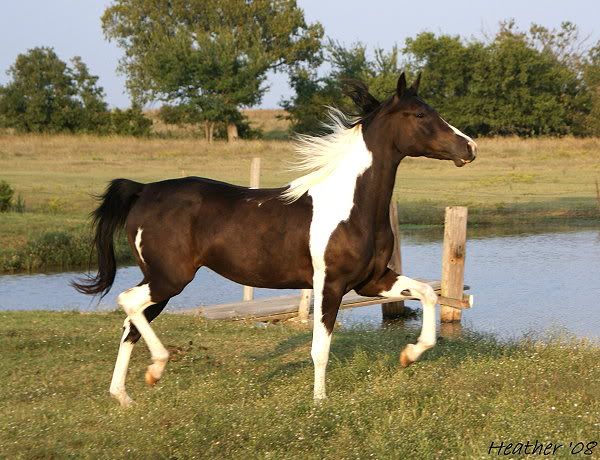 This is the above colt's mother, 3/4 Saddlebred and 1/4 Arabian
From how level your horse's croup is, I wonder if there isn't some Saddlebred in there. My mare is extremely smooth, has one of the smoothest lopes I've ever ridden. She trots level barefoot and is so long strided that it feels like you're floating on air.
---
Foal
Join Date: Jul 2011
Location: Beautiful rural NSW, AUSTRALIA
Posts: 163
• Horses:
2
bjb you have a beautiful looking horse and she sounds like she has a lovely temp too. Lucky You. Enjoy :)

P.S I'm surprised that she was called he a few times. Very Pretty Mare.
---
No matter what road I travel, I'm going home
and if I'm riding a horse I am halfway there.
-Dreamcatcher Arabians-
Yeah i still think she has some saddlebred in there too and maybee something else, or i would think she would be more gaited than she is. But i guess it is possible for that to be all she is. Who knows lol
-Day Mares-
Thanks! I know i think she looks girlish. The nice thing is she's only like 2.5 years old so she's still growing and getting prettier all the time! Im a very happy person.
Posted via Mobile Device
I'd guess some type of Saddlebred cross...sure is pretty!