Opinions Needed on a Horse
---
I recently posted a couple of pictures of a grey horse that was needing adopted, and since that time someone else has offered us another horse! We won't have room for both of them, however, as we already have two. So we'll have to decide between the two.
What I know about this horse: she is a mare, approx. 3 years old and about 14.1 -14.3 hh. She has a gentle disposition but seems uneasy when you try to touch her ears (we were told that the previous owners who had her before the gentlemen we are getting her from used to jerk her around by her ears to try to get her to do whatever it was that they were trying to get her to do....
) She is halter broke, but hasn't been saddled yet. The gentleman that has her now is also unable to care for her any longer and cannot actually physically saddle her himself.
So we'd basically have to find someone to help us get her under the saddle and rideable. I am pregnant at the moment and would like to work with her myself after the baby comes but my husband would also be working with her up until that time (which will be the spring).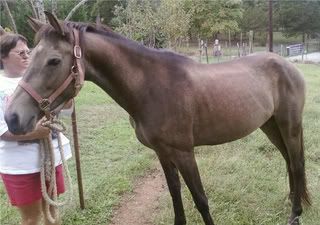 In any case, I would like to know what you all think of her, if she looks a bit on the skinnish side, and what breed you think she may be. Here are a few pictures we took of her the other day with our camera phone.
She is so pretty! She reminds me a lot of my rescue horse I had, and is still in my heart, but, we think mine was an arab/quarter cross. She was the same height, but a redder roan coloring.
Thanks Chevy. I thought that she was really pretty also. She is a bit timid right now, but she has a very gentle nature and I like the fact that her stature is a bit shorter than our other horses and she would be easier for me to mount.

I have to say I felt very "connected" with her when we first saw her, so I think we will most likely be getting her and I will just work with her a little at a time when the baby comes.

I was thinking some type of Arab cross as well, given her stature but I don't know much about horse breeds, still considering myself very much a beginner. What would you say her coloring is? The owners said buckskin, but I wasn't sure that was right?
Yes, she is a very dark buckskin. I didn't know that till only recently, but she is indeed a dark buckskin =]
Ah thanks then for that. I wasn't sure if she would still be classified as a buckskin (typically when I think of buckskin I think of a warm beige with dark markings on the legs and ears) and I wondered also if grullo would be more appropriate. But then her face is too light to fit that description, so I was a bit stumped!

Thanks!

ETA: I forgot to mention that her name is Shadow. ;)
Difficult to see
---
First off, congrats on your new mare! Her color is stunning, not often you see that around. As for confo, you can't really see much from the photos posted.
Might be able to post some better ones?
She's a very pretty pretty mare. I like her face, and her color is beautiful! I think she looks like a quarter horse. I know several QHs that are on the shorter side. I think the cow bred type horses tend to be smaller.
She's cute! QH or QH cross? My first thought was she is grullo. She seems like she might have some wildish characteristics on the legs and maybe a dorsal stripe?
She will be so cute when she gets the weight on her and gets more confident!
---
~Lindsay~ Mom of 2, wife to the goldsmith, doula and childbirth educator in training, life-long horse dork
Quote:
My first thought was she is grullo.
I thought this as well, I've never heard of a 'really dark buckskin' before...?
Chevy, can you educate me?