Ohh; i've heard them all...
Apprently a 15year old girl isn't capable of re-educating a OTTB, boy did I show them.. What made me mad was how they stereotyped the breed and they haven't even taken the time to own and train such lovley horses.
I heard about all that killing you stuff before we rescued Joe, and now I laugh in the faces of the negative people, who can barley handle their quiet little 'perfect' ponies. Joe is waay more well behaved then those ponies that bite, kick and just aren't well mannered.
Meet Joe;
Joe4.jpg
DSCF7623.jpg
148435_10150299537915068_670840067_15554670_3759244_n.jpg
---
All these OTTB's look a lot calmer than my little Arab. At least she is closer to the ground if I fall off. ;)
---
Celeste
Carpe Diem!
Tears welled up in my eyes as I watched that loving video. Thank you so much for posting it.
I have had several OTTB's and every one was a fabulous horse. My favorite was Sunclipper, who was a very successful event mare of mine.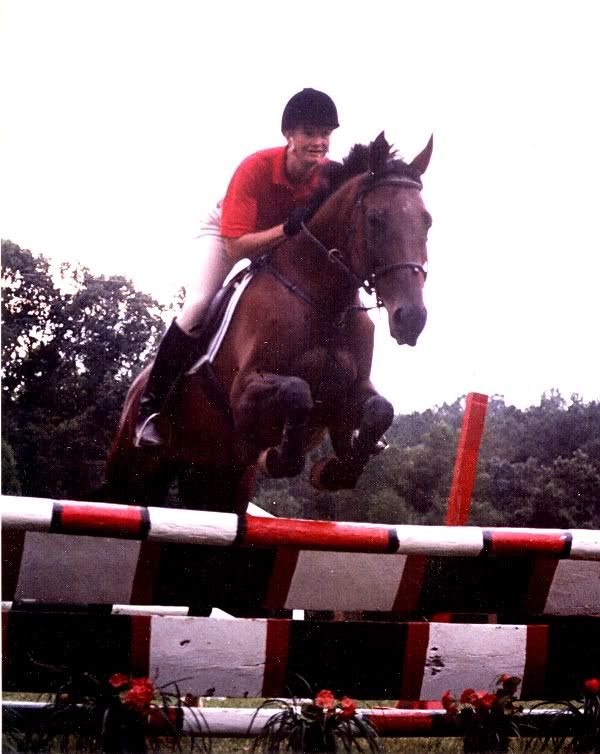 Sadly, I went to Colorado to teach a clinic and I made a deal with another trainer to take good care of her while I was gone. She put her in a pen with another mare, knowing this mare kicked. Well, my horse was kicked in the hock and, while we almost lost her, she pulled through....but not sound for competition.
She made a good momma for my next generation eventer, though. A wonderful horse and friend.
Joe has such dark, soulfull eyes....how pretty.

And that foal is just about the cutest darn thing I ever saw!!

I wish we could all reach out and dispel all these myths and misconceptions about OTTBs....

If a QH has an attitude, it is the result of poor or lack of training.

If an OTTB has an attitude, it is the result of genetics.

It's a silly thing to believe, yet many people do....

and because this OTTB reputation got started somehow, many fantastic OTTBs never find homes....because no one wants to deal with a "killer horse".

Gosh, it just tears me up.
Aren't they terrifying?? Love your video!
We took our OTTB to the fair this year as part of the 4-H horse and Pony club (my daughter belongs). It was amazing to me to hear what people THOUGHT she would/should be like and then see their reactions when they met her. We were *those* people who were in the barn almost 24/7 and more than happy to let as many people as we could meet her. If nothing else, even if we didn't change minds completely, we planted some great seeds -- being able to share her story.
macpack, that is EXACTLY what more people need to do.....get the word out that OTTBs can make fantastic family horses, let people actually interact with these horses....and change their misconceptions....
*raises hand* I bought into it. I thought most OTTB's were nuts. I really did. I avoided them. Until the Frog came along. I found him on CL...he wasn't advertised as a TB (smart marketing!) but loved him even after I found out. He is just one cool dude. Not spooky, not hot, not a run-away. He raced for 5+ years and he raced a ton...you would honestly not even know.

One thing I think most of them *do* have in common is the personality. Froggy is full of it. I know several with that 'playful' attitude.
I have to admit, when DD chose Aero, I had some misgivings and was not sure what we were getting into -- I suppose my mind was the first she changed.
Me, too, macpack and corino.

When my son said he wanted the gray OTTB, i was astonshed and horrified. I actually tried to talk him out of it. MY logic then was "But he is one of THEM..... a TB" GASP. The next line that followed was "You KNOW how they are". When in fact, we KNEW nothing.

I tried to get him interested in a black and white paint the horse dealer had for sale...

He persisted. It was his birthday present and he wanted the gray OTTB....

Reluctantly, i agreed. Boy, was I scared.

Now, looking back on it, I shudder to think how much we would have missed out on had we not bought him.....
Beautiful video, your love for your horse shines through, I had tears in my eyes lol, I wish more people would stop, learn and listen to what a truly lovely breed they are off track or not. Congratulations, he really is quite the character and truly a beauty, inside and out.