Very pretty horse
WickedNag
! Even though i'm not a fan of sorrel, yours is truly handsome
I also like your mare
Gidget
! Though i personally LOVE blue eyes, especially with black eyeliner & color around the eyes. What i do find kind of unnerving is when the horse has one blue eye & one brown.
Or some horses (like an Appy gelding i owned) had one brown eye and one eye with the white Appy sclera! Ick! Looks wacko!
Here's a pic of a foal i really liked despite his actual lack of color on his body. He had 2 blue eyes and black liner
---
"If a horse fails to do something that is because he was not trained to do it. If a horse fails to do something properly that is because he was not trained properly."
www.wildestheartart.com
---
*Trick Riders*
Defy gravity,Have Extreme Skill,Have No Fear,Rock The Rodeo,Know How To Have Fun
Wow. I've only seen a cremello once but she was kind of fugly and covered in mud.
Okay i love blue roans ......... so many colors plus greys like this
or im a sucker for the greys i love the black , greys , blue roans and those colors oh and seal brown
Quote:
Very pretty horse
WickedNag
! Even though i'm not a fan of sorrel, yours is truly handsome
Thank you! I would have loved a black and white but I too thought Shunke was a handsome boy
It's really personal preference, I would assume for most it just depends on a persons favorite solid color. For me I think a nicely marked paint in any color is nice! I do like a nice dramatic black and white, but I'm crazy for all things dun, of course I'm especially partial to grullas! I'd think for obvious reasons. I also prefer overos.
I'm definately biased, but I don't think they get much prettier then Gypsy! Even if she is demonic, she's clearly plotting to take over the World,
I'm in love with my baby Fiona. She is only 1.5 yrs, and will be a very pretty mare when she is an adult!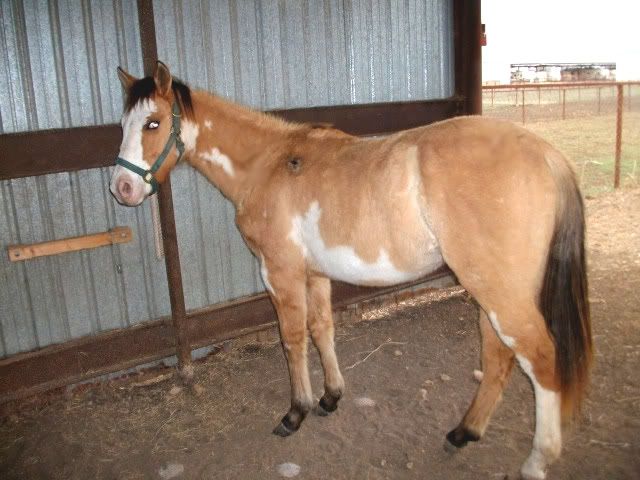 Black and white tobianos for the win!
Or sorrel overos like the stallion in my signature.