They are so pretty! I am lucky to have one!! =D
---
When God Made Horses, He Painted The Good Ones.
"All I pay my psychiatrist is the cost of feed and hay, and he'll listen to me any day."

I wanted a bay Paint, but ended up with sorrel. What can you do? lol
---
Laura
"When you're young and you fall off a horse, you may break something. When you're my age, you splatter." -- Roy Rogers
Here's my Bay Paint...Sundance...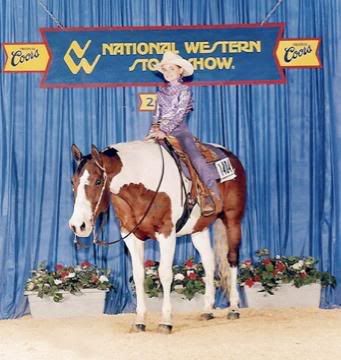 That was my first show horse, Foxy. She was a bay and white Tobiano. <3 I miss her, she was so gorgeous! I sold her to a kid for 4-H so I could focus more on my new horse my mom raised for me to compete in 14 - 19 with... I was heartbroken so say goodbye to my walk/trot 13&Under gal! :(
---
Proud owner of 13yr old Paint Gelding, Bali! <3

Romeo is my Tri-colored paint. :]