Paint horses
---
I just wanted to see everyones paint horses..This is my first Paint Diego a 5 year old gelding
Sorry for all the pics..Im a proud new mom and I cant help it.
This is Toby, my 6 year old Paint.
The day I bought him
6 months later
---
Laura
"When you're young and you fall off a horse, you may break something. When you're my age, you splatter." -- Roy Rogers
Shasta, my 4yr old tobiano mare -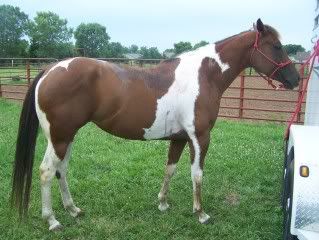 Chase, my 5yr old tovero gelding -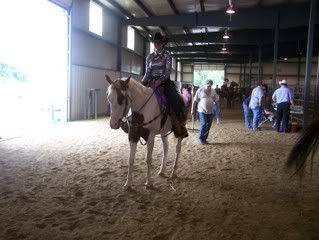 ---
"Blame it on my wild heart."



Harry, 11yr old paint gelding.
---
"If you can't see a thoroughbred has talent, you're probably too dumb to ride one anyway."

Justice 2yr old tovero colt
---
Courage is being scared to death but saddling up anyway~~John Wayne
Paints have such pretty heads to me.
Quote:
Paints have such pretty heads to me.
You can't beat a Paint!
Here are ours...
"Angel"
"Lady"
and "Cinnamon"
---
On the sixth day, God created the Quarter Horse.
On the seventh day, he Painted the good ones.
I am not a huge fan of paints, I personally prefer more solidly colored horses without as much white but that is just a personal thing and has never stopped me from riding one.
Jet: he is a registered paint that I bought for $500 as a 5 year old stud. He had never been handled. I got him broke and sold him about 8 months later for $3500. He was a pretty nice horse but we never really got along.
And here is Prissy. She is a registered paint. She is 3 years old and I am currently training her under saddle for a friend of mine.
And here are a couple of pix from her first ride.
here is the only paint i have now 3 yr old bay/white tovero
and my paint gelding that i sold
---
Strength lies within the heart
but the strengh to trust lies between the horse and his rider!!!
This is my 7 year old paint gelding. Kalypso. I ride him english pleasure.
Thanks.