Pedigree Critique For AQHA
---
Just tell me anything you can about her bloodlines, and she is N/N for HYPP
http://www.allbreedpedigree.com/crystal+blue+smoke
Posted via Mobile Device
There aren't any really big names closer in her pedigree..That doesn't mean she's a bad horse or anything though. I'll start with the closer names and work my way back. Actually the TBs are more impressive than the QHs in her lines..Is she registered as an appendix?
Impressive -
HYPP N/H H-48 World Champion Halter Sire Of: World Champion Halter horses #4 AQHA All-time leading sire by # of registered progeny
2,250 Registered Foals Total Points Earned: 24,602.5 AQHA Halter List: #9 All-time leading sire of Halter ROM qualifiers (43) AQHA Performance List: #19 All-time leading sire of Performance ROM qualifiers (89) #13 All-time leading sire of AQHA Champions (21) Foaled in Oklahoma, April 15th 1969. Deceased 1995 at 26 years of age. The genetic disease Hyperkalemic Periodic Paralysis (HYPP) has been traced back to this horse. For more info: AQHA
http://www.aqha.com/association/registration/hypp.html
Native Dancer
- Breeder/Owner: Alfred G. Vanderbilt
22-21-1-0, $785,240. Won: Futurity S., East View S., Hopeful S., Saratoga Special, Youthful S., Grand Union Hotel S., Flash S., Preakness S., Belmont S., Wood Memorial H., American Derby, Arlington Classic, Dwyer S., Gotham S., Travers S., Withers S., Metropolitan H. 2nd in Kentucky Derby, his only loss. Champion Two Year Old, 1952. Champion Three Year Old, 1953. Champion Older Male & Horse of the Year, 1954. Hall of Fame inductee, 1963. One of the most dominant sires of the second half of the 20th Century. Died at age 17 of colic.
In his first season of racing, Native Dancer won all nine starts. He was voted the American Champion Two-Year-Old Colt for 1952, with two of the three major polls naming him Horse of the Year. He topped a poll by Turf and Sport Digest magazine, receiving 110 votes compared to 38 for his nearest rival One Count,[2] and was also named Horse of the Year by the Thoroughbred Racing Association. At stud, Native Dancer sired 43 stakes winners from 306 foals and is an ancestor of countless modern champions. His tail-male descendants, particularly through his grandson Mr. Prospector, have dominated the US Triple Crown races.
Bold Ruler
- He is the horse that really jumped out at me besides Native Dancer..Bold Ruler was the sire of Secretariat..Bold Ruler was known for his speed but couldn't successfully run the long distance races, just didn't the stamina for the longer tracks...As a three-year-old, Bold Ruler won the 1957 Flamingo Stakes while breaking a track record, and then won the Wood Memorial Stakes. In the U.S. Triple Crown races, Bold Ruler went off as the heavy 6:5 favorite in the Kentucky Derby, but faded down the homestretch after fighting Arcaro's restraint. He finished fourth behind longshot winner Iron Liege and future Hall of Famers Gallant Man (which was mistakenly pulled up at the 16th pole by jockey Bill Shoemaker) and Round Table. In the Preakness Stakes, Bold Ruler bounced back to win convincingly. In the Belmont Stakes, Bold Ruler finished third after he was forced through exceptionally fast early fractions by Gallant Man's rabbit. Gallant Man set a new stakes record that day that remained until Bold Ruler's son Secretariat broke it in 1973. He went on to win other important races, and his performances that year earned him the U.S. 3-Yr-Old Champion Male and Champion Sprinter honors. In the Horse of the Year poll organised by the publishers of Daily Racing Form he received 16 votes to beat Gallant Man (9 votes) and Dedicate (4 votes).[2] Dedicate was controversially[3] selected over Bold Ruler in the rival Thoroughbred Racing Assoction award, but Bold Ruler's win in a third poll conducted by Turf and Sport Digest magazine made him the "consensus" choice as Horse of the Year.
---
I am Sparkly Meanie Doodie Head and I approve this message!
Thanks, yes shes registered an Appendix. Im considering taking her if she's still for sale just to see how she would turn out. I like her build alot.
Posted via Mobile Device
I don't see anything special in her pedigree except for in the 5th generation there are a few horses. I'd like to see pictures of her to see what she looks like. There's nothing wrong with her pedigree, there just aren't big names in there. No big deal. You can't ride papers.
---
"The greatest pleasure of a dog is that you may make a fool of yourself with
him and not only will he not scold you, but he will make a fool of himself too."
-Samuel Butler
Yeah, I'm with Chelsea..I'd like to see pictures of her.
---
I am Sparkly Meanie Doodie Head and I approve this message!
The only pictures I have of her are crappy
As a yearling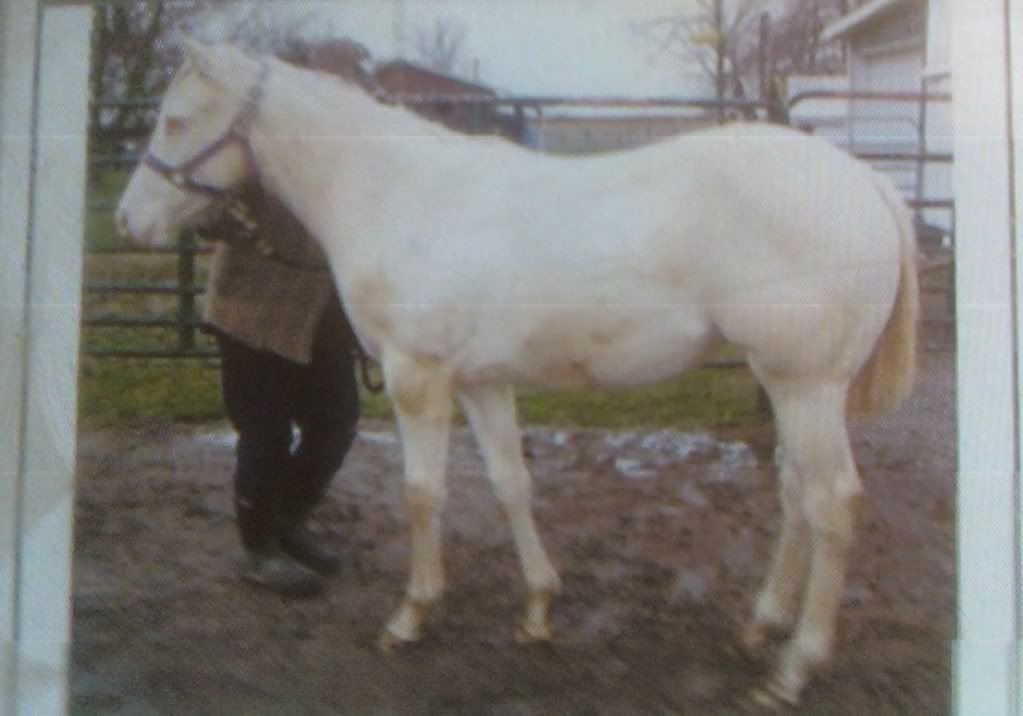 And as a 3 year old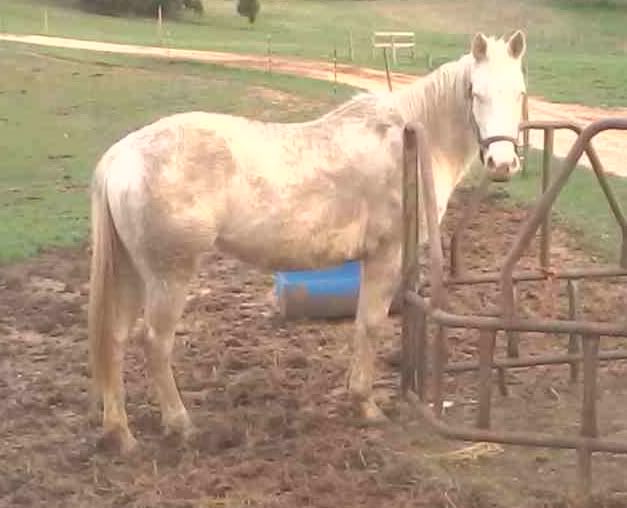 Posted via Mobile Device
Yeah, I won't give a critique of anything from those pictures..the second is extremely unflattering lol...Good luck keeping her clean if you get her.
---
I am Sparkly Meanie Doodie Head and I approve this message!
Lol yeah its a little hard. She will be interesting to keep clean if I do end up with her. I tried to buy her last year actually
Posted via Mobile Device
Well I hope it works out for you this time.
---
I am Sparkly Meanie Doodie Head and I approve this message!
Guess we'll see, shes nothing amazing but something draws me to her
Posted via Mobile Device