View Poll Results

: Which you like Better?

Paint
21
70.00%
Pinto
9
30.00%
Voters: 30. You may not vote on this poll
Why would they care about how much white your horse has?
okay...i have one more question, if there was a pasture of 10 pintos and 4 of them were paints, could you tel lthe differnce between them? and how? becasue to me they look the same
because the white is harder to see through if you are not trained to.



well a pinto could be any breed such as a tennesse walker and a paint is an actual breed.
However many pintos are paints that are double regsiterd.
---
~A truly Fancy Pirate-Pirate-By All Time Fancy-Bay overo yearling.
~Mia-6 year old Thoroughbred mare. Ex polo Pony
My mare is a solid paint (breeding stock) so I wouldn't be able to show her in Pinto but is there a Paint circut too? Like paint shows and is there like a Paint congress? I feel dumb haha
---
"Doing what you like is freedom, liking what you do is happiness."
I love when paints/pintos are almost all white. Like with one or two medium sized patches. I like it when they have white faces too. lol.
---
WHATS REALITY?
I like paints more to be honest lol. We have a paint mule at the barn her name is Molly she is really pretty.... I used to ride her before i got my June June i helped to green break her. She was very green when i rode her. My other friend finished her off....
Me riding molly....(sry for the blurriness)
my friend that finished her off....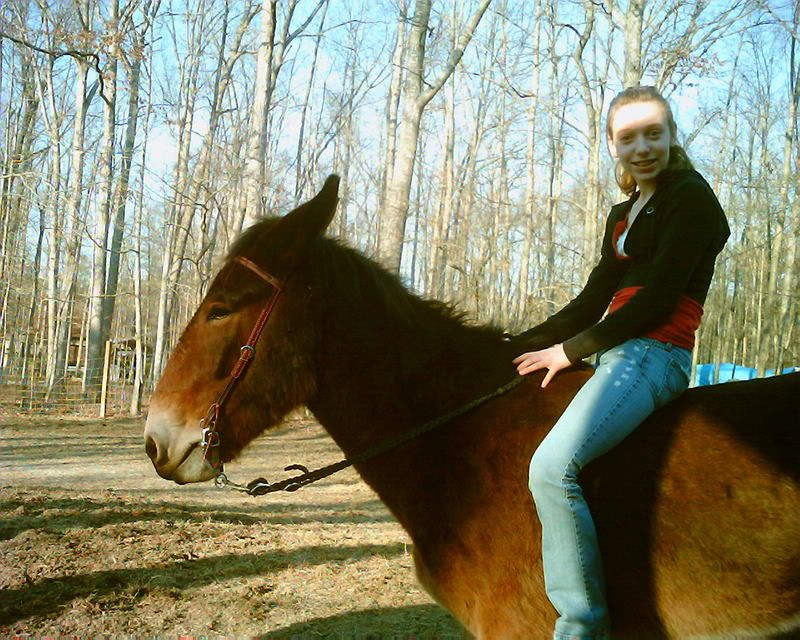 big improvement right? lol they are great together though. I really wish i had a paint though..... but i still love my Junior chestnut quarter horses are cool too lol.
oh yea and can you believe was actually 3 by the time she got good broken in? I was riding her at the edge of her 2 year age and my friend rode her until she turned 3 she is like 4 now.
actually J.R that mule would be considerd a pinto not a paint as you stated in your above post.


and yes there are solid paint classes, you cannot show in reg paint classes however with a breeding stock paint, but they do have special classes for them. i do not know for sure if they have a congress, that would be something you would have to check into.
---
~A truly Fancy Pirate-Pirate-By All Time Fancy-Bay overo yearling.
~Mia-6 year old Thoroughbred mare. Ex polo Pony
Okay, I never even bothered to look into registering my APHA stallion as a pinto because I thought that pinto was just a color - not breed registry.

1) is is possible to register him as a pinto?
2) What are the advantages and disadvantages (if any) in doing so?

Can any horse with color at all (regardless of breed, breed mixture, or grade status) be registered pinto?

those of you how show Pinto congress, world, etc., do you show with and against otherwise grade horses and horses of all breeds?

I posted a thread about Pintabians before under Breeds - they are 99% Arabian, the rest paint - do they qualify as Pintos in addition to their Pintabian registry?

I have a palomino gelding who is QH/morgan - he is registered with a palomino registry, which is strictly a color registry - is Pinto the same kind of thing?
Personally, I like both pintos and paints. It used to be that I preferred paints only, because I liked stock-type horses. I also liked the fact they are an actual breed, not just a color; basically quarter horses with spots.

However, I later got into arabians, and I like pinto-arabs. Particularly NSH pintos. In fact, I'm going to look at a pinto NSH colt tonite! *So excited*.

I'm establishing the foundation for a breeding program right now, and I've got a half-arab mare and a quarter horse. But, I want to get rid of the QHorse so I can find a paint mare! So I'll be breeding both paints & half-arab pintos.

I think horses with spots are so unique. Every horse is different, but spotted horses have such varied patterns. No two patterns are identical. In fact, they can be so wildly different you might compare them to human fingerprints. Thats what makes them so special, not to mention how gorgeous they are. And breeding them is so fun because of the surprises you can get.