Pix of My Appaloosa
---
I got Cody when he was 13 years old. He turned out to be another exceptional member of our family. He came to live with us by my trading him for my TWH. The lady who had him was new to horses and he intimidated her. The problem with the two of them was that Cody had very little handling by her and he was fresh and full of energy. I was smitten with him the first time I saw him. Will, the TWH was a very good horse for a first time owner. I had the lady come out and ride Will. Will did very well for her. We agreed to do a straight across trade. Which turned out very well for us both. Here is a couple of pictures of Cody with my Granddaughters. As you can see he was an exceptional horse: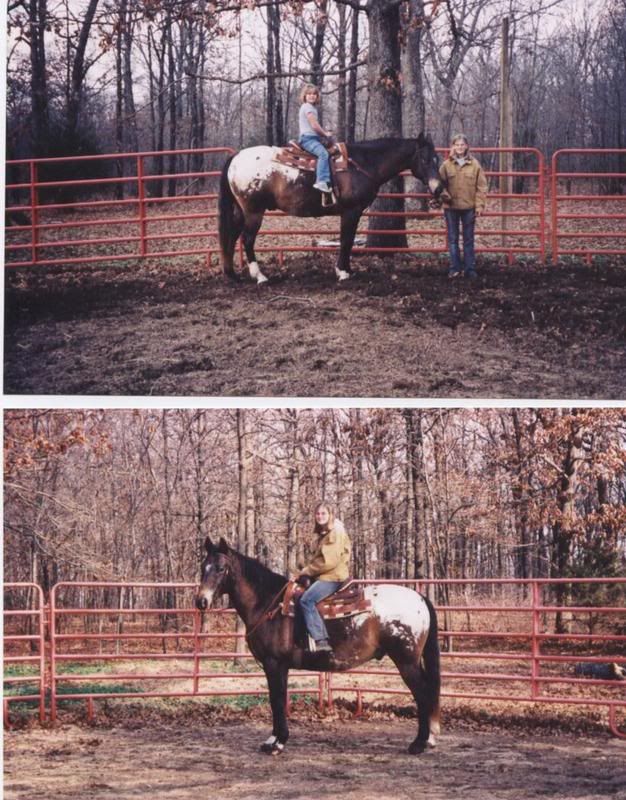 My Granddaughters are now 21 nad 16. I should have lengthened the stirrups for my oldest GD.
I trail rode him and rode in a parade on him. My oldest Granddaughter also trail rode him. Sadly by the time he was 18 he went totally blind, but was still part of our herd. My mare Candy became his "seeing eyes" pardner. One year ago we had to have him put down, because he badly injured one of his pasterns. He was suffering with it. He was the first horse I ever had to make the decision to let him go to greener pastures. Ti some it is also called "letting them go over the Rainbow Bridge".
What a nice looking boy. I am sorry for your loss-- but glad you got to have him for the time that you did.
I love Appys and think they do not deserve their reputation for being dingbats. I ride a really nice blanket appy (on my photo barn on profile) He is sturdy, strong, willing and super sweet. A bit nervous sometimes, but a really nice all around horse.
Banned
Join Date: Jul 2009
Location: In a land far far away, or so I wish.
Posts: 12,825
• Horses: 0
What a handsome boy. So sorry for the loss.
He had beautiful markings. Sorry to hear you lost him, but I'm sure he had a lovely life with you and your family.
Thank You all so very much for your comments of Cody. He was 21 when we had to let him go "over the Bridge". My oldest GD and I could ride him barebacked which we often did, but only close to home.
He is a very handsome guy. Sorry for your loss. Appy's have special place in my heart as well. Hugs to you.
cher40, Thank You so very much. I do appreciate all the nice replies.
I am sorry about your horse, he is a beautiful boy.
Similar Threads
Thread
Thread Starter
Forum
Replies
Last Post
Is this an Appaloosa?

ridesapaintedpony

Horse Breeds

21

09-28-2009

03:44 PM

appaloosa

sofii

Horse Training

2

12-10-2007

05:20 PM

Appaloosa????

*Mary Jane*

Horse Breeds

26

05-23-2007

10:38 AM

appaloosa

Tammy

Horse Breeds

6

03-31-2007

11:44 PM