Polish Arabians - info wanted for newbie
---
I recently adopted/fostered a Polish Arabian mate who was rescued in the MD horse rescued from Canterbury Farms in MD. Based on her colorings I'm almost sure she is the light bay mare on the leadrope by the fence in this picture. She's quite a bit heavier now but still needs work. Does anybody know anything about these Canterbury Farms Arabians, Polish Arabians in general, special things I need to do, what she would be good for. Going to go back to the barn today to see what I can learn from her teeth on her age. Left back might be a little off. Do Arabians need a special diet or have particular health problems I should know about. Currently she's getting a combo of sweet feed and oats + hay 4 times a day. Working her on the lunge, Clinton Anderson stuff. She's a bit skiddish. Hasn't been handled too much in a few yrs. Any advice or recommendations. Will try to get a pic up later.
Get her off the sweet feed, for starters. It's like crack for horses, but especially for sensitive, more reactive horses like Arabians. It's similar to feeding your 3 y/o child candy for breakfast, lunch and dinner.

No, Arabs don't need a special diet. They're just horses, after all.
---
You want the truth? You can't HANDLE the truth!
Seems that was a real knowledgeable person writing that article......
As Speedracer said, ditch the sweetfeed and oats, give her free choice grass hay, maybe a handful of alfalfa and a vitamin/ mineral supplement or ration balancer. Arabians are easy keepers. The desert, where they originate from, doesn't have lush pasture and sweetfeed....
Oh, and no new Arabian owner gets away with not posting pictures....
Here is what she looked like in spring 2011
Here are a few photos of her this evening.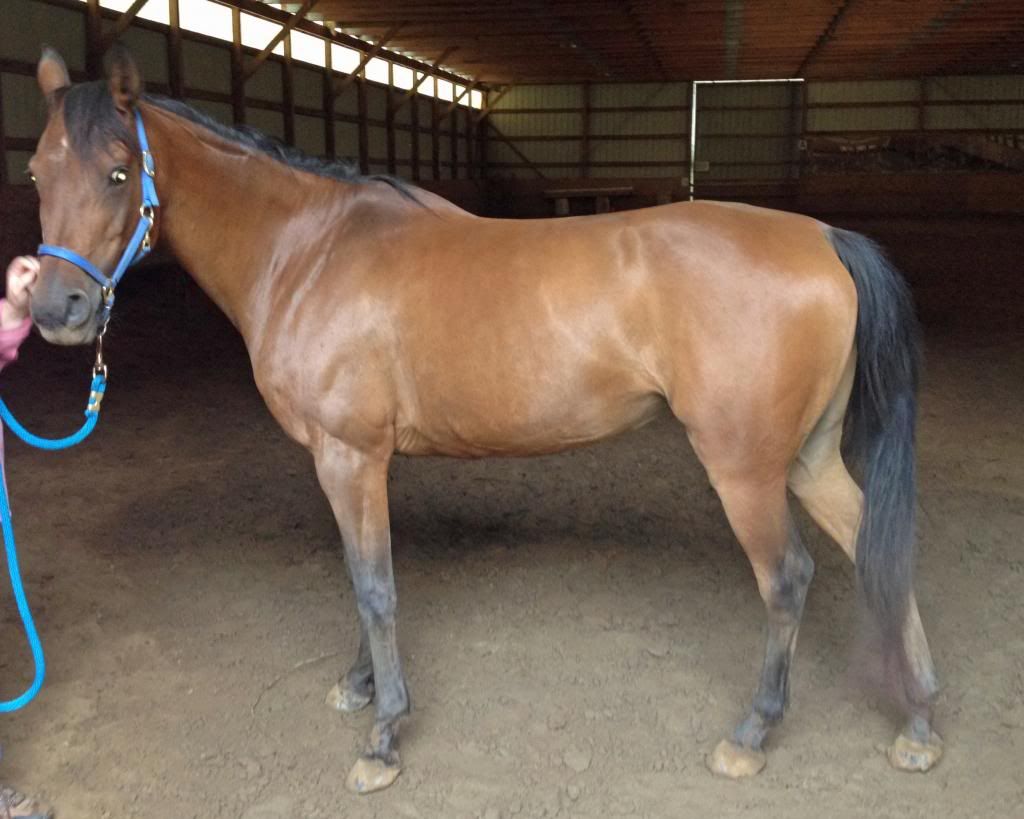 Her "dorsal stripe"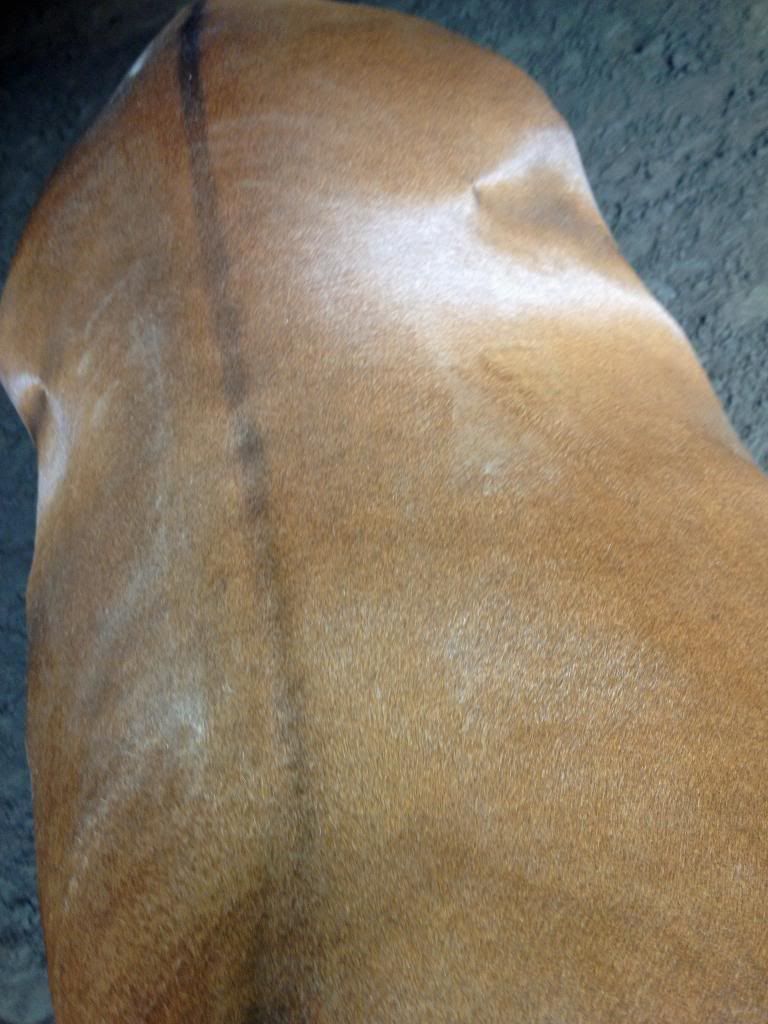 Another photo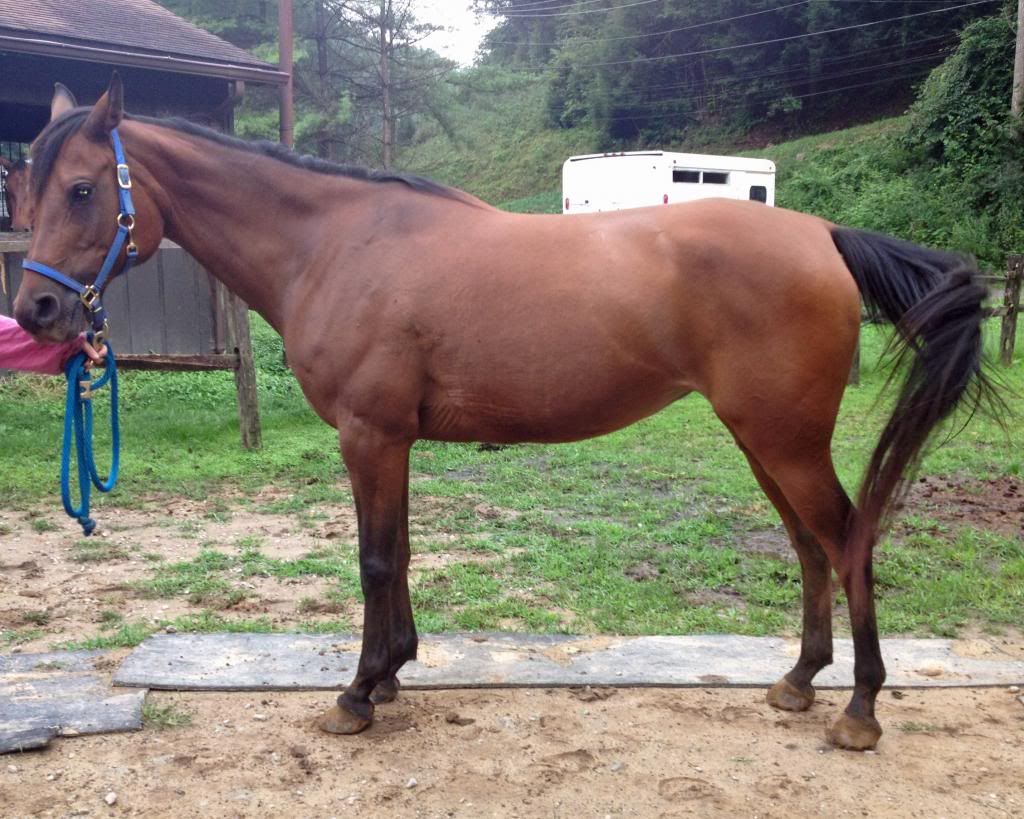 Apparently she is shy around her feet and needs work there but the trainer was able to get her to let my daughter sit on her bareback and walk around, being led. I can't believe I'm even doing this. My greatest hope for her is that we can make a 4H horse out of her. Only time will tell.
I'd appreciate any comments or insights into the Polish breed. Does she look Polish? What you notice in conformation, etc. What are they like, etc.
---
Last edited by Doodlesweaver; 08-13-2013 at

10:28 PM

.
error error
---
Last edited by Doodlesweaver; 08-13-2013 at

11:33 PM

.
She does not have a dorsal stripe if she is purebred. That is counter shading.
Arabians do not carry the dilute genes.
To answer your question "does she look polish" she looks arabian.
The Poles imported numerous horses from the desert over the centuries as outcrosses for their program.
Arabians are more sensitive than other breeds but she can indeed become a 4H project.
Both my daughters used purebreds and half arabians in their 4H projects
Arabians IMO are more intelligent than most breeds. They are also more curious and bond better with their owners.
Take your time building trust with her and you will be rewarded with her loyalty. dont rush it . Take your time and allow her to set the pace for any training or bonding.
Good luck. Shalom
I do like the way she's put together, and she could very well be of Polish breeding. Is she registered? If so, maybe you could get hardship papers from the AHA. You'd have to know her registered name, though.

As dba stated that's not a dorsal stripe, it's counter shading. Arabs don't have true dorsal stripes.

She looks of Polish breeding to me with her straight profile, good bone, and non-flat topline. The Polish horses were bred for performance, so trying for the seahorse head went out the window in favor of good bone, big, hard feet and performance conformation.
---
You want the truth? You can't HANDLE the truth!
You did an awesome job with that mare. What a beauty. She is so lucky to have you. I love the Polish line as well. They are such solid horses. Bask is probably the one of the most famous sires in the Polish line. They even have a lifesize bronze statue of him in the main building at the Museum of the Horse in Lexington, KY. Not a bad legacy.
---
"My riches do not clank and glitter. They gleam in the sun and whinny in the night."
I think she is a cutie!
I have a close friend that owns many Egyptian Arabians, and also one polish Arabian. While they can be quite "fresh" they are all awesome horses and when you are able to get their trust they will do anything for you, and do it all day! It just takes a lot of time, but it is so worth it in the end. Good luck with her!