I know of the Canterbury horses very well. You have yourself one very well-bred Polish Arabian! They are awesome horses, very athletic and have wonderful dispositions. I fed mine sweet feed and hay without any troubles at all, Arabian are no more "reactive" than any other breed, in fact mine were more calm than most.
I don't think the skinny mare of the first pic is yours. That mare has the mane on the left, yours has it right
I think the trick with arabs or any 'hot' horse is learning how to focus all their energy/intelligence, otherwise, you end up with the snorting/high-headed monsters you were warned about ;)
I don't know all that much about Arabs, but just wanted to say that she's lovely! Looking forward to more pics~
Desertwoman, I brushed her mane the wrong way one day to get an idea of what she looked like like that. Then another day I did it the other side. The first photos look like this: Obviously still doesn't mean she's the same horse. It was the dorsal shading and light bay color that got me thinking. I have some work to do to find out more information.
Here are other photos that show the mane on the other side.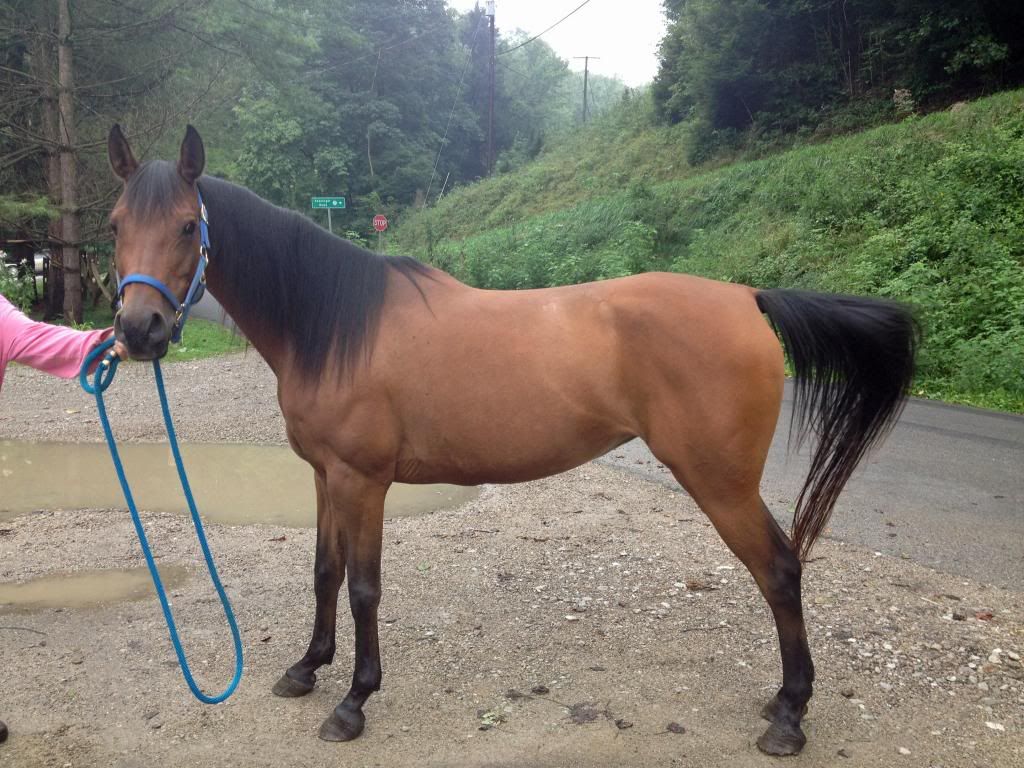 and this:
Here's her teeth. Any age guesses?
What other markings do I need? Small white swirl on her forehead. I'll look more closely to try to get more photos. Going to get better prepared before I go on a search.
She sure is sweet but does easily snort like you say,smguidotti. The trainer is helping me foucus her energy nicely. Thank you so much Zexious. I enjoy sharing pics. Hopefully soon I'll have more pics of her lunging and lead line walking in the arena. Will working on trying to see if I can ID her.
Oh and also found out the barn owner doesn't feed sweet feed - lots of hay, oats, strategy and beet pulp. She's very knowledgeable and loves Arabians.
---
Last edited by Doodlesweaver; 08-19-2013 at

09:06 PM

.
You'll need a clear picture of her star, where it sits also, for ID, and maybe a general idea of her age.
I'm pretty optimistic that somebody from the site I gave you can help ID her
Can you get a better picture of her star? I have already started looking through the 149 horses that marsha had registered, about half way through and have found two that could be your mare. But can't be sure without really being able to see her star.
Twilight Arabians, here is a photo of the little white mark on her forehead. I hope this helps.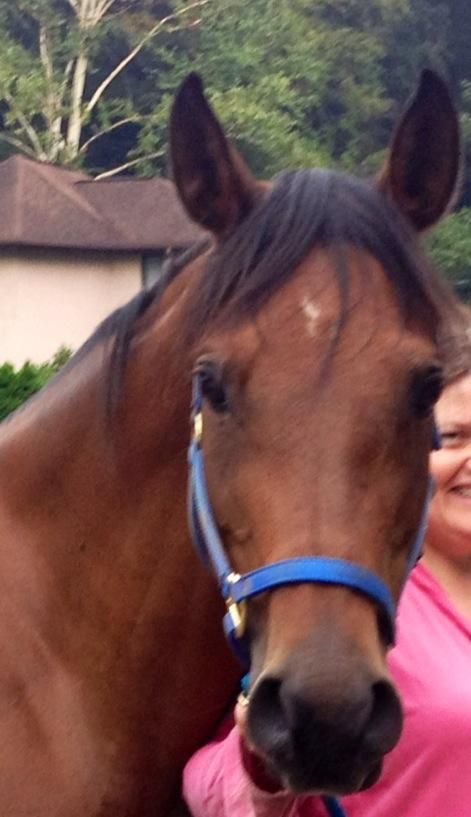 Posted via Mobile Device
And Thank you SO much for looking through that information for me!!
Posted via Mobile Device
Oh my....she's got the swirl halfway down the neck!
Bedouins believe horses with that swirl, on both sides, should never be sold. They're special. I found that to be true, I had three.