Awesome! You have a beautiful Polish treasure!

Marsha had some wonderful horses.
Very nice looking mare you've got there
Her star reminds me of my gal's - kinda a "barely there" type star. Actually I don't even know if she's got one anymore >.> It was only ever like 5 white hairs.
I was 12yrs old when my grandpa unloaded this green broke 4yo Polish Arab mare. She was my 4H project horse as well. Everyone thought he was crazy (he thought he was too), but she's turned out to be one of the best horses I could have asked for. We learned a lot together and she was always fairly patient with me lol. Probably the least "Arab-y" Arabian I've ever come across. She really won me over with the polish breeding.
The only way to find out for sure is to pull hair and compare it to the horse you think she is. AHA keeps DNA on file and they can test it to see if it matches.
Here are a few updated pics from our work with her this weekend. She is super duper smart and is better at lunging herself than we are! Haha.
Here's a photo of her free jumping. Check out the knees!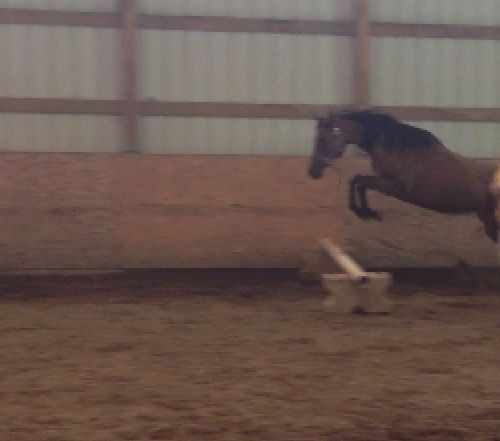 Here she is under saddle on the lunge yesterday. She is doing really well with my daughter and the trainer.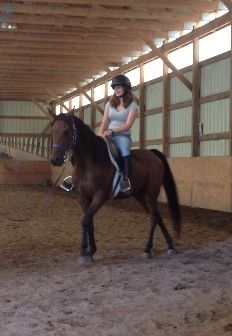 Her pretty little head:
She is coming right along. Very smart and wanting to please. She is working very hard. We can hose her off in the wash bay now without problem, mostly pick up all her feet.
I think she likes all the attention, personally. Just have to go at her pace, though...
Posted via Mobile Device
WSArabians, I'm going to have her DNA tested when the vet comes out. :)
---
Last edited by Doodlesweaver; 08-26-2013 at

02:09 PM

.
Somebody correct me if I'm wrong, but I think the DNA testing has to go through the registry, you order the kit, pull the hair send it in and they compare. Your vet wouldn't have anything to compare it to
Info should be on the AHA website.
Yes, it has to be sent in to AHA and I'm not sure on the price, but I believe it is around $100-150.
Today was a great day for little Sophie. She learned to walk down the hill and into the creek AND stood for the ferrier to trim her back feet. The trainer is working with her 5-6 days/week and she's coming right along. Today the trainer said to the kids after riding at the lunge, "Now you all need to take her for grass and 'waller' her all over. 13 yr olds are good for that. Sophie's well on her way to 4H horse camp. This summer she'll be a staff horse to get gently desensitized and summer of 2015 plan to have a camper take her to camp. Her trainer is one of the counselors so I think that will work out well. Also learned today if you feed them grain while they're getting shod the horse will calm down A LOT. :)
Anglo x Polish Arabian sport horse filly (? Sanskritka x Gem Twist's brother "New Twist") - bred as eventing prospect. Less than 24 hrs old. :) Already have her training schedule planned out - lol! (Knock wood). Her name is "Tiger Lilly" aka Little Squirt!
Awww, Little Squirt is adorable, what a beauty!!!