I have to get a picture of Cecil's fleabites.
And Romeo has 1 on his neck! Otherwise, he is just white...
---
RIP Minnie, 1981-January 15, 2010
RIP Maggie Mae I miss you
yeah in that one pic she looked really short, and your probably right its probably because she was fat. The first pic and last one she does look pretty big.
This is my Arab mare Bella. She's 29 years old, and I have owned her for 16 of those years. I can definitely say I have a soft spot for fleabitten greys :)
this is her summer coat
Her winter coat
This picture shows how well defined her freckles are
---
♥ Gypsy gold does not chink and glitter. It gleams in the sun and neighs in the dark ♥
awww so cute and wow she's got fleabites!
---
"Courage is being scared to death but saddling up anyways."
haha Thank you. I wish I had pictures from when she was younger, she didn't have nearly as many.... she gets more every year
---
♥ Gypsy gold does not chink and glitter. It gleams in the sun and neighs in the dark ♥
Started
Join Date: Aug 2009
Location: In the barn whenever possible.
Posts: 1,910
• Horses:
2
My 8 yr old QH Comanche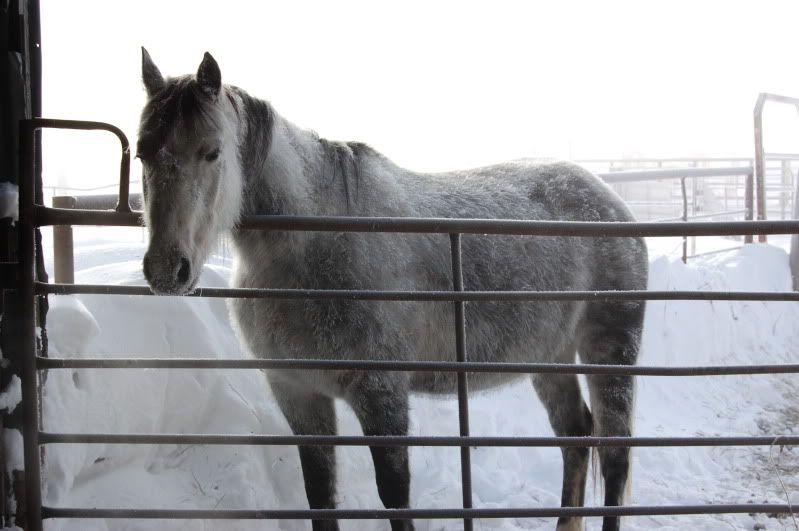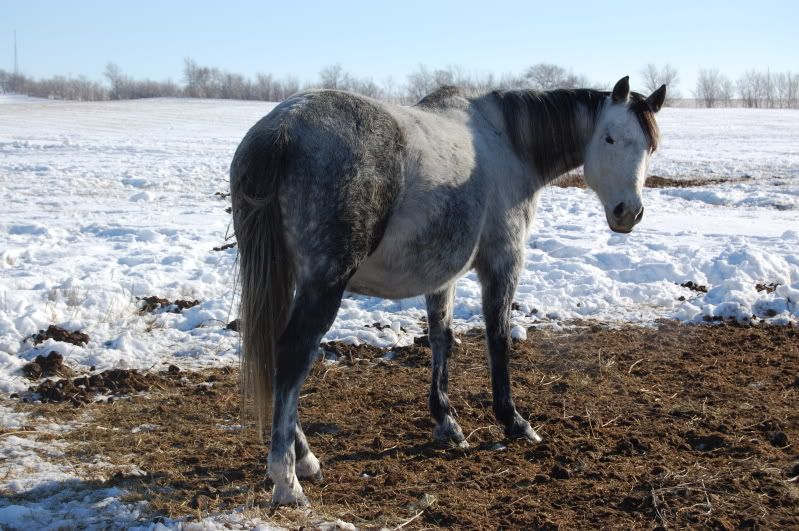 ---
"Riding a horse is not a gentle hobby, to be picked up and laid down like a game of solitaire. It is a grand passion. It seizes a person whole and, once it has done so, he will have to accept that his life will be radically changed." -Ralph Waldo Emerson
****edEvans
, Doinita and Vera looks very Arabian to me! I have a soft spot for Arabians because my first two horses were Arabians. And one was a flea-bit gray.
I am now graced with another flea-bit gray. This is Isabelle. She is a 15yr old Foxtrotter mare. She kind of looks Araby to me too, especially her head and hindquarters. Does she look Araby to you guys?
DisneyCowgirl1901
, I didn't know that they could get more flea-bits every year. My first flea-bit gray, who was an Arab, got whiter every year.
I would LOVE it if Isabelle got more flea-bits instead of less. But I have only had her for about 4 months, so I don't know if she is lightening or darkening. But I would prefer darkening!
trailhorserider-These were from back in '02... maybe you're right, they get lighter, or maybe her freckles became more defined.... I just know she doesn't look the same as she did when I got her.... I wish I had the picture from the day I got her...
---
♥ Gypsy gold does not chink and glitter. It gleams in the sun and neighs in the dark ♥
Either way, she's really lovely! I love lots of flea-bits!
One thing my mare does have that I think is kind of cool, although her last owner said he hated it, is a black spot on her forehead. I don't know if that is kind of like a mini-blood type marking, or if she skinned herself there and the hair grew back in black. But I think it gives her personality. It's her beauty mark.
My first horsey love was a fleabitten arab. I found out yesterday she died of a heart attack at the ripe age of 29. She was a beautiful girl.
Anyways this is my friends fleabitten arab mare Samraat.