Prospective Adoption Horse - Opinions Needed
---
Hey all. I have posted another thread on this horse in the Horse Health section but have since gotten some better pictures and thought that the topic may be better suited here as I would like to get opinions on the overall look of this horse.
I don't know very much about him, his owner is elderly and dealing with cancer so he is difficult to catch at home. He is needing to give his horses away due to his health issues and inability to care for them any longer.
There are two horses in this picture, though the grey one is the one that my husband and I are looking at adopting. What I do know about him is that he is broke, has been gelded, and is some sort of Paso Fino breed (likely a mix and I welcome any opinions on that as well!) and other than a pretty thin looking tail and just slightly on the chubby side, he looks to be in good health.
Here are some pics of him, if anyone could give me an idea of what they think he may be mixed with and a guess at how old he looks to be and just general opinion on the way that he looks.
If we do decide to adopt him out, we will of course have a vet come out to check him out and update any shots, vaccinations, or any treatment that he may need. Thanks!!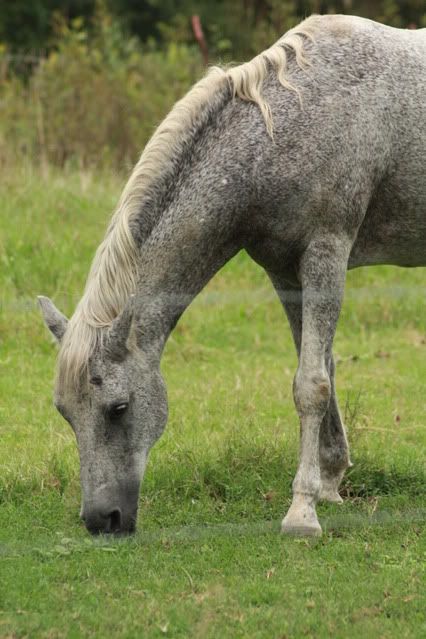 I tried to get close enough to see the condition of his hooves, but unfortunately I couldn't get any closer than this pic.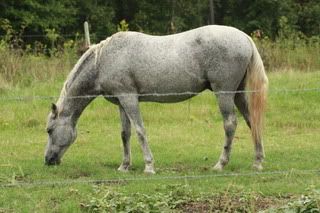 Don't know if you can see here well enough or not, but his tail looks a bit stumpish, just a little scrangly and thin?
Here is his pasture-mate, and the last of the remaining horses that the gentleman has left. All I know about him is that he is a stallion. Very pretty coloring, but I don't think we'd be able to take him on. I've never worked with a stallion before and I don't think I'd be comfortable with that. Feel free to take a guess at what he might be as well!
the grey gelding looks Arab to me, but just slightly in his face (or it may just be the coloring) maybe a Paso/Arab mix, though I am not too familiar with them. The roan stallion looks to be QH but at the same time looks exactly like my friends Mustang! He is BEAUTIFUL... I'd take him if he was local lol :)

Good luck on adopting the grey! He's a cutie.
---
♥ Gypsy gold does not chink and glitter. It gleams in the sun and neighs in the dark ♥
His age may be deceiving but he looks to be in his late teens to early 20's. I am just looking and mainly going by the first pic.
I agree with the potential arab cross and that he is at least mid to late teens judging by the pictures. A good vet could give you a ballpark age and will be able to help you out with breed possibilities as well. Good luck if you get him he's a looker!