Pure arab or arab cross?
---
This is gypsy. When I bought her I was told she was pure arab. I was also told she was well trained, and I KNOW that wasn't true (thankfully that didn't really matter to me).
Shes obviously the rose grey in this picture :). The picture isn't that great but there are some more on her horse page that might help out a little bit more. Theres also some more on my photobucket page at
Pictures by Rowzy - Photobucket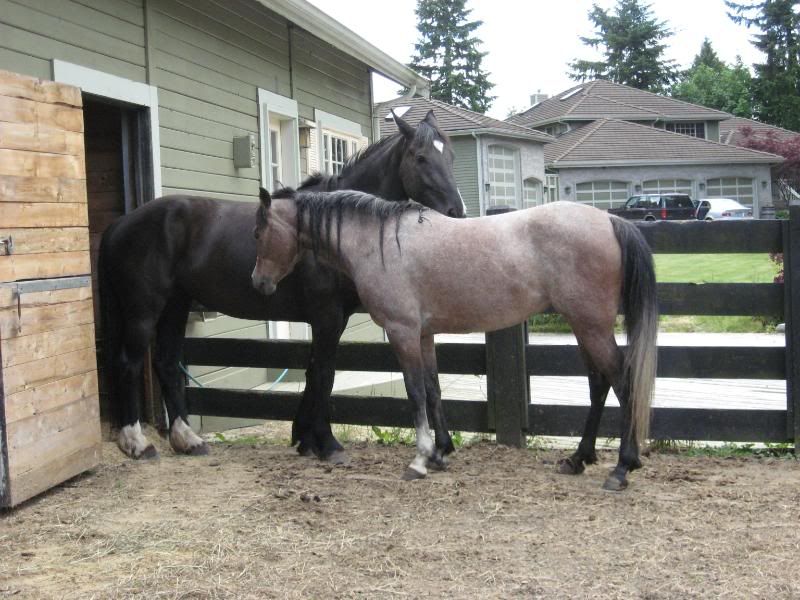 She looks like a purebred to me, but you just never really know unless she has papers somewhere. Cute little horse.
---
I've spent most my life riding horses...the rest i've just wasted.
arabs. being around for a couple thousand years probably has a few crosses here and there, maybe some quarter horse?
I'm going to say purebred? She's a beauty, though! I'm such a sucker for a dished head.
She looks full to me... In fact she looks a lot like my mare's filly when she was 3 years old!! wow. even the chunk missing out of her mane lol. What a cutie.
---
♥ Gypsy gold does not chink and glitter. It gleams in the sun and neighs in the dark ♥
Very cute - looks pure to me too.
Looks pure to me, beautiful! I love arabs
---
"If Wishes were Horses then Beggars would ride"
I would say she is a purebred and quite a nice one.
---
There's nothing like the Rockies in the springtime... Nothing like the freedom in the air... And there ain't nothing better than draggin calves to the fire and there's nothing like the smell of burning hair. -Brenn Hill
I would say pure
Cute. I am a sucker for arabs, too.
---
Shaneequah, 1998 gaited Bashkir CurlyxArab mare
Treyue, 1999 3-gaited Icelandic gelding
Loki, 2001-2015 Icelandic gelding