Quarter Horses
---
Just wondering everyones opinion on quarter horses... we have three qh's i think they are great and can do many things.

The first picture is a picture of my girl, Cricket, the second of Merlin (he's the chestnut), and you will have to go to my barn to see a picture of our third quarter horse, Breeze.

Feel free to show everyone your quarter horses and tell your preference about them :]
---
---
Last edited by farmpony84; 01-20-2009 at

08:46 PM

.
If someone asked me two years ago what i thought of Quarterhorses... i'd have said that they were horrible, ly least like breed, and just in general put together rather ugly... but that was because I've grown up around gaited horses and all quarterhorses I'd ever seen had been put together strangly with too big or too small heads, short, thick necks, long backs, and no rear and had very short, wispy manes and tails. Yeah, can't really blame me for not liking them...

Now, though... while they're not my favorite breed, they're in my top five and i'd like to own a Quarterhorse in the future... though I do find them rather bumpy to ride, but I guess I'm just used to my smoother gaited horses. I like them and find the well put together ones very nice looking and very good horses in general. I love the ''Doc Bar'' Quarterhorses the best.
---
Horseshoe Loop Farm: Home of Gypsie (22 y/o TWH mare), Dakota (10 y/o TWH gelding), Codie (18 y/o Walkaloosa gelding) & Harlow (9 y/o APHA mare)
I think overal, they are a great breed, very sturdy and can do just about anything.
Budweiser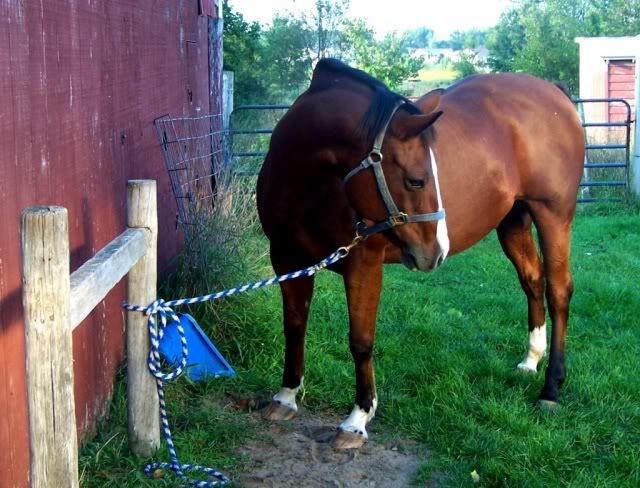 ---
I used to be such a burning example,
I used to be so original.
I used to care, I was being cared for.
I like Quarter Horses! Being a Paint fanatic, you can guess why! LOL! There are a lot of great QH's out there, and they have made a huge contrabution to the equine world! As for that first pic there.. Very nice QH! My preferences, I like the hind quarters to be a bit bigger, but the barrel on that one is nice!
---
Dixon's Red Hot Ember
Abe is my QH, He is 1/4 TB LOL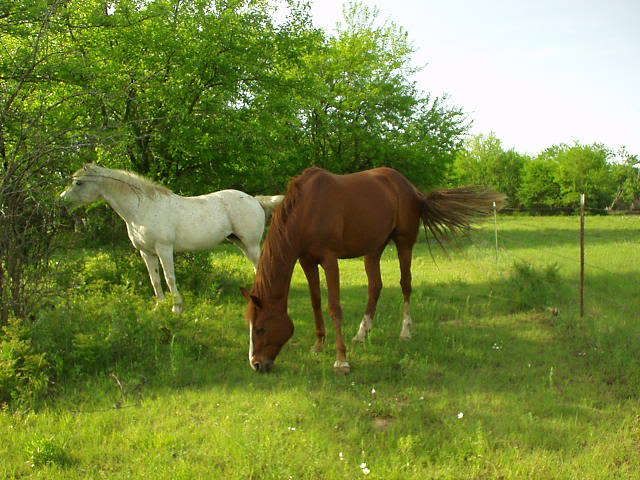 Heidi is my grade QH
---
This is my QH Denny. I have no idea how he is bred. He is papered but due to the circumstances behind how I got him, I was never able to get them.
This is my Dad's QH Jake's Fajita (Pokey) He is a grandson of Doc O'Lena. This picture was taken after one of his first rides.
And this is the most current one that I have.
I do love QH but I don't particularly care for how most of the breeding is going anymore. Lots of them are being bred with the fine bones and teacup hooves with 1200 lbs of mass on them. But, there are those out there with good feet and solid bones. Those are the one's I really love.
---
Always remember that feeling of looking at a big, open country over the ears of a good horse, seeing a new trail unwind ahead of you, and that ever-spectacular view from the top of the ridge!!! Follow my training blog:
http://robertsontraining.blogspot.com/
---
Last edited by smrobs; 01-21-2009 at

10:56 AM

.
thank you midwest paint for the critique! hehe..

and smrobs.. i do agree that qh's are being bred wrong.. and i think they are being overbred... i love the breed to death but there are TONS of them out there :]
---
LOVE them!!
---
I love them but I think there are too many body types that was restill the same breed. i feel a person should be able to look at a horse and tells what its breed is.
---
A good cowboy always has a better horse at the end of the ride, a poor cowboy will be afoot reguardless of the horse.

Mis Raices Estan Aqui (my roots are buried here)