saddlebreds
---
Well i cant say to much on all the saddlebreds BUT I can tell you a saddlebred in my life only weeks ago that had done something to me nothing on earth or the heavens has ever done to me .

THE HORSE ( BROADWAY BIG RED ) AMERICAN SADDLEBRED A HORSE LIKE NO OTHER IVE EVER PUT A LEG OVER
I love the ASB... they are so beautiful, refined and intelligent. I have a NSH mare and she is such a good girl. She loves everyone, is smart and SO mellow! (She's a bit atypical of the breed - one of the reasons we got her from a high quality breeder for only $500) but I still love her!
I LOVE Saddlebreds!!
They are a breed that, more than any other, will give you their heart - I remember I was showing my ASB about 5 years ago when the judge came up to me and said, "There is no road too long for this horse, He'd go until his heart burst"
And I'm not so sure that they are 'hot' - most of them are bred to be performance show horses...and our preferred style of showing is just that - lots and lots of flare and pomp. So while some see it as hot, I see it as knowing their job.
There was a WGC 5 gaited horse, CH Onion, who after winning the worlds 5 gaited championship allowed a small 5 year old girl to sit on his bare back as he was being walked out...no fusss, no big deal.
And I will say this - Saddlebreds have many other talents than some people think - they can go from being a show horse to a hunter/jumper (all of the horses that used to jump in Madison Square Garden were Saddlebreds), to a trail horse, to dressage, to even western and working western. They truly are a versitile breed - and I loves 'em!!
These pictures aren't the best, but here you go:
Boo and I waiting before a gymkhana run: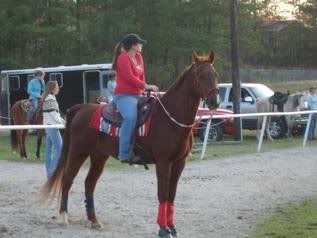 Trail Class!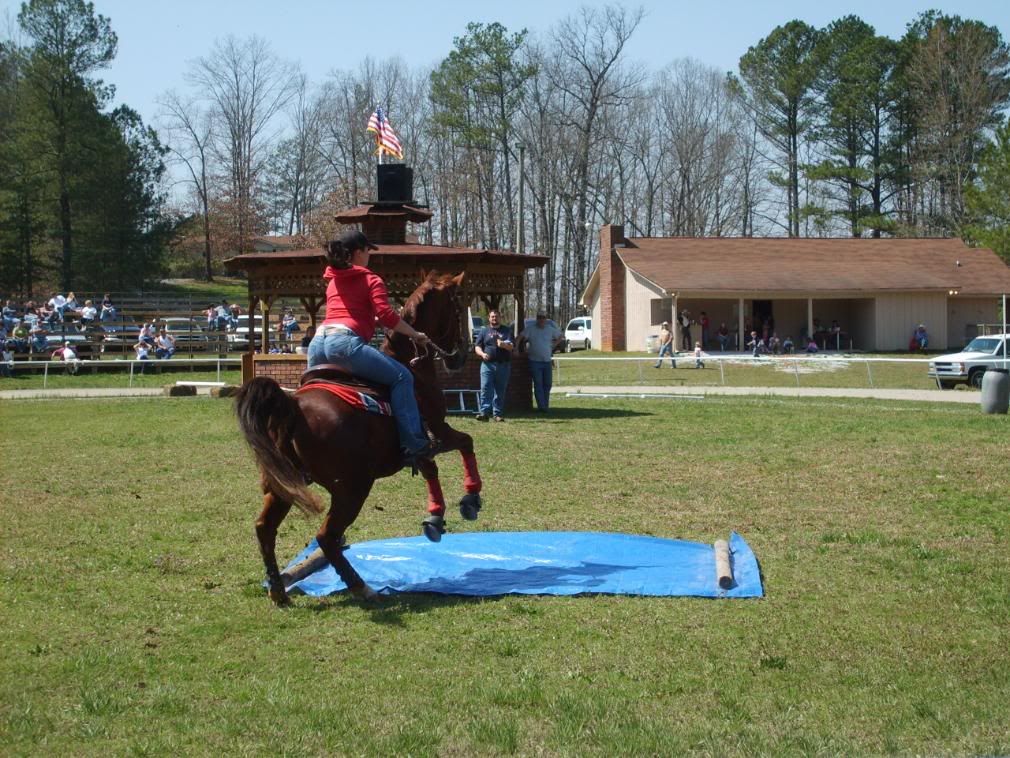 Arena Race:
Saddleseat:
Sorry about the picture size...still learning how to size them
---
kickshaw
Justin (qh/tb)
Boo (asb)
Wow
---
Wow kickshaw your saddlebred is beautifull.How old is he?
He's 20 - 19 in the saddleseat pics
---
kickshaw
Justin (qh/tb)
Boo (asb)
Wow he looks younger, go him!
He's really adorable.
---
Ride more, worry less.
thanks
I loves him!
---
kickshaw
Justin (qh/tb)
Boo (asb)
Kickshaw - your ASB is GORGEOUS!!!! He looks great for his age and looks like he's still going strong.
One question - My vet told me many years ago to not use boots on my NSH mare or any gaited horse because of the gait. Is that correct? She was a QH person through and through, so maybe she was mistaken?
I had already bought a pair, but I ended up needing them for my QH mare, so it worked out.
with some gaited horses (if they trot and rack, that is) , boots can make a horse a little mixy-gaited. For instance, you will notice that he has the red SMB's in the front, but simple splint boots behind - - he gets really confused if the SMB's are in the back (go figure!)

But to answer your question, protection of the legs should not hinder a gaited horse at all - many of the saddleseat ASB trainers use splint boots and polo wraps; i've never heard of them using SMB's, but they aren't really conducive to producing motion :)

Hope that helped you more than confused you :roll:
---
kickshaw
Justin (qh/tb)
Boo (asb)