These are two of our ponies..
This was my little sisters pony, she died a few years ago but she was the absolute best pony I've ever been around.
---
I am Sparkly Meanie Doodie Head and I approve this message!
Every where seems to have proper shetlands apart from most of America, even Australia, though Europes are a little different bust most come from British lines
Sorry me again, but come on people will you stop comparing my Shetlands to your American counterparts and you Miniture horses, a Shetland is a hell of alot stronger and therefore a hell of alot more dangerous when they what to be.
I am sorry but look at the difference in builds.
This
Will be no where near as strong as this
British Shetland are the storngest breed in the world in comparison to size, you American changed the breed to something unreconisable to their ancestors and the 'new' version of the Shetland over there is no where near as strong as ours.
Sorry for the rant just nead to vent about the lack of knowledge some people have for my favourite breed.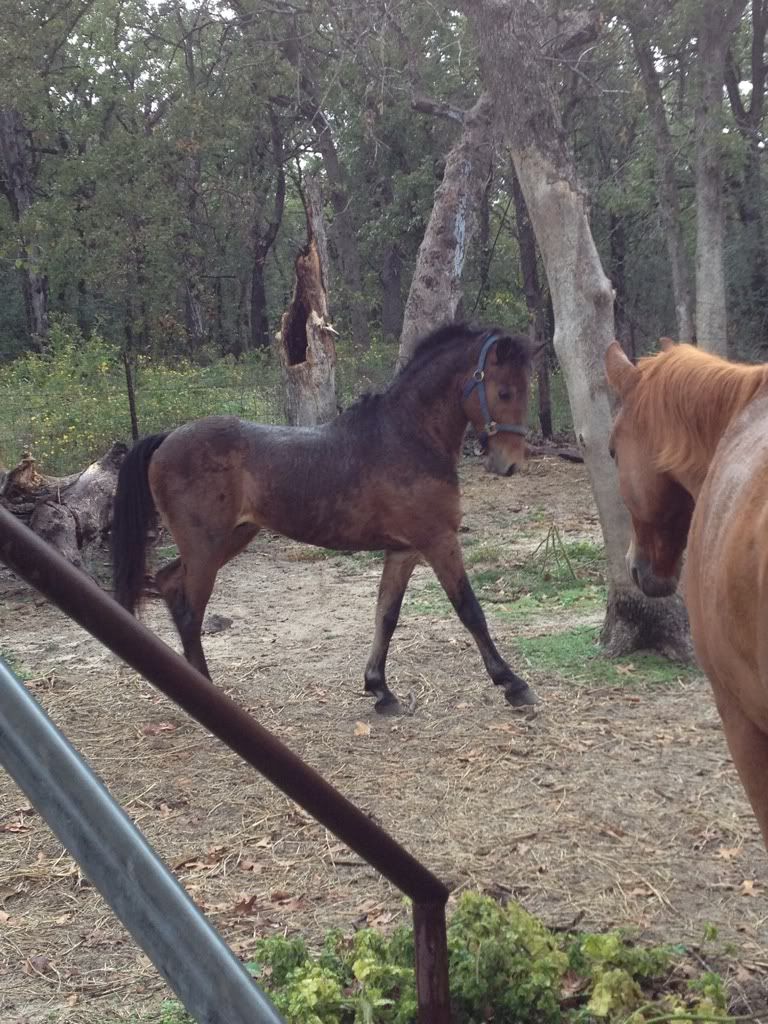 My two little guys
Hi, I have a AMERICAN SHETLAND/Mini cross who I love to death, but I do have to say I absolutely love the true shetland ponies. I teach Hippology, which is a knowledge based competition, in our local county 4-H. My specialty is breeds and color, we spend a few meetings every year going over pony breeds, and one of the things I EMPHASIZE is the differences, between the shetlands. I make sure kids learn that what you have is the TRUE shetland pony, and what we have is the "fancy" American version. BOTH breeds have their reasons, though ours seems to be mostly appearance rather then usability. I just wanted to let you know that there are people over here that know, and are proud of where our ponies came from. I would LOVE to own one by the way, just can't afford to have one shipped over... :(
This is my "pony" by the way, Not really refined enough to be classic, and not enough blood to be considered foundation. She's in pony limbo, but I love her, and she'll be a good harness pony.
side note: That's me with her, she's only 42" tall (pretty short for a pony from her breeding) haha, perfect size for me though.
Sorry this was long....
Pahaha, they aren't little, what height are they they look at least 11/12hh, My tallest Shetland is the black Stallion above who is 39" and my smallest is a little strawberry roan colt who is 31". They are beautiful.
---
Last edited by rbarlo32; 11-08-2012 at

07:53 PM

.
Adenfire, I know a few people know about the British Shetlands but alot don't. I really made this thread to vent and rant and sometimes peoples 'knowledge' on the British Shetland makes me mad, as in they know everything there is to know about them even when they probably think the are just fat minis. BTW girlies is lovely.
I understand and appreciate that you love your British Shetlands but there really its no need to put down American Shetlands. I don't think the breed is "ruined," just different. Just because some decided they wanted to create a more refined riding pony rather than a "work horse" type doesn't warrant slamming an entire breed. I personally consider them completely separate breeds, with different qualities in each to appreciate.

Before I got my Classic American Shetland, when I thought of Shetland Ponies, I thought of British Shetlands. For that reason, I never wanted one. Nothing against your ponies, but they are just not for me. I was thrilled to discover a lighter, more refined pony and now I own two.

Honestly I think if you own this breed you need a thicker skin and perhaps should concentrate on educating rather than ranting. British Shetlands were NOT bred for their beauty, and they DO look chunky (though I understand they are not overweight). They were and are bred for their working ability. So, you can have your strong, hardworking pony and I'll have my pretty pony and we'll both be happy.
Posted via Mobile Device
And, for the record, I think it's wrong to underestimate the strength of any horse or pony. They are all capable if inflicting harm, and should all be treated with respect.
Posted via Mobile Device