Shetlands :)
---
Post your Shetland/Shetland crosses and their stories. I have recently (1 1/2 years ago lol) become a shetland pony owner, and I have truely fallen in lve with the 'lil buggers. I'll start.
I started looking for a pony for my nearly 2 year old daughter in Nov 2008. I had an older arab that she adored, but I wanted something "her size" to groom and dote on. I put an ad on Craigslist, and I saw several mini's, but I wanted something that she could ride eventually. I got a call from someone that was looking for a new home for their ponies...
We got there and my daughter ran straight up to him and, alas, it was love at first sight. For the both of them. He followed her all over their ranch, and gave her tons of kisses. The owners were so happy to see Teddy take to a kid that they GAVE him to us! Apparently they got Teddy for their kids and he
never
followed and loved on them the way he did with my daughter. We brought him home Thanksgiving weekend :)
He is now my daughter's best friend. They are so cute together, as I am sure most of you have seen their pictures/videos together. They have a bond like no other. She can go into his corral, and run around (like 3 year olds will) and he could care less. He follows her endlessly, and always has a kiss for her. He whinnies at her when he sees her, and passes like a mad man when she leaves. These two were made for each other.
Okay, now that I have written a novel for you all to read
Here's Teddy
their first ride all by themselves... (yes I know, she had no helmet I bought her one when we left there that day)
Ok lets see YOUR little pals :)
---
♥ Gypsy gold does not chink and glitter. It gleams in the sun and neighs in the dark ♥
Weanling
Join Date: Aug 2009
Location: In my saddle! Or, in another persons saddle...
Posts: 307
• Horses:
1
Cute!! :) (Both of them)
---
Ride to live, and live to ride!
Just the job - next step will be a Welsh Section C- your youngsters looks as though she could ride one and lead one.

B G
Awh I love those cute pony faces! Your daughter and him are very cute together!
---
RH Queen O Anywhere "Sydney"
2009 Sugarbush draft
sierrapics 041.JPG
sierrapics 044.JPG
sierrapics 042.JPG
sierrapics 068.JPG
This was my sheltie Moonie. He was 2 years old(one when I got him) and the cutest quirky little guy. He had a habit when you were riding him that if you tapped him with a crop he would kick out the hind leg on that side. He was very naughty, only I could really handle him. I taught him to bow and lay doesnt as well as breaking him to the saddle and cart. I sold him when he was three to a petting zoo owned by a family friend, and he still lives there today and is well cared for and loved. I miss him.
---
Ω Horses are a projection of peoples dreams Ω
Aw Honeysuga, he is SO cute!

Thank you everyone for you sweet comments :)
---
♥ Gypsy gold does not chink and glitter. It gleams in the sun and neighs in the dark ♥
That looks like a very big shetland, how tall is he?
---
Eagles may soar but weasels don't get sucked into jet engines.
We got our three girls a shetland when our oldest was four (she's 11 now). We ended up selling him last year because none of them ended up really taking to the horse thing. I don't know, with them I think I should have started with a dead broke horse instead of a pony. But anyway, this is Ogre and he'll always have a place in my heart.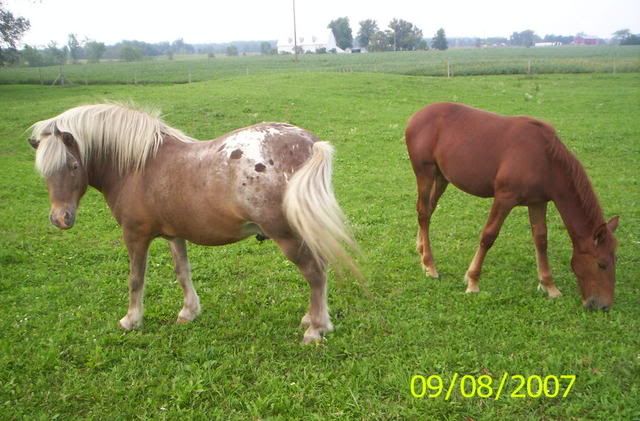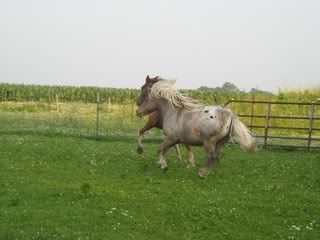 ---
Stella - sweet, timid, elegant, lovely, lively, amazing
Luna - large, unattractive, naughty, adored

oh he is gorgeous! I love his color!
---
♥ Gypsy gold does not chink and glitter. It gleams in the sun and neighs in the dark ♥
Ohimgosh!! You were not kidding!! That pony LOVES her!
that is so adorable and sweet... ♥ and I love how she is so excited to see him!
---