I own four horses with my Dad, but sadly we are cutting down to 2 horses.
Kingfisher's Copy - Aka King, is our registered 11 year old Tennessee Walker Gelding, he stands at 15.2 hands tall and is solid black. We got him in 2006 I believe as an "crazy" horse, he is Amish broke to buggy and was green broke to a saddle. He had been sent to 5 trainers who all told them, to put him down. We sold there friend a horse we broke, and they had us that King into training for a month, with a chance to buy. Within two weeks, we bough King, he is now my dad's main trail horse, and I want to try to show him, as he is show bred and double registered. We are keeping King.
My Dad and King in the creek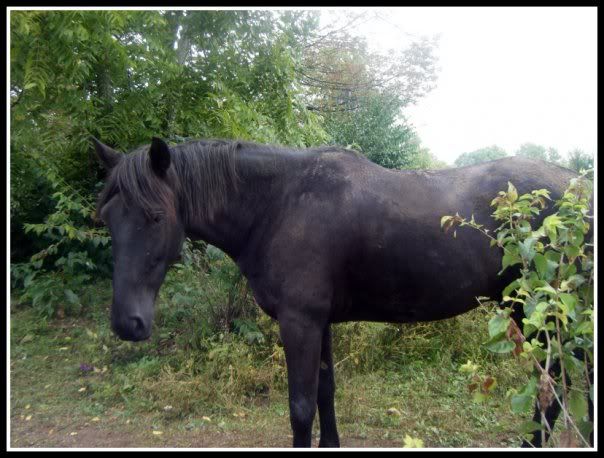 Wildfire's Outlaw - aka Wildfire is my registered 5 year old Paint Mare, she is 15.2 hands tall and black and white. I got her last November, she was green broke, but a pain, if she didn't want to she would rear, she would kick out at other horses, wouldn't tie. I'm to the point we have a good walk and trot hopefully working on the lope. She is my barrel horse prospect plus trail riding. I also plan to pay around jumping on her but nothing series. My backup plan is to train her western pleasure and find her a loving home and get me a barrel horse.
Mustang Jo Jo - Jo Jo is a 21 year old Mustang Mare, she stands 14.2 and is a sorrel. She was from Nevada. I got her from a rescue after she was abandon. She is a great kids horse and loves to please people. I used her for fair and barrels but needed to retire her. She has been a barrel horse and roping horse. She has artittis in her legs, plus I really can't board a retired horse, she has a home waiting for her at the rescue where she will enjoy her days, be a lesson horse and might even get adopted out to a home with kids, she leaves at the need of October.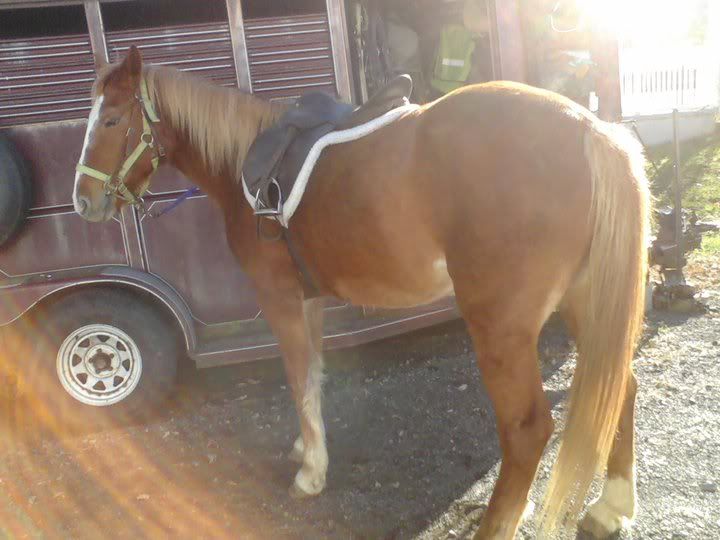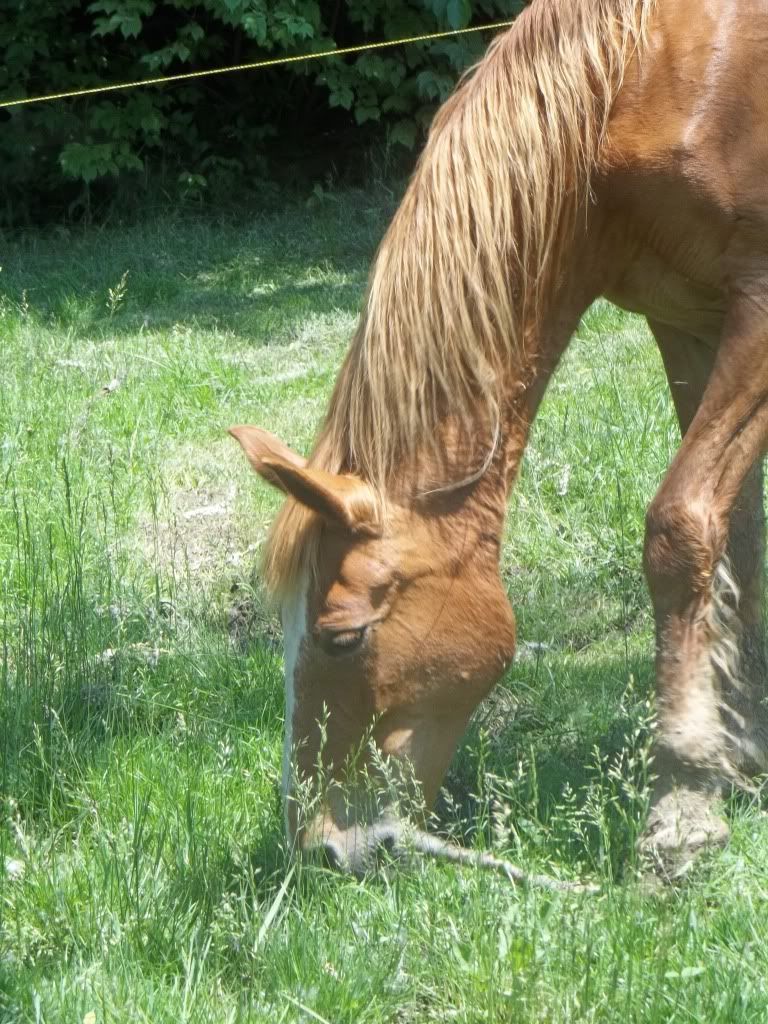 Dudes Foxey Hat - aka Dude is out registered 11 year old Paint Gelding, who stands aat 14.2 hands tall and is sorrel and white. Dude we have had for 7 years and done all his training. He is a great kids horse and trail horse. Sadly my passion is also barrels, which he isn't made out for. He would be great for western pleasure with more training. He is for sale and hopefully sales by the end of October.
Kids decided to play around bareback
Me and Dude bareback the other day.
---
Extreme Trail Rider and Barrel Racer.
King - 11 year old Tennessee Walker Gelding
Sassie- 7 Year old Appaloosa Mare
All the horses I have owned or ridden for an extended period of time.
Cessna, current horse I own, 16 year old TB mare.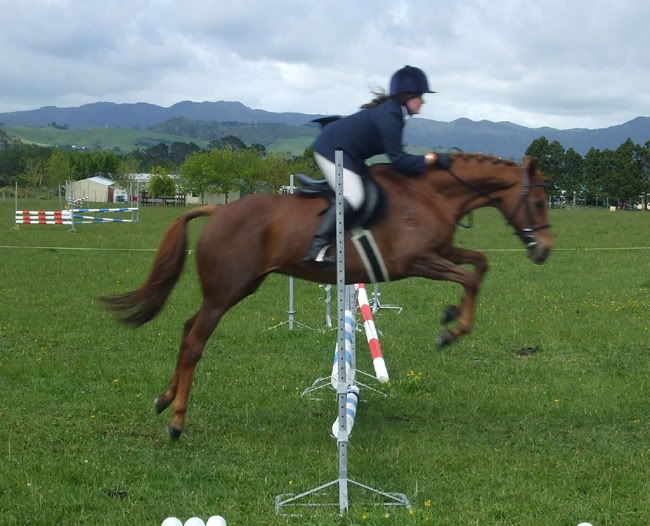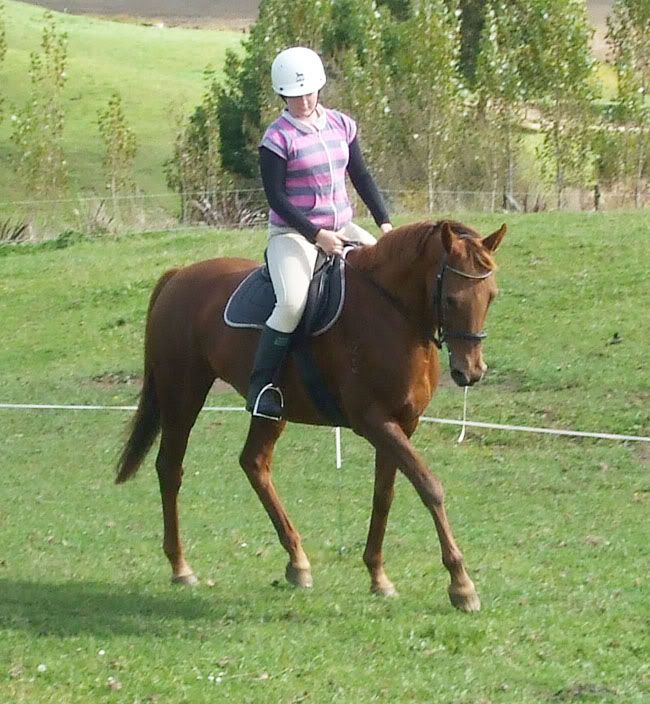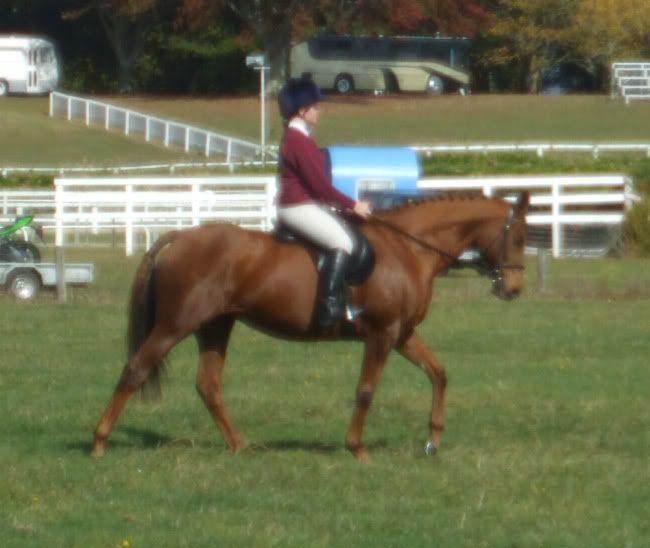 Smurf, a pony I leased for about a year, was 6 yr gisborne bred bush pony.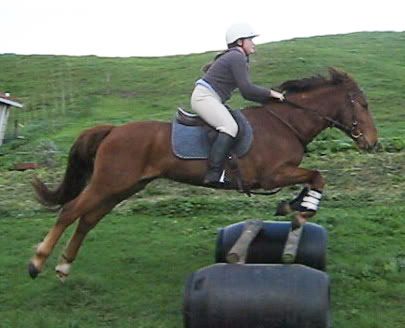 Iceman, My first horse 25 year old when I got him, passed away last year age 30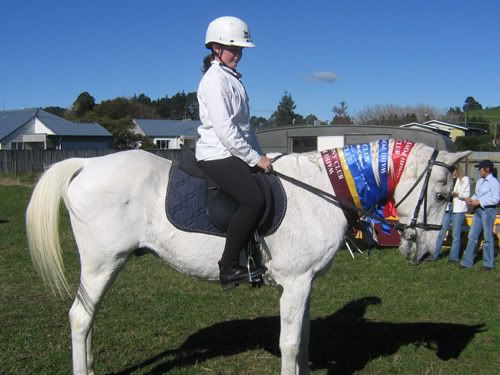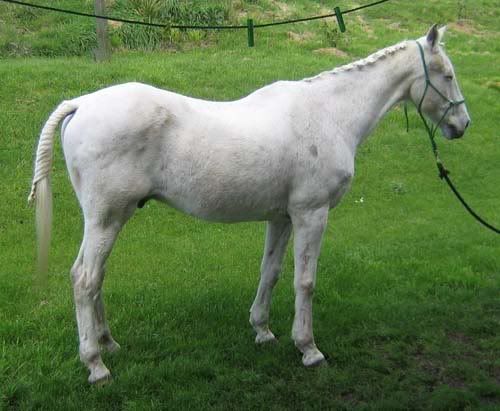 And Midnight, my second horse, 27 when I got her, passed away aged 30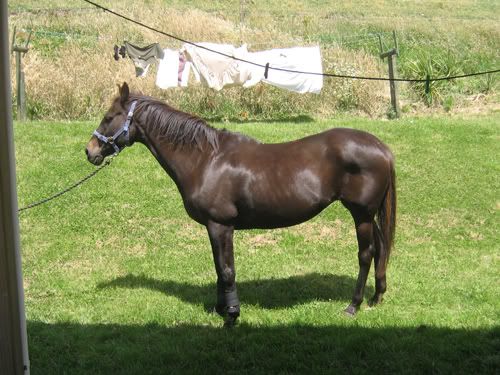 My horsey love, Flicka...
We mainly trail ride at the moment, but she enjoys runnin barrels, and has alot of endurance, so would love to try either some endurance riding or competitive trail riding in the future. She is basically just an all around pony, although she is more suited to english than western because she has a huge stride...
This winter...one of my faves
---
"The ideal horseman has the courage of a lion, the patience of a saint, and the hands of a woman..."
My pretty boy again
sunday at our dressage contest,we got 2nd place :)
OK, now I have to share mine! All your horses are beautiful! First is Briana and Pourquoi, they are going for their c-2 in Pony Club in October. They do a little of everything though. Next, we have Craig on Chip. Chip is currently taking a small hiatus from cutting training and has had several months of reining training. Next is our Hanoverian/Quarter Horse twins in their usual position. :) Keona, my two year old Quarter horse filly. Misty, my son's reining mare, and Ziva-our palomino Quarter Horse filly. I could go on, but I think I it would be a mile long!
Everyone's horses are just Gorgeous - Here my latest boy "Precious" he is coming home next week after being with a friend for 2 years teaching her children how to ride... He will be staying home now and I tend to do alot of trail riding and camping with this boy. He is 14 years old and a Standardbred...

The Second is my boy "Weebs" who is a little barrel on legs - we are starting liberty training - he is 10 years old - 14.1hh and also a Standardbred..

The Third is my baby "Angelina" who is 3 years old in November and has a sweetest temperament - she will start saddle training next year - she is a Standardbred Cross ..
Hey I only have one horse which I am actually currently buying still. His name is Mustard, is a 6 year old, 16.1hh Thoroughbred, not raced. Im hoping to do pony club and then maybe do showing, mostly english, but i would like to try some western and team penning.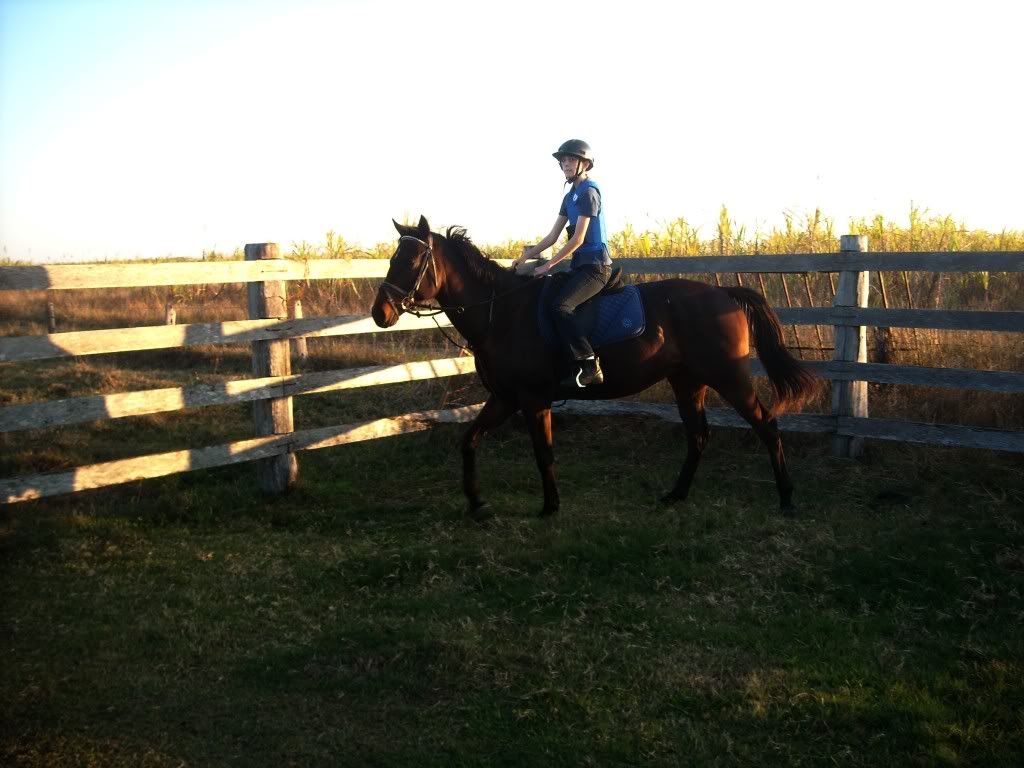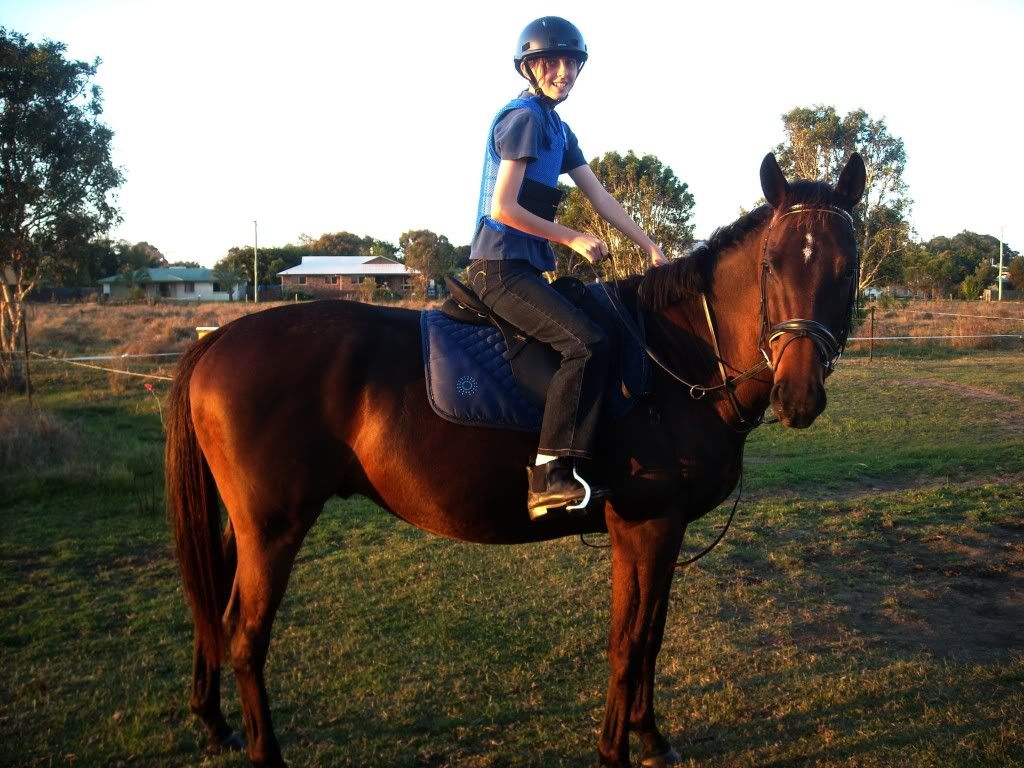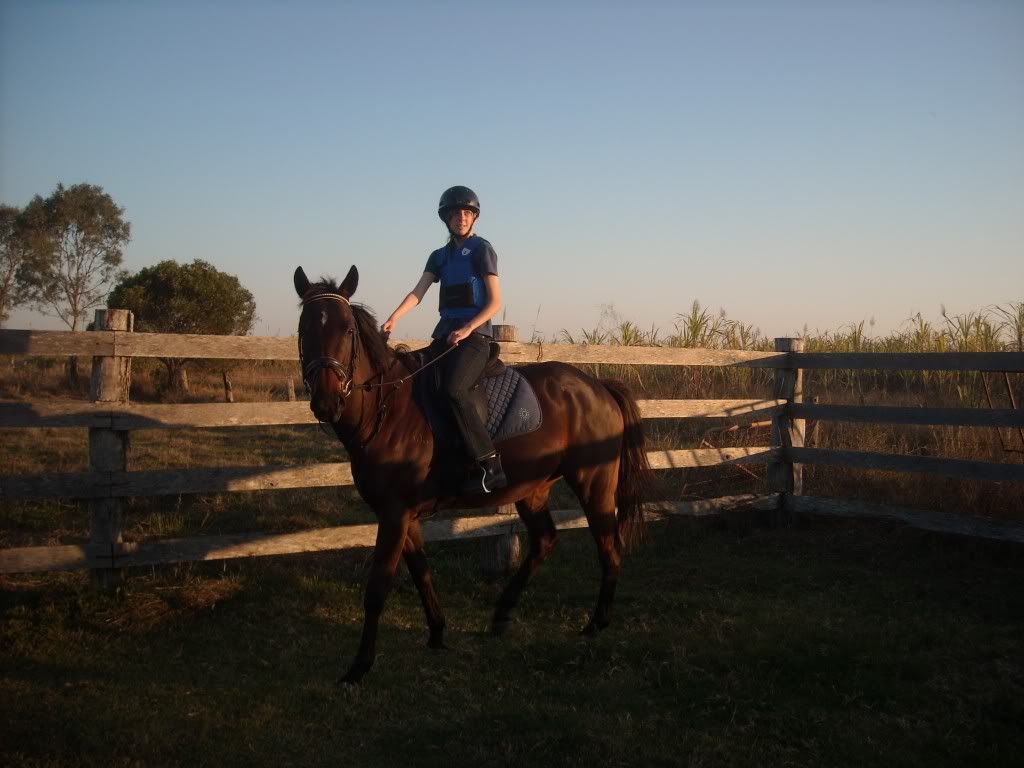 ---
Horseriding- The art of keeping a horse between you and the ground.