I don't own an arabian, but I have one boarded at my barn that I work with and ride some. I never was much of a fan but now that I've worked with them I've grown to like them :) hehe
Here's Redman, he has no papers but the vet said he's around 11 - 15 ish. And by his looks and such, I'm almost positive that he's a purebred. His previous job was a therapy horse until his current owner bought him as a trail horse. Now he's happily boarded with my herd! :)
Hehe, fuzzy winter picture!
---
-Sadie-
Green Broke
Join Date: Oct 2009
Location: Outside of Oklahoma City
Posts: 2,653
• Horses:
6
---
Be wary of the horse with a sense of humour. - Pam Brown
My purebred gelding (the grey) and my purebred mare when she was a 3 year old, I got her as a yearling. Both have since passed on (my gelding was 30 yrs. old, and my mare was in her 20's when she passed away), but always with me in spirit. Both were Polish-Crabbet.
---
Last edited by Remali; 10-27-2011 at

06:42 PM

.
this is EC Mr. Promo. aka Zahir. He is my best friend! His father is Madero-pure spanish stallion and his mother is polish lines.
Arabians are my breed of choice! Between me and my sister we have three purebreds and one half arab/saddlebred! This is a picture of Sassy, her registered name is Tsinfully Yours (Xtreme Dream x Tsultry Tsong). She was two years old when these pictures were taken but now she's closer to three. She's a bay going grey and will hopefully be shown western pleasure in the future.

The grey arab gelding is named OFW Sterling and is my sister's show horse. He's by RSD Dark Victory out of a Padron daughter. He's shown successfully in halter, hunter pleasure and is now starting a western career. He is such a fun guy, so full of personality! :)
This is our old gelding, Impresion (Exxclaim x GMA Miss Tahiti). He was my 4H horse and took me and my sister to state fair more times than I can count. Now he is leased to another 4H girl who is showing him. He's going to be 20 this year. He's so much fun, you can do anything with him. I've done well in performance with him, then could take him out and run a barrel pattern and win! He has a very special place in my heart. Here he is in his 'halter' pose and then chasing a cow.

Last but not least is my bay half arab gelding named Rebelious Opportunity (Opportunity Knocks x River Spirit). Here he is prancing through a meadow. He's a good boy and I show him predominately hunter pleasure. He is also for sale.
This is my little boy, whom we rescued. He's been my dream come true, my life, and my one true love.
---
E v e r y horse is good for something. You dont throw a whole life away just cause he's banged up a little...
Here's a few photos of my half arabian and half american saddlebred horse. His registered name is Canadian Beauty's Dreamcatcher and his barn name is Joey. My daughter is riding him in most of the photos. He's 14 yrs old now and a whole lot of fun - small horse with an even bigger personality.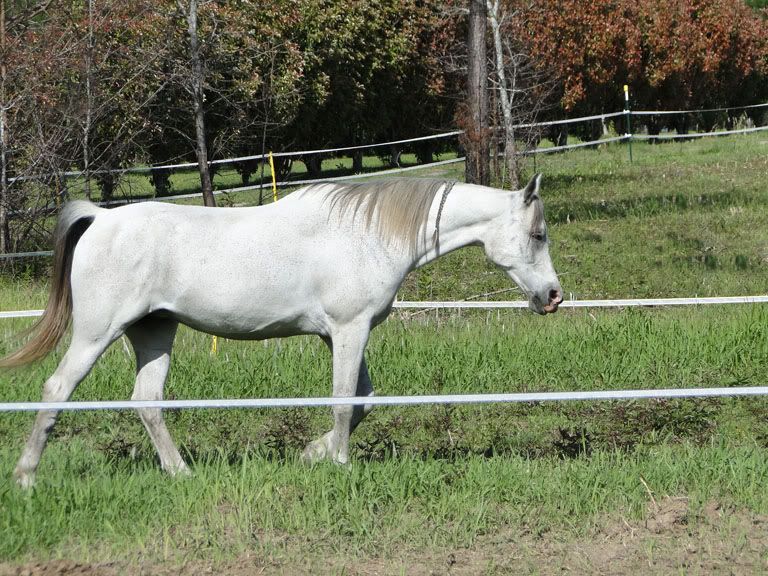 ---
"Action cures Fear, take a small risk every day". Jane Savoie