Show me your half-arabs!
---
Arabians are my favorite breed. Every horse I ever connected with was an arab or had arab blood. I have owned three so far - here they are :)
This is Bella - the first horse I ever owned. She was a good horse, she just had no enthusiasm for the things I wanted to do so I sold her to a very nice Mother and daughter who take her on trail rides and pamper her the like queen is :)
This is Kheonna, a smokey black (het. sabino) daughter of Khartoon Khlassic
I know a lot of people don't like him as a stud, however, Kheonna was an amazing
little
horse! I adopted her from Oakdale Ca. First horse I ever bought and took care of all on my own! She is only 14 hands though lol Later on, the rescue I got her from asked if I would foster and do ground work with another arab mare who I would end up adopting. I ended up regretfully giving Kheonna back becasue, well, she was just too small for me.
However, she is being used in 4H and taking hunter jumper lessons with a small girl so I like to think I found closer with that horse.
I also believe, getting back to her stud, that I would breed
my
mare to him anyday. I am a believer in khartoon khlassic :)
And here is my most recent arab (cross?) vedra :) and hopefully I will have her for a very long time :)
I was curious to know if anone has any WM/arab crosses or anglo-arabs to share?
Here's a few of mine, all Morabs. :)
Anybody got any Paint-Arabian crosses that they would like to share? :)
Whisper, arab/paint. Loved her to death but decided to sell her a year ago. I still think about her a lot.
Whisper22 - what did you do with her? (disciplines) How was she used?
Unfortunately, she wasn't used for anything. I had 30 days of training put on her when she was 3 and then sold her shortly after. I had hopes of using her for barrels, but she didn't get very big. I suppose she had more growing to do, but I'm tall and, at 14hh, I don't think she would have ever been big enough for me. I sold her to a family with young girls who said she would eventually be their gymkhana horse.
Green Broke
Join Date: Aug 2009
Location: New South Wales, Australia
Posts: 4,847
• Horses:
1
Rosie is an Arab x Quarter Horse, but not registered so who knows. I haven't done much with her yet but so far I really like her. She's got a real personality about her, but she is smart and pretty quiet.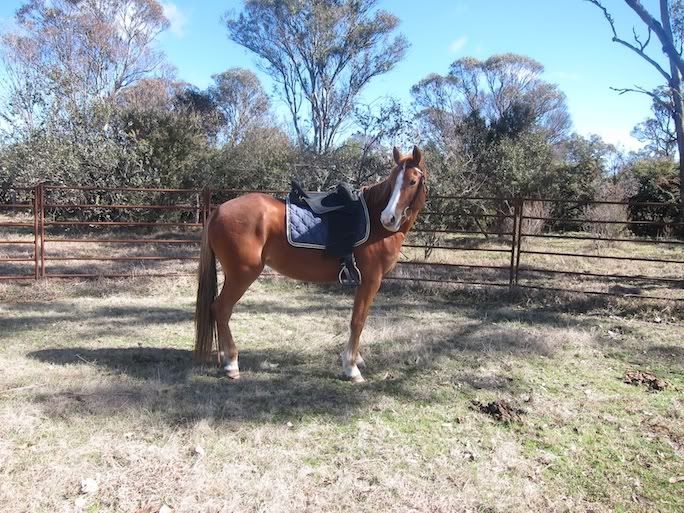 3/4 Arabian. The other 1/4 is obvious.
---
"Make the right thing easy and the wrong thing...well, ignore it mostly."
Dakota is paint/arab. He's an awsome trail horse
---
Cowgirl up!
---
Last edited by littrella; 09-02-2012 at

10:56 AM

. Reason: wrong pic
My favorite breed is the Arab
---
Country Woman