Show me your Mustangs! ♥
---
Does anyone have any Mustangs or Nokota's?
They are very interesting horses...

Thank you
---
I'm a cowgirl. I break horses, I wear jeans and boots and I play in the mud. (:
Yes, I currently have one mustang mare. These are the only pics I have of her right now on the computer. They are from when she first came to my house.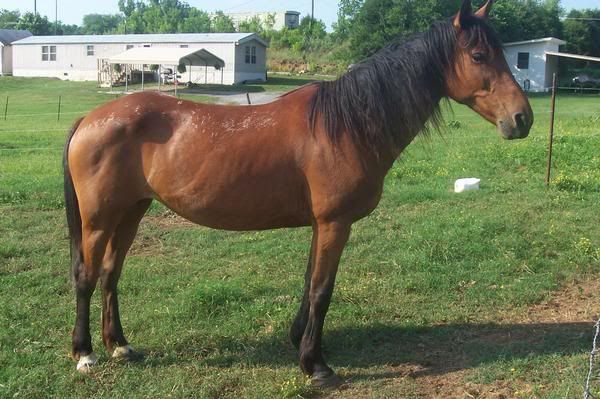 She is lovely
Is she broke to ride, How old is she
---
Country Woman


Thank you
Not able to be ridden yet. We had a few set backs at first. I am unsure of her age. Have not been able to look in and find out. Vet has not done it yet.
Poor girl has been through the ringer. It has taken time just to get her to the point sh e is now. I am trying to find a good trainer for her to take her further. Would love for Mike Branch to be able to work with her.
This is our mare Wildfire she is 19 years old now. My husband has had her since she was weaned. Her mom was a BLM mustang.
After her bath
Subing I love mustangs and might be getting one soon!
<3
Lilbit your mare looks just like my girl!! Her mom came from BLM, she's 4yrs. old and feisty.
Green Broke
Join Date: Oct 2009
Location: Outside of Oklahoma City
Posts: 2,653
• Horses:
6
I had two Mustangs back in the day. Liberty was a sorrel with a big blaze and two hind socks. She was never fully gentled, and was given to us for free. She had a buckskin fully at her side who had a perfect moon on her head and a star for a snip. She is what I would have picked out in a Mustang if I had the chance for one now. She had a sweet face, thick neck and just screamed Spanish blood. However, we had very little horse experience at the time. "Belle" grew into a spiteful, disrespectful flat out dangerous 2 year old. She kicked my mom and trampled her twice. We were over our heads and we donated them to an organization that we THOUGHT was trustworthy. However, we later found out the have sent many of their horses they get donated to slaughter. I really wish we had known more about horses at the time.. :'(.
Posted via Mobile Device
PS. She has gotten SO FAT. That girl could get by on nothing I think.