Quote:
Here's my 10 yr old BLM Mustang Hercules. He came from a Utah herd. I was looking for a tall horse (I'm tall) and was shocked to find a 17.2 hand Mustang. He's the same height as my husbands' Belgian. (these are wooly winter pics)
I see you are in Colorado... hope you weren't affected by the fires...!
---
EQUI
LOVE
I'd love to see Hercules in a photo beside an average 14-15 hand mustang just for comparison! Please post a picture of him when he's all shed out and shiny. Do you think his height comes from draft blood in his background? He doesn't look exactly like a draft horse descendant.
I'd love to have a mustang, but as a beginning dressage rider I think I'll probably have to go for some more typical breed or cross-breed. Some 'stangs are suitable for the discipline but many just aren't. Besides, there's the whole (human) attitude thing to deal with. Can you just see a cute little wonky-colored mustang in a barn full of huge bay warmbloods?
Here's a picture of Hercules next to a "normal" 15h-ish Quarter Horse. I also have more recent pictures in my album when he shed out nicely and put some weight on. Thanks for your comments! The fires were horrible, I don't miss the smoke and ash at all! Luckily we didn't have to evacuate. His herd is said to have Andalusion bloodlines in it- Herc sure has that head LOL! Supposedly the ranchers got tired of the Native Americans stealing their horses so they purposely released draft horses and bigger slower work horses into the wild herds to bulk them up and slow them down too... interesting.
If there is such a thing as a 'horsey-soul mate' then he's definitely it.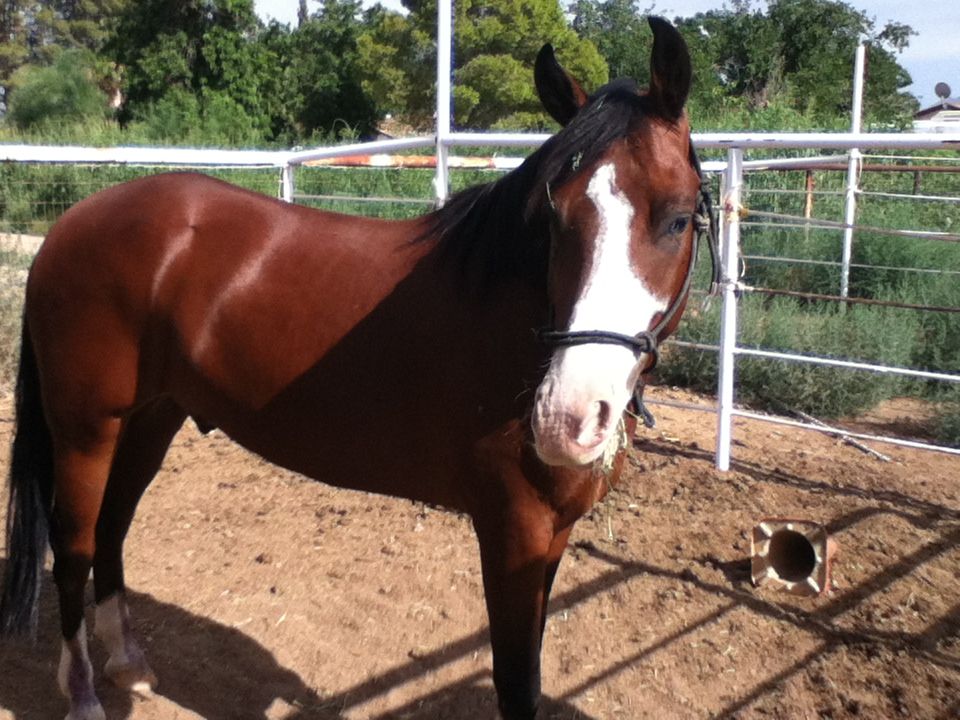 Gotta say I'm impressed with these guys! Hubby and I have been looking at them as an option for our endurance trail plans. Some of these guys are built like tanks!! And they really do have a beauty all their own.

Seems like getting them to Florida can be a trick though. They do have some adoptions around Ocala sometimes but looks to be like maybe once a year.
I'm not entirely certain, but I think if you do something like an internet adoption, you can arrange for the mustang to be shipped to the holding facility nearest to you.
Yep, just double checked and I'm right
Quote:
Animals must be picked up by the highest bidders at the holding facility where they are located, or may be shipped east to a designated Holding Facility, or in some cases, to a satellite adoption location.
---
Always remember that feeling of looking at a big, open country over the ears of a good horse, seeing a new trail unwind ahead of you, and that ever-spectacular view from the top of the ridge!!! Follow my training blog:
http://robertsontraining.blogspot.com/
Thanks smrobs. Needless to say the BLM website can be a bit daunting LOL. There's a satellite/holding facility in Gainsville, GA which is about six hours from us. Not too bad.

We have our choices narrowed down to 4 breeds that would be good for what we want to use them for. Now we'll have to see where it takes us :)
Here is my baby girl I just adopted her from a rescue I am going to shave her freezeburn and try and find out her history. She is 8 yrs old and the most amazing pony ever! I love her and my daughter gets on and she is wonderful.