Show off ALL your horses!
---
There's breed/color specific threads where you to show off your horses such as Saddlebreds, Buckskins, etcetera. But not all of us have those specific breeds/colors in our herds.
Here's a chance to show off all your horses, whether they're your own horses, your family's horses, of horses that you lease and/or just ride for other people!
Post the horses name and breed, please... We all like seeing pictures, but what good are pictures if we're left guessing? Everything else (age, height, what they're used for, personality, funny quirks, etcetera...) is optional.
I'll start...
These are the horses currently in our pasture.
First, here's a picture of the whole herd...
My Horses
Gypsie is my mare. She's a Tennessee Walker, though she doesn't gait and has been mistaken for a Standardbred, Thoroughbred, and Warmblood cross in the past. She's exactly 15.1 hands. She's 15 years old this year. She's just a trail horse and absolutely loves riding on woodsy trails... it's really what she excels at. She hates being left in the pasture when we take other horses out, but she isn't herd sour or pasture sour at all. When she isn't ridden in a few weeks, you really have to watch her once you get back on her because she'll definitely take you for a ride until she gets her issues sorted out. She's somewhat gun-shy, but is getting better. She absolutely loves riding through and playing in water.
Dakota is my gelding. He's also a Tennessee Walker (he's Gypsie's baby). He's about 15.2 hands. I haven't yet gotten him to gait... honestly, I don't think it's in him; he's too much like his dam. He's only 3 years old. He, like Gypsie, is just a trail horse. Though he hasn't been on a lot of trails, he seems to enjoy them and is always pretty happy to go through one. He doesn't really care about being left alone and I can leave him in the pasture for months with barely no handling and he acts like he's been messed with on a daily basis when I do get him out. He doesn't like riding on very rocky ground, but he does like to splash in the water. He's the horse that, when the other horses refuse to go, I can trust that he'll be the first or one of the first to 'take the step' and lead.
My great uncle David's horses.
Buttercup is the herd leader. She's a Racking Horse and is roughly 24 years old (give or take a year). She's 15.1 hands. She can Rack up a storm, too, but unless you're firm with her, she'll break gaits. She's half-retired, but we still use her for a trail horse and a kid's horse for the younger kids in the family. She's pretty bad herd sour and hates leading (she'd much rather follow another horse). She's also very stubborn and somewhat head-shy... but she's nowhere near as bad as she used to be.
Nugget is one of the most annoying little horses I've ever had the displeasure to meet. She's a good horse, but she's so annoying... She's a Racking Horse/x/Quarterhorse and is only 2 years old, but pulls a buggy and will ride moderately well. She's only about 13.2 hands tall. She's also pushy and is always up in your space. Her nickname is 'Trouble'.
My cousin Sherry's horse.
Patch is a good horse. I like her, and that's saying something because I don't really like pinto/paint horses. She's about 15.1 hands, maybe a few centimeters taller. She's a Racking Horse and is about 8 or 9 years old. She's a timid horse and has some really stupid moments like the time she was terrified of her own shadow... but she's a nice horse. She doesn't really like being caught or saddled due to some bad experiences with people hurting her while training her when her owner boarded her, but she's much better now. Her main rider is her owner's twelve year old daughter.
My cousin Rusty's horse.
Wildman is a pretty nice little horse. His name doesn't really fit him, but it's ok... He's a Mustang/x/Quarterhorse cross and is about 6 years old. He's about 14.1 hands tall. He doesn't really like being caught, but once you get him he's a really sweet boy. He was trained in a pony bit, and now if you attempt to ride him in any other bit he turns into a bronc...
My cousin Derek's horse.
Megan (or Meighan, as we sometimes call her) is about 10-ish years old and is 14.3 hands tall. She's a Mustang and, while she may not be the prettiest put together horse, she's definitely worth her weight. She's a very well trained and hardy little horse. Her rider (my cousin Derek) isn't all that good, but she takes care of him. She does whatever is asked of her with no resistance.
My ex-uncle, Scotty's horse.
Diablo is the oldest horse we currently have in our pasture. He's in his upper 30's. He's about 14.2 hands and is a Mustang. His owner's girlfriend is 'taking care' of him because Scotty is in jail... When she brought him out here, he was fatter and she was supposed to bring feed for him, but she never did. We've only seen her once since she brought him out... She seems to think that we won't say anything to her, but we've told her that she has to move him because we aren't going to get into trouble for her negligence. He may be thin, but he is pretty healthy and still has a bit of get-up and go. He's retired from riding permanently and has been for about ten years now. He's a really sweet boy and likes to be scratched.
My ex-uncle's girlfriend, Jennifer's horse.
Leigh is a little horse. She's a Mustang/x/Quarterhorse cross and is only about 14 hands. She's 3 years old. She's a loveable little mare that you can't help but like. No one has been on her since she was originally trained a year ago, but I've leaned over her back a few times and she did nothing. Her owner has to move her too, because we're not going to take responsibility for the horses when their owner isn't even related to us.
Now, show off your horses!
---
Horseshoe Loop Farm: Home of Gypsie (22 y/o TWH mare), Dakota (10 y/o TWH gelding), Codie (18 y/o Walkaloosa gelding) & Harlow (9 y/o APHA mare)
Here's my horse family.
That's Dot, who is 29 and a half-QH, half-Morgan, Gracie who is Dot's 12 year old daughter who is 3/4 Morgan, and my Paint Toby who is 6 years old.
Dot and Gracie are owned by the lady who keeps Toby for me.
---
Laura
"When you're young and you fall off a horse, you may break something. When you're my age, you splatter." -- Roy Rogers
You can see all mine at
www.CheyAutRanch.com
I have 20 minis, 1 Arab, 1 Arab Pony, 1 Fell, 2 TBs, 1 Haflinger, 1 haflinger/wesh cob and 1 zonkey.
Shasta, my 4yr old tobiano mare -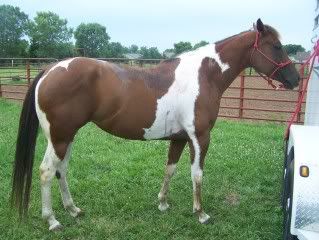 Chase, my 5yr old tovero gelding -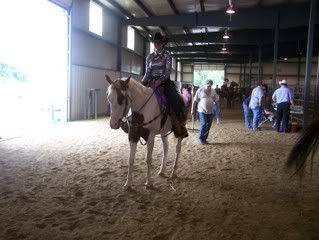 ---
"Blame it on my wild heart."



Oh, goodness. I may end up having to do 2 posts. LOL
John (Shalinka's Stormy Knight) 4 yo Percheron stud. I broke him to ride in January and have not ridden him since due to no saddle the right size.
Buck (Barron Von John) QH that I grew up on. Unfortunately, he had to be put down several years ago at the age of 26. He is sorely missed.
Denny: 15 year old QH. He was the first horse I ever trained completely by myself.
Dobe: 7 year old BLM Mustang and my big sweet boy.
Koda: 6 year old BLM Mustang.
Bessie: 7 year old Belgian Mare who was a rescue.
Pokey (Jake Fajita): 5 year old QH that I bought my Dad for his birthday 4 years ago.
Prissy: belongs to a friend of mine but I am currently getting her started under saddle.
Flash (Dandy Flash Dancer): 26 year old QH. One of our 2 retirees that helped raise me and my brother.
Tiny: 23?? year old Belgian mule. The only one remaining of the team.
Olen: 25 year old Mini-burro. He was my very first mount before I earned a horse.
Sis (Peppy Smackers): 27 year old QH. Our other retiree that raised us 2 kids.
Flipper: 19?? year old TB who was a resue from the sale barn. He is on the right in this pic.
Continued........
Jet (Mr. Zippo's Easy Jet): 9 year old paint gelding that I trained and then sold for 7 times the profit.
Storm: My first ever green broke horse to ride, I was 14. She was an amazing little mare and I wish that we could have kept her.
And last but not least, is Rafe. He is a 2 day old Belgian x QH.
There have been dozens of others that were less memorable. I have tons more pix of the others here.
Other Horses pictures by smrobs - Photobucket
Aww! They're all so cute!!!
---
Horseshoe Loop Farm: Home of Gypsie (22 y/o TWH mare), Dakota (10 y/o TWH gelding), Codie (18 y/o Walkaloosa gelding) & Harlow (9 y/o APHA mare)
Green Broke
Join Date: Jun 2009
Location: Brokenheartsville, just north of Styxtown :)
Posts: 2,577
• Horses:
1
Gunsmoke: Palomino TWH who will not gait. 5 years old, gelding.
gunsmoke.jpg
Sunny: SSH gelding. 9 years old. Brown and white paint.
1 email.jpg
Cody: Pony mutt, 4 or 5 years old, gelding. Bay.
3email.jpg
Simon: 8 or 9 year old SSH gelding. Black and white paint.
IMG_1187.jpg
Dont' have any pictures of Todd on this computer :(
He is a 27 year old Arabian gelding. Bay, very spunky but mild mannerd 99% of the time.
---
Most people are like Slinkies; they serve no real purpose, but they bring a smile to your face when you push them down the stairs.
When you come to the end of your rope, tie a knot and hang on for dear life.
You guys all have wonderful looking horses!
Ridesapaintedpony-I want Dot, what an adorable little bugger!
Slick-I LOVE that picture of your mare running!
Smrobs-I still really like Denny. He isa great looking horse!