Green Broke
Join Date: May 2009
Location: Winnipeg, Manitoba, Canada
Posts: 4,510
• Horses:
2
Yay, my girlie! Heh heh, this is SA Zierra and she's a 10 year old 14.3hh chestnut Arabian mare (Crabbet/Egyptian). I've had her since she was born and she's my life and soul. She does it all! She's not super refined, but she's tough as nails which is how I like my Arabs. She does it all, from jumping to trails to gaming! She's my bestest friend, and I trust her with my life. I don't think I could live without her.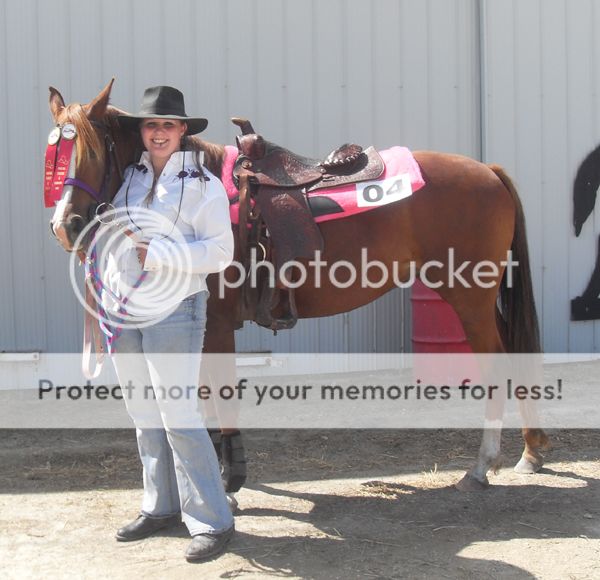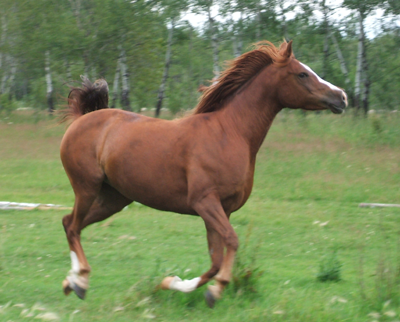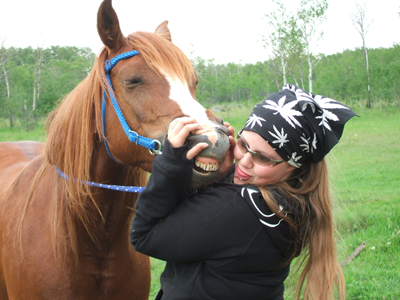 ---
Quote:
I hope God tells her to smash her computer with a sledgehammer.
Quote:
Originally Posted by
MacabreMikolaj
View Post
BEAUTIFUL photo :)
Quote:
BEAUTIFUL photo :)
I agree, props to you and the photographer!!
This is not my horse but he belongs to a friend of mine. I cannot think of his name to save my life but I have known him for years. He is a stud that is about 15 years old, registered Arab. She used to do those costume classes at arabian shows.
Yay Arabs! These are my babies. The first one is Dahli, and is my 21 yr old mare and my best friend.

The other one is Conteztar, my 21 year old gelding that past away last year. He was my first horse.
Gorgeous
---
They are all gorgeous everyone. All have stunning heads and all gorgeous movers. Great photos everyone
I have two currently. Both are AHA reg., and one is a Straight Egyptian, and the other is SE on her Dam's side.
Champange is SE, 2 yrs old, and is a grand-daughter is The Minstril and her Dam is a 3/4 sister of Thee Desperado, the leading Arab sire in the world.
This stallion is one that I purchased her with a breeding to when she comes 4, and he is VERY well bred and SE as well.
This is KD LADY Ann.
She is a grand-daughter of Desperado V of Varian (son of Huckleberry Bey), and her bloodlines are some of the best in the Arab world. She is bred for a May 2010 foal to a Magnum Psyche son, PA Scimitar, and this is a photo of him
Both have the typical Arab personality, and they are full of themselves. Neither are broke to ride, though we hope to get them there. Champagne is obviously too young at this point. Lady Ann is 8, but I hope to have her as something other than a broodmare eventually.
Here are my two: first is Pharoah fullblooded egyt.Arabian 7 yrs.old and the third pic is Jensen,full blooded Arabian 5 yrs. old,the rescue that was given to me about 2 weeks ago.
---
Nancy
Green Broke
Join Date: May 2009
Location: Winnipeg, Manitoba, Canada
Posts: 4,510
• Horses:
2
Thanks guys! That photo and the two that follow were taken by a friend who's into photography. He's not professional yet, but has all the equipment and is taking classes, etc. He's my sisters boyfriends cousin and agreed to come do a photo shoot. It was a lot of fun and we got tons of awesome pics.

Everyone elses Arabs are GORGEOUS. Keep 'em coming!
---
Quote:
I hope God tells her to smash her computer with a sledgehammer.
This is Azhar
He's not mine, but was owned by the lady who keeps my horse for me. He was sold a year ago to someone in Indiana.
---
Laura
"When you're young and you fall off a horse, you may break something. When you're my age, you splatter." -- Roy Rogers