Show off your Quarter Horses!
---
My first horse was a QH. He was adorable and I was only like 6. Sadly no pics of him because we never took any. Show your cuties off!
---
Bailey's Mountain
6 year old tb
Pedigree:
Sonitas Last Remedy Quarter Horse
Sonita's Last Remedy
out of MS
Colonel Sugar
and by
Colonel Remi
x
Reminic
That is one of my brats! I will post pictures of my others later!
Here are all of mine. :)
Denny 15 year old (not papered)
Pokey (Jake's Fajita) 5 year old
Nester 16 year old (of the Doc O'Lena line but don't have papers)
Sis - Peppy Smackers 28 years old (please forgive her winter woolies in this pic LOL)
Flash - Dandy Flash Dancer 26 years old
This was my QH gelding Dunny aka All Dunn Dealing. He is a son of Hollywood Dun It and 90% foundation bred. I recently traded him for my TB gelding.
pink was his color!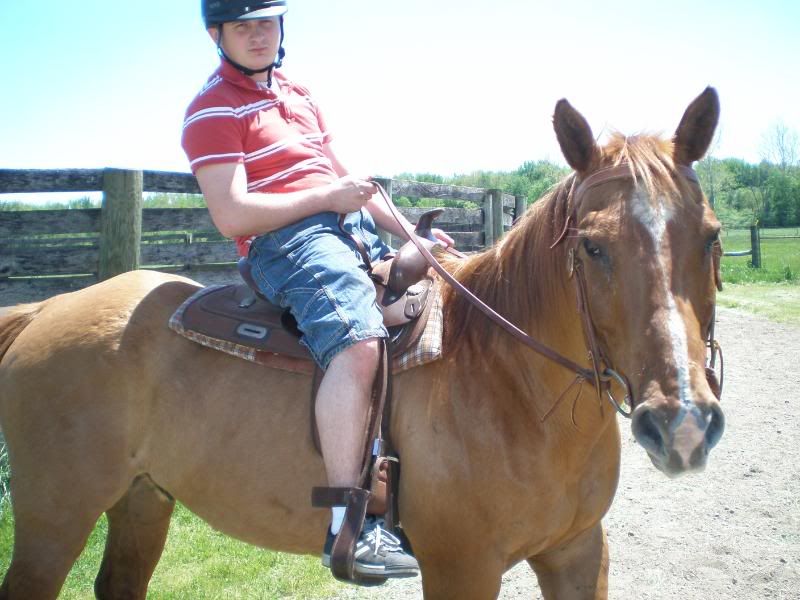 my boyfriend riding him, this is his version of "whoa" :p
I don't have any under saddle pics, as I'm the one that rides them = hard to take a pic of yourself. BUT -
Velvet 7 years old - cowhorse bred, does everything. Registered.
Lady grade QH 11 years old - halter & reining bred (just never got the papers) mostly just trail rides. Old pic. she was not cooperative when I took the others.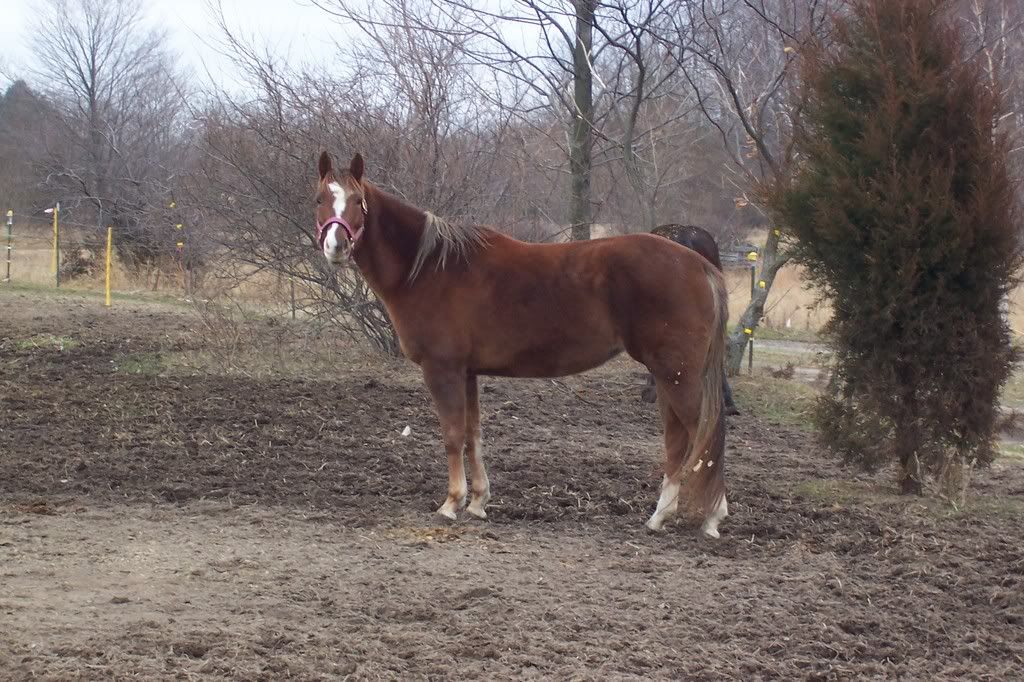 Trixie grade daughter of Lady - 3 years old, started under saddle. Like a dorky version of her mother.
And finally, Dona 2 year old registered daughter of Velvet. Also, cowhorse bred. Hoping to get her into reining training next summer. Attitude is just like her mother.
---
Ask Often, Demand Nothing, and Reward Generously.
This is "Cuttin' in the Buff" AKA "Blondie" - cutting bred of the Doc and Peppy lines:
She will be sold soon.
This is "Greta Mecom Blue" AKA "Greta" - also from cutting lines, an own daughter of Mecom Blue:
She is also being sold soon.
And this is my baby girl, my "Daisy N Duke" AKA "Daisy" - she is a cutter also, from the Doc, Peppy, and Smart lines. She is my pride and joy:
I promised myself I'd only post one of each horse or else I'd take over the thread with all my photos. o.O
Ok so technically she's a registered Paint, but she's basically all quarter horse
---
"The times when you have seen only one set of footprints in the sand, is when I carried you..."
Ruby is a 15.3 Quarter Horse mare.
She schools dressage up to 2nd level movements, jumps low fences, trail rides, and does a little bit of cross-country.