barney, i agree. i always compare other breeds to saddlebreds! there is just nothing like them.
Saddlebred orignal name was American Horse. They crossed thoroughbreds with galloway and hobby horses. I guess they got the "bred" part from thoroughbred but they Made kentucky a large produseing state. Pioneers took the "American horse" to the south and ended up in Missouri. Missouri rivaled Kentucky for the best Saddle Horses and Missourians say, "If Kentucky made the Saddle Horse, then Missouri made him better."
Quote:
barney, i agree. i always compare other breeds to saddlebreds! there is just nothing like them.
I just cant help it! They really are a great breed. I was reading a site and it said Saddlebreds were made for the civil war and help for a smooth ride and they needed a horse that could go on forever. Not to mention they wanted something to show off as well in shows.
I think they found there breed.
Quote:
wow I love you saddlebred. why are they called saddlebred though?
Why are they called Saddlebreds? Because they were bred to be the superlative riding horse. They were bred to be put under saddle. Saddle-Horses, they were originally called. They were bred to be your favorite mount. And they truly are. They are brave, they are intelligent, they are fancy as all get out. They really made a statement on Sunday rides through the parks. Now it is sports cars. Then it was horses.
Saddlebreds are the Mercedes Benz of horses. They were bred from the best. They took the best of many breeds, not just Thoroughbreds and Galloways and Narangasetts. The name Saddlebred was adapted from "Saddle-Horse". I guess people thought it seemed more specific to define the breed. Many older trainers and those devoted to the breed (and those who hang out and learn from the older trainers) still refer to a Saddlebred as a Saddle-Horse, interchangeably.
Any horse book you find over 50 years old, you will find MANY great pictures and information about Saddlebreds, and in many of them they are referred to as the American Saddle-Horse.
In the other thread, I said I live, breath, and think Saddlebred. They are that consuming.
"The show horse must be eager and animated and look ready to jump out of the ring at any moment*, yet be perfectly responsive to the rider's commands. He can be so only when properly mouthed, properly schooled, and mannered, and then beautifully ridden. The challenge of this field of showing is unequalled, and only those who have tried all fields can truly appreciate the exhilarating joy that comes to a rider on a horse that is doing his all and delighting the railbirds with his presence every step of the way. Few have the privelege of riding those rare "greats" of the show horse world; many more people, however, have the privelege of seeing them in action and of sensing the ecstasy of a fine rider feeling a great mount move beneath him."
*- I have actually seen that happen, though. lol
"When a horse wants to display himself in front of other horses, especially in front of mares, he lifts his neck up high and flexes his poll haughtily, and picks his legs up freely, and keeps his tail up."
-
Xenophon (380 bc)
Can't get much better than that.
General Lee's description of his favorite horse, Traveller, who is now buried near his general.
"Such a picture could inspire a poet, whose genius could then depict his worth and describe his endurance of toil, hunger, thirst, heat and cold, and the dangers and sufferings through which he has passed. He could dilate upon his sagacity and affection and his invariable response to every wish of his rider. He might even imagine his thoughts through the long night-marches and days of battle through which he has passed."
"The first time I saw a five gaited American Saddlebred work, it was like magic in the arena. It was beautiful."
-Richard Shrake. Yes, Richard Shrake
The Adventures of Daniel
- "The ASB Addiction"
Not all Saddlebreds can fit everybody, but I firmly believe that there is a Saddlebred for everyone. Once you have one that fits you, you will never be free of it. Even if you never own another Saddlebred after the one, the memory will haunt you.
In a good way, I mean.
---
Last edited by LadyDreamer; 03-04-2009 at

10:56 AM

.
Plantation owners before and during the Civil War wanted a smooth ride to where they were headed so they bred horses for their smoothness. Tennessee Walkers and American Saddle Horses(American Saddlebreds or Saddlebreds) are two of the breeds.
---
"And somewhere in the northwoods darkness a creature walks upright. And the best advice you may ever get is: Don't go out at night..."
These were Dixie's saddlebred horses. General is the darker of the two and Dan has the white socks.
Dan and General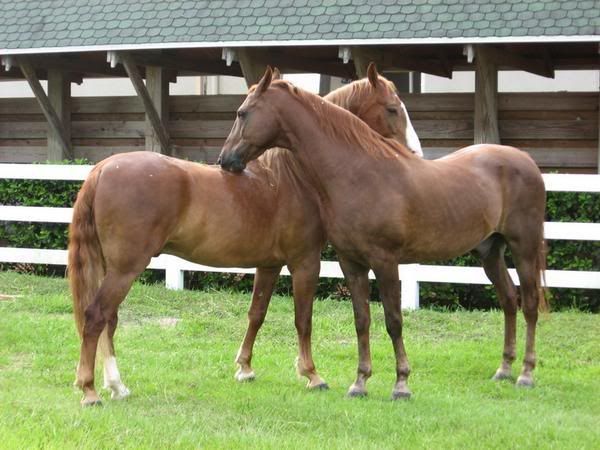 Dan and his rider/trainer Eagle at Dixie.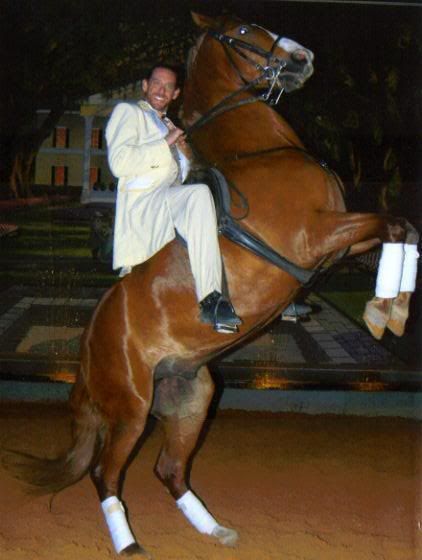 Wonderful pictures everyone! I love American Saddlebreds. I had several when i was growing up. Now I just have two. Sadly, I don't have any pictures. Once you have one, you are hooked!

They are the horse world's best kept secret. They can do ANYTHING and they look good doing it! They have the best, most trainable and willing minds I have ever worked with. It is a shame that not many people know about them or have preconceived notions about them.
These aren't the greatest pictures of my Saddlebred. They're actually really bad. I don't know what the white spot is and I had to really lighten the contrast so you could see him relatively well. He's a chestnut gelding, with four white socks(I will never be able to keep them completely clean during a show), a white blaze, and a white spot under his chin.
http://i209.photobucket.com/albums/b...d/IMG017-1.jpg
---
"And somewhere in the northwoods darkness a creature walks upright. And the best advice you may ever get is: Don't go out at night..."
To see the other picture, use the link.
---
"And somewhere in the northwoods darkness a creature walks upright. And the best advice you may ever get is: Don't go out at night..."
Quote:
I put my pictures in this one:
how your saddlebreds!
I have more, of course.
I will wait until after shedding season to get some more.
I am actually about to start blogging about my Danny. Just 'cause I love him and a lot of others are doing it. "Would I jump off a bridge if everyone is doing it?" "Only if it has saddlebreds at the bottom."
Waaaaiiit a tic....I was always told that Saddlebreds have to be "taught" their movement, and yet, here you are with a picture of a foal, doing...well, some fancy movement. LadyDreamer, you're messing up my world here!
LoL, but seriously, fill me in. AMAZING horses, everyone. I adore Saddlebreds and can easily see how they could become an obsession.