Quote:
Cattanwolf how is your boys temperament? I am always looking at lines and have never met a Q line horse!
Posted via Mobile Device
My boy has the most amazing temperament, he's not fazed by anything, last time I rode him we cantered until it was almost dark and then went for a walk in the big scary wood full of horse-eating leaves, he didn't budge. In fact, the picture where I'm riding him was his first time out of the indoor arena (we only walked), he'd had less than a month under saddle at that time.
He doesn't care about clippers, horsetrailers, screaming children...etc.
and laures
Ive always wanted to own a warmblood. If my horse were registered he would probably be warmblood hes a belgian/tb
I love warmbloods, but I could never afford one. So I have a fake warmblood instead. She's paint x Tb x Belgian
Never heard of Intertoy Z,he looks good though.
My favourite Z stallion is Levisto Z,under Judy Ann Melchior.
He ain't that big (16hands?) but he's really good!

Weanling
Join Date: Apr 2010
Location: Somewhere on Vancouver Island
Posts: 601
• Horses: 0
This is our home bred warmblood cross.......she is out of Damiler out of Damiro.........dam is a clyde cross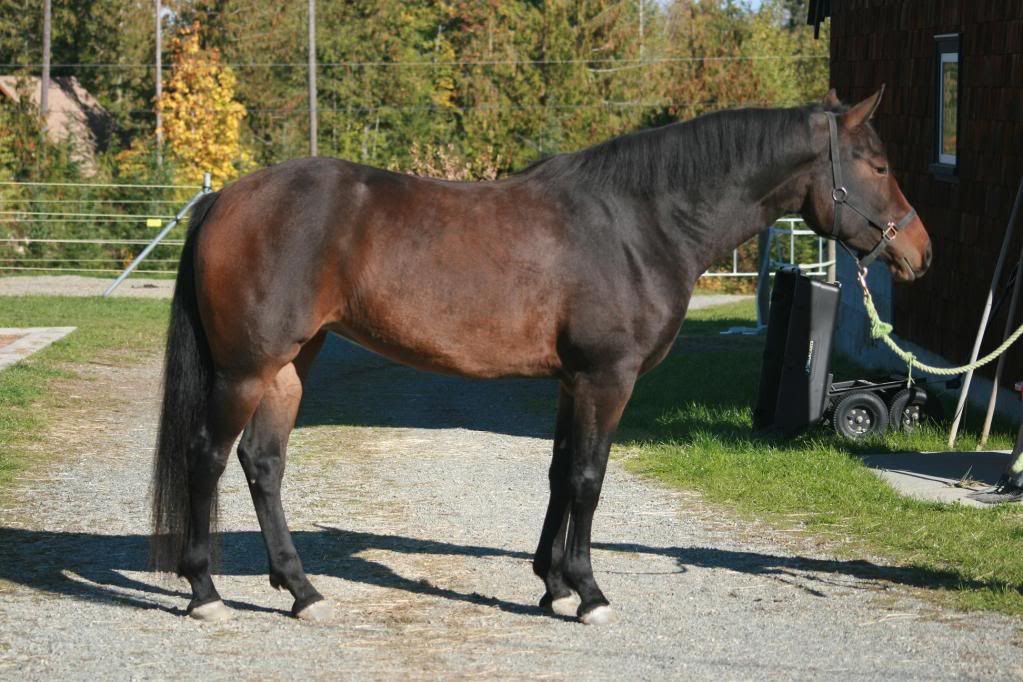 Super Nova
Supernova's nice!
She's really pretty
Here's my Hanoverian, GQ. He's about to start showing as a 6 year old.
Started
Join Date: Jan 2009
Location: USDF Region 1, USEA Area 2, USEF Zone 3 - Maryland
Posts: 1,903
• Horses:
3
Here is my 2009 Oldenburg Filly. She went premium at her inspection with the GOV. By Coromino (by Corofino, out of Gina Ginelli (Romino/AthletZ)) and out of my GOV Main Mare Book TB mare, Quick n Icy (Raise the Price).
Last year at East Coast Future Event Horse Championships. 2nd place yearling filly:
At her first USDF Breed Show - Yearling Filly 1st:
Just shy of a year old:
Super leggy baby :) 5 days old:
---
-Melanie
Mom to 3 bays: Beau, Daisy & Cavalina
Here is my old gelding Skye. He is a Dutch Warmblood